We are an integrated community health trust providing services to children and families, people with learning disabilities, people experiencing mental health problems and people with substance misuse needs. Our focus is always around the service user -– we want to ensure that they are given the opportunity to start recovery in a safe environment whilst working with talented and passionate individuals.
The work is challenging, but immensely rewarding. Could it be right for you?
Living our values
We expect each member of staff to live and breathe our four core values:
People first – We put our patients and colleagues at the centre of everything we do.
Respect – We respect and value the diversity of our patients, colleagues and partners and support a respectful and inclusive environment.
Honesty – We are open and transparent in all we do.
Do your best – We work closely with our partners to achieve the best possible outcomes for people.
In return...
We will offer you a salary that matches your ability and responsibilities, and provide you with every opportunity to progress in your career and increase your salary through our range of training and development courses. You will also be automatically registered as a member of the NHS Pension Scheme (unless you choose to opt out) – one of the most generous and comprehensive in the UK.
On top of your basic salary, you will receive at least 27 days' holiday each year, plus a range of other benefits such as:
Generous relocation package of up to £8,000 to support you financially through your move if you are relocating from far away
Incremental pay increases
Harmonised holiday entitlements of 27 days per year increase to 29 days after five years' service and 33 days after 10 years' service – plus eight general and public holidays
Contributory pension scheme
Study leave for sponsored courses
Access to a range of work perks, including:
Flexible working opportunities
NHS staff discounts
24/7 confidential and comprehensive employee assistance programme
Annual and monthly staff recognition schemes
Cycle to work scheme
Eye test vouchers
Lease car scheme.
Staff Testimonials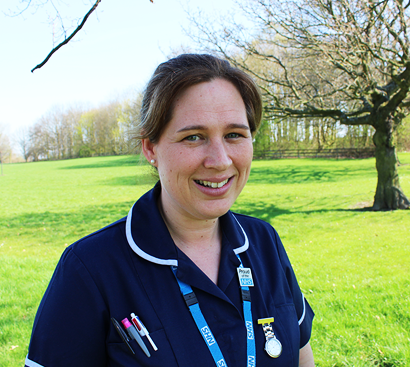 Stacey has to travel a long way to get to her workplace - the Hartington Unit in Chesterfield. But the journey did not stop her wanting to work there.
After taking a two-year career break to have her children, she really wanted to go back to the Hartington Unit. She says she loves the ward and has a great sense of loyalty and commitment to her work and the team.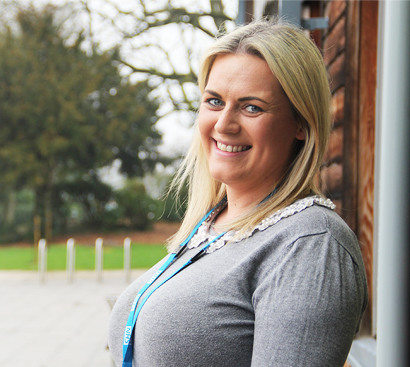 Amy started with working at Derbyshire Healthcare in November 2017 as a newly qualified Community Psychiastric Nurse.
She was a preceptorship nurse who had a placement in the Killamarsh and Chesterfield North community mental health team. She liked it so much that she applied for and gained a permanent post there.
She had worked in prisons and rehabilitation so she felt she was able to go straight into community rather than into an inpatient area first, and she says it has worked well for her.
The Killamarsh and Chesterfield North team provides mental health support to working age adults.
After assessing a service user's needs, the team will work with service users to help them find both short-term and longer-term ways to improve their mental health, and to focus on healthy living and behaviours. The team may also signpost to other local community groups, organisations and amenities that may help – such as by helping them to meet new people in the community, build confidence, keep well or gain new skills.
The team is made up of a range of health professionals including nurses, occupational therapists, psychologists, mental health support workers and consultant psychiatrists.

Whom does the team support?
The Killamarsh and Chesterfield North Neighbourhood team offers support to people with a range of mental health difficulties. Examples of these include psychosis, bi-polar, personality disorder, severe depression and anxiety, obsessive compulsive disorders and dementia.

What do you like about your job?
Amy is so enthusiastic about her team. She says: "The support is incredible and my manager is fantastic. As a newly qualified CPN I have had to deal with some difficult situations, and the support from my team has been amazing. Regular and effective supervision is well embedded in the team. I couldn't have wished for a better team from day one, I was made to feel welcome from the start. Whenever I need anything my manager is always available to give advice and further support. It's the time that the team takes to talk to each other which is so valuable. I am very lucky to be working in this Trust!"

What's so good about Derbyshire?
For Amy the commute to work is a pleasure. She says: "I love driving around the country, there are rolling hills and beautiful views wherever you look. I have worked in city environments before but I would never go back. I have surprised myself, as I was born and bred in Chesterfield, and didn't think I would want to move out of the town to work."
Working as a Consultant at Derbyshire Healthcare
Come and join a caring and close-knit team – one that works alongside service users to help them lead meaningful and satisfying lives. Come and find work-life balance at the gateway to the Peak District, only 90 minutes from London.
Learn more and watch videos featuring our consultants.
Page list
Information on the support and education we provide to junior doctors during their years of clinical training

Information about the agreed set of commitments that employees can each expect from the Trust, and give in return