This page explains our commitment to veterans, service leavers and reservists, and gives details of the mental health support available in Derbyshire and the Midlands.
We are Veteran Aware!

On 14 June 2022, we were formally recognised as 'Veteran Aware' by the Veterans Covenant Healthcare Alliance (VCHA), a group of NHS healthcare providers in England committed to providing the best standards of care for the Armed Forces community, based on the principles of the Armed Forces Covenant.
118 NHS providers in England are now Veteran Aware accredited and the VCHA aims to have all Trusts in England accredited by March 2023. Find out more about Veterans Covenant Healthcare Alliance's work and about Rehabilitation on the VCHA website.
Our commitment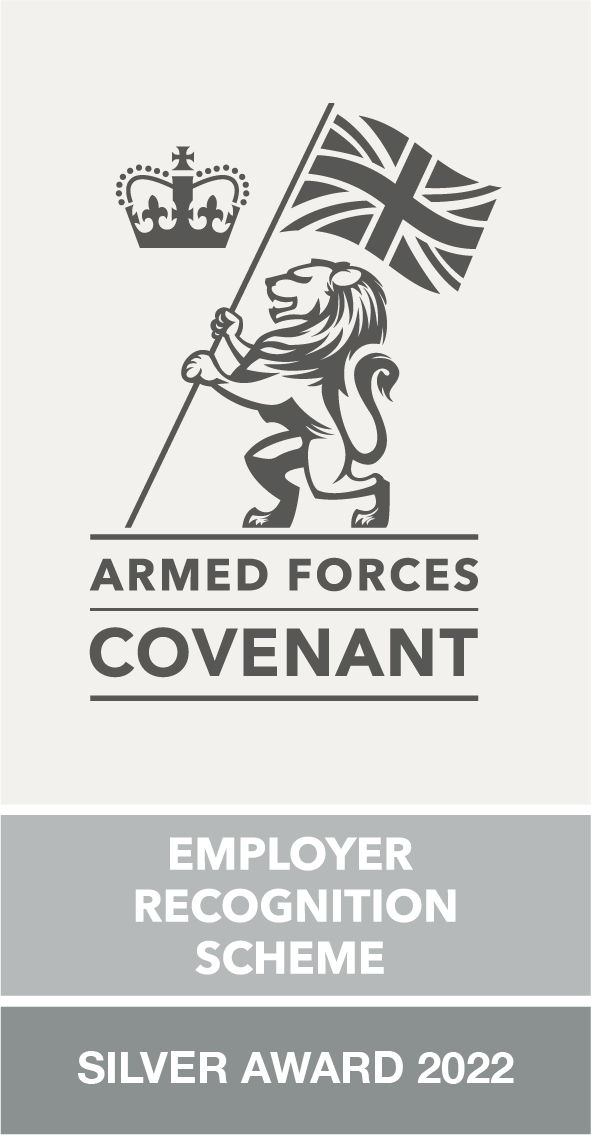 The Armed Forces Covenant - which recently passed into law - is a promise by the nation ensuring that those who serve, or who have served, in the Armed forces, and their families, are treated fairly. The aim is to develop, share and drive the implementation of best practice that will improve armed forces veterans' care, while at the same time raising standards for everyone across the NHS.
Internally, we have established an Armed Forces Staff Network to ensure that the Trust is a great place to work if you are ex-forces or a reservist, with pro-active recruitment and support for people leaving the Forces. The network is also looking to make sure that the Trust provides great care to ex-forces personnel, in line with the NHS commitment to prioritise care for veterans. The staff network is attended by current reservists as well as clinicians and colleagues who have a special interest in supporting ex-Forces personnel.
We have been awarded the Defence Employer Recognition Scheme Gold Award in recognition of our commitment and support for defence personnel.
Support available
There are several ways for veterans, service leavers and reservists to get mental health support in Derbyshire and the Midlands:
Op COURAGE
Op COURAGE, the Veterans Mental Health and Wellbeing Service, is an NHS mental health specialist service designed to help serving personnel due to leave the military, reservists, armed forces veterans and their families. It is the new over-arching name for several mental health services for veterans; learn more on the NHS website.
"If you or someone you know is struggling with their mental health or wellbeing, expert help is available from Op COURAGE. It does not matter if you're due to leave the armed forces, just left the armed forces or left many years ago - the service is available for all veterans and reservists. Our teams are here to help and understand the courage it takes to speak to someone. When you contact us, you'll speak to people who understand the armed forces and military life, and are either from the armed forces community or highly experienced in working with serving personnel, reservists, veterans, and their families."
Eleanor Duke, Team Manager, Op COURAGE (Midlands)
You can access Op COURAGE in the Midlands by calling the 24-hour referral line: 0300 323 0137. Or email mevs.mhm@nhs.net
Learn more about Op COURAGE in the Midlands by visiting the Lincolnshire Partnership NHS Foundation Trust website.
Local NHS support
Support is also available:
Through your GP (family doctor) - who will understand your needs and refer you for treatment. If you don't already have a GP, you can find one near you using the NHS service search.
By referring yourself directly to our Talking Mental Health Derbyshire service - this service supports people with common mental health problems such as anxiety or low mood to manage their conditions. Learn more on our Talking Mental Health Derbyshire page.
What other support is available?
There are a number of organisations that provide support to veterans and reservists. Below you can find links to the websites of these organisations.
Remploy Armed Forces and Veterans Services
SSAFA - the armed forces charity
Veterans and Reservists Mental Health Programme
Veterans UK - part of the Ministry of Defence.