July 2021 update: our services are still 'COVID secure'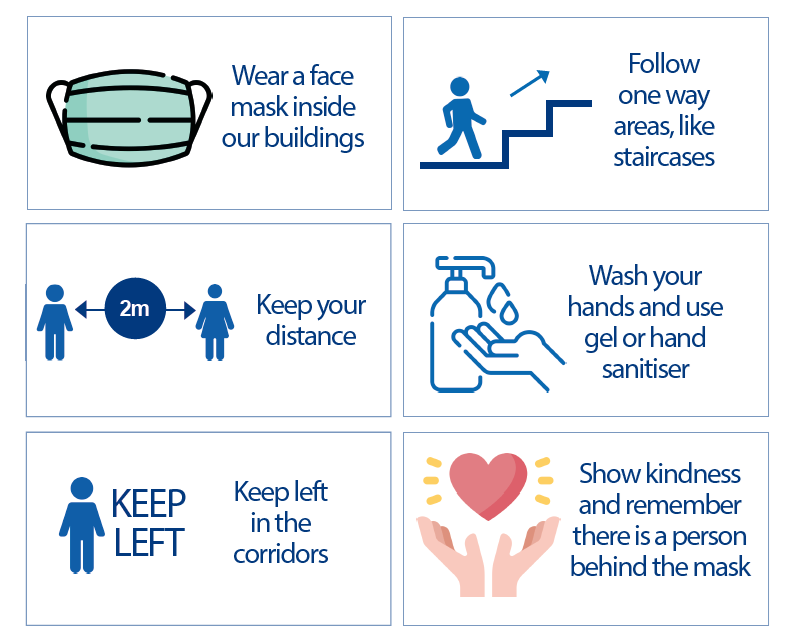 When visiting someone in one of our hospital units, or coming for an outpatient appointment, please continue to:
Wear a face mask inside our buildings
Keep 2 metres from others (social distancing)
Wash your hands and use gel or hand sanitiser
Follow one-way routes, like staircases
Keep left in corridors
Show kindness and remember there is a person behind the mask.
View an accessible version of this information as a PDF document.
Why take this approach?
Cases in Derbyshire and cases in Derby city of COVID-19 remain at significant levels.
Our approach is in line with national NHS guidance - see the NHS England website for details.
Updated 15 July 2021
Although community case numbers are rising, face-to-face visiting at our inpatient (hospital) units remains a priority for the Trust. After 19th July, the NHS is still subject to rigorous infection prevention and control measures and we will be asking for people to use face masks and observe good hand hygiene standards to minimise the risks of transmission within our patient group.
You will notice that our staff will continue to wear personal protective equipment (PPE) and follow these measures. We thank you in advance for supporting us with these measures to keep people safe and protect our ability to provide a service for you and your loved ones.
Please note the Trust's approach to visiting:
Before visiting, please contact the ward where your loved one is staying. Please check with the ward staff that the ward is open for visiting. If there are confirmed or suspected cases of Coronavirus on the unit where your loved one is staying, it may be necessary to temporarily restrict or suspend visiting, sometimes at short notice. Please be understanding if this happens
When the ward confirms that it is open, you can plan to visit. The ward staff will confirm the visiting times and the number of people who can attend. Visits must be booked in advance. Visits may be shorter if there is a high demand for visits
On arrival, please report to the unit or ward reception area
Visitors will be informed about what to expect and about social distancing and wearing personal protective equipment (PPE). Good hand hygiene (handwashing) is needed
Visitors will need to wear a mask (or face covering) and will be offered gloves (hand washing facilities and sanitiser will also be available). The mask must not be touched or removed during the visit; if you need to replace a mask during the visit, we will be happy to provide replacements
Anyone showing symptoms of COVID-19, or who has been advised by the Test and Trace service to self-isolate, must not visit
Visiting outside the unit is preferable and social distancing measures must be adhered to. Visitors should use hand sanitiser on arrival and departure
A suitable room will be provided for any indoor visit. This room will be cleaned before and after the visit. PPE and a clinical waste bin will be available in the room.
We ask for your help in respecting these rules and remind visitors that it's not okay to abuse our staff. We are supportive of the step-down of national COVID restrictions and we want to support the recovery of our patients by keeping the risk of COVID coming into hospital settings to a minimum. We hope you recognise the value of our approach and find it helpful.
The following brochure is available to all service users and carers on our wards, and gives information on what changes they can expect to take place on their ward during this time.