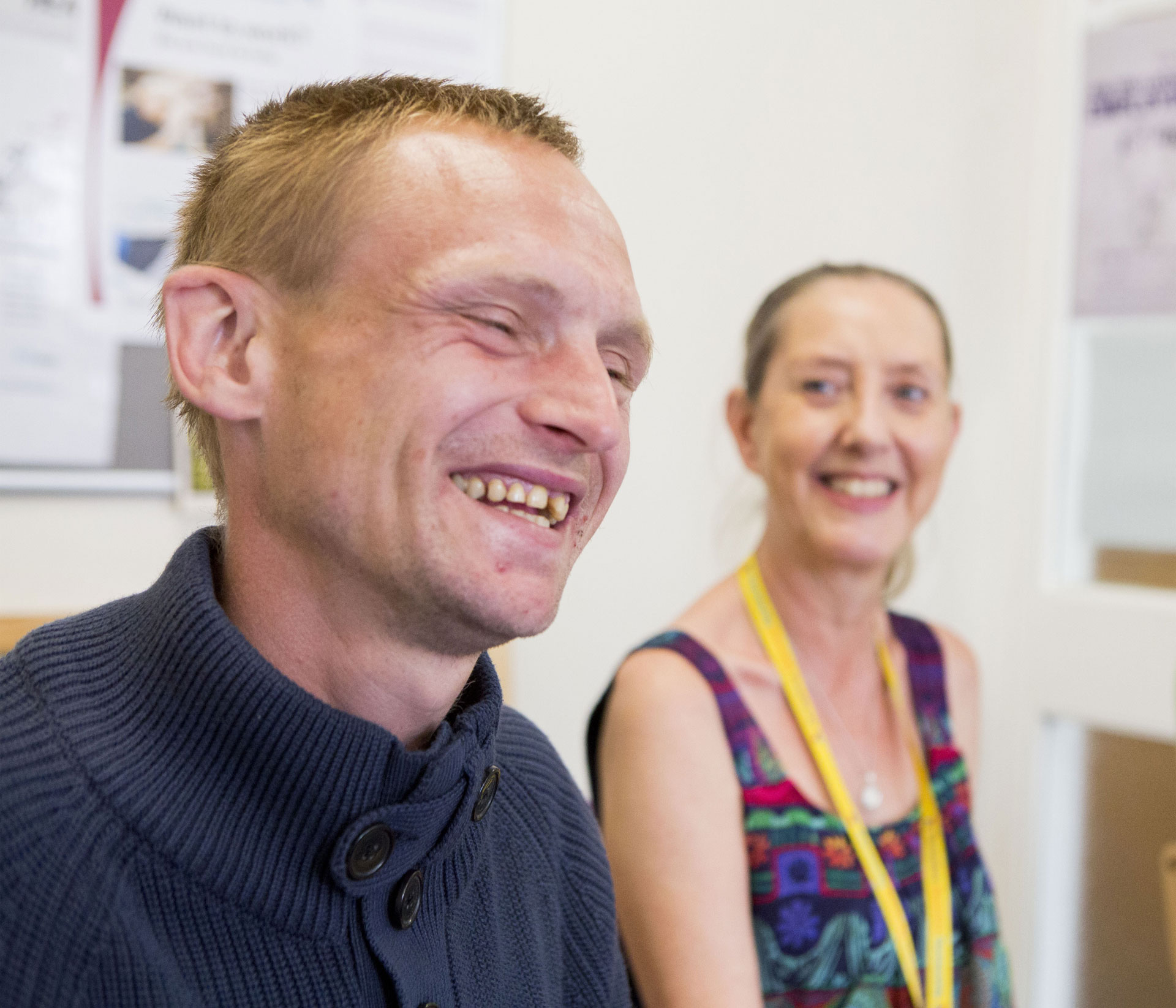 Derby Drug and Alcohol Recovery Service is a consortium drug treatment service delivered by Derbyshire Healthcare NHS Foundation Trust, Phoenix Futures and Aquarius.
The service is based at St Andrews House and St Peters Churchyard in Derby. The service is for any adult (18 years and over) who wishes to address any issues they have caused by the use of drugs or alcohol. This can include binge drinking, the use of 'legal highs' (or New Psychoactive Substances), as well as physical alcohol or drug dependence.
The service's approach
Derby Drug and Alcohol Recovery Service promotes a recovery focused approach. This approach supports service users to address their problems and develop skills and behaviours to promote long term recovery.
The team offers different levels of support - from advice and harm reduction to intensive structured one-to-ones and non-structured interventions (such as auricular acupuncture and Reiki). There is a mix of high and low intensity levels together with a specialist prescribing programme. The service also specialises in the medical aspect of substance misuse treatment and manages all substance misuse substitute prescribing across Derby.
The aim of the service is to reduce drug use and its associated impact on individuals, their families and communities and to move service users towards a drug free recovery.
Learn more about the effects of drugs and alcohol and how to get help by visiting the help with drug addictions page on the NHS website or the alcohol support page on the NHS website.
Who is the service aimed at?
Adult drug or alcohol misusers (18 years +) within the defined catchment Derby City

Any adult within Derby who wishes to address the issues they have with drug or alcohol use

Service users who require a prescribing intervention to address their drug misuse (excluding the misuse of prescribed or OTC medication)

Individuals who are at risk of Blood Borne Viruses in relation to their drug misuse.
How to access the service
Derby Drug and Alcohol Recovery Service only accepts referrals via the Single Point of Entry Assessment and Recovery (SPEAR) for drug and alcohol treatment provided by Phoenix Futures. This is an open access (Monday to Friday, 9.00am - 4.00pm) assessment service at St Andrews House with no appointment required.
The specialist needle exchange is based at St Andrews House, 201 London Road, Derby, DE1 2TZ.
For more information about the specialist needle exchange telephone: 0300 790 0265
The specialist needle exchange provides sterile injecting equipment and also offers a range of information and advice about injecting practice including injecting performance enhancing drugs. One-to-one support and advice is provided which may include information around injecting techniques, overdose risks, testing for blood borne infections including Hepatitis B, C and HIV infections, Hepatitis A & B immunisations and referral to other services.
Opening times
Monday: 9.00am - 4.45pm
Tuesday: 12.00noon - 4.45pm
Wednesday: 9.00am - 7.45pm
Thursday: 9.00am - 7.45pm
Friday: 9.00am - 4.45pm
Saturday: 10.00am - 3.45pm
Sunday: Closed
A specialist harm reduction team within the Derby Drug and Alcohol Recovery Service provides specialist health screening as well as Hepatitis B vaccinations and Hepatitis C and HIV testing along side advice and support. All those accessing drug treatment in Derby are encouraged to receive a health check and appropriate vaccinations. The team also provides and enhanced needle exchange programme which engages with those IV drug users offering confidential support, advice and health assessment alongside the provision of safer injecting equipment. Unlike the rest of the service the needle exchange programme is accessible to anyone who wishes to access health advice, information, or safe injecting equipment (inc. safe storage boxes) without being open to the service.
Specialist prescribing is provided by a Consultant Psychiatrist and a team of specialist nurse and pharmacist prescribers. Several specialist clinics are provided (Pregnancy, Eastern European, Working Women, Hepatitis/HIV) to increase engagement from high risk or hard to reach groups. Aquarius and Phoenix Futures work in tandem to provide 1-to-1 keyworking, care planning and support for service users alongside any prescribing provided by the Derby Drug and Alcohol Recovery Service. As the service believes that only individual change can lead to long term recovery.
The specialist mental health drug and alcohol team (MHDAT) is part of Derby Drug and Alcohol Recovery Service. Working with the most complex substance misuse service users theses nurses provide structured harm reduction interventions and comprehensive substance misuse assessments for individuals who have a history of problematic drug/alcohol use and co-morbid mental health problems. The service provides 1-to-1 structured care planned treatment and risk assessment for high risk service users which includes substitute prescribing by specialist consultant where required.
The nursing team provides a broad range of interventions for the benefit of high risk drug or alcohol users. Interventions include:
Structured harm reduction interventions inc. advice and information about safer drug use and safer sex

Level 3 comprehensive substance misuse assessment including an in-depth Mental Health risk assessment and treatment outcome profile

A care plan setting out a structured package of treatment and care which has been agreed between the service, the client and other appropriate agencies

Community-based detoxification services

A range of community-based stabilisation and maintenance prescribing interventions for opiate misusers

Interventions aimed at treating 'rare and non-traditional' drug addictions

A range of structured, care-planned psychosocial interventions and group-work therapies.

Relapse prevention 1-to-1 work alongside prescribing interventions (e.g. Naltrexone)

Symptomatic prescribing for stimulant users (only where appropriate).

Facilitation of direct client access to Community Mental Health Team (CMHT) interventions for generic acute and ongoing mental health problems
Service users who require drug treatment directly on release from custody are referred via the drug intervention programme (DIP) team as are those who are given a court ordered drug rehabilitation requirement (DRR), alcohol treatment requirement (ATR) or alcohol specified activity requirement (ASAR).
Our specialist testing clinic is an NHS service for users of steroids and other performance enhancing drugs living in Derby.
The clinic provides specialist testing such as urea and electrolytes, liver function, cholesterol levels and full blood count tests.
Clinics are held on the first Wednesday of every month, from 4pm to 7pm at St Andrews House, 201 London Road, Derby DE1 2TZ.
Book an appointment
To make a specialist testing clinic appointment please call 0300 790 0265 (option 1) or 07785 762017. All clinics are by appointment only.