Thank you for showing an interest in working as a Consultant for Derbyshire Healthcare NHS Foundation Trust.
We employ more than 2,800 colleagues providing services in the community and in hospital settings across the whole of Derbyshire, to a population of approximately one million people. We are currently rated 'good' for the care we provide, across services covering mental health, substance misuse, learning disabilities and autism, and children's services.
We also have exciting plans to grow and develop in the future – we've recently secured investment to build new hospital facilities in Derby and Chesterfield, which will transform the care we are able to provide.
We believe in making a positive difference to our patients, service users, carers, and our colleagues. That positive difference is due to the committed, professional, and enthusiastic people we recruit to be part of our team.
Our last set of staff survey results were some of the best and most improved in the NHS. At our last CQC inspection, the inspectors said: "All staff we spoke with felt positive and proud about working for the Trust."
This page provides information on the following:
---
Research
Our Research and Development Team is here to support you and your patients to take part in clinical research studies, to help you conduct your own research, service evaluation and clinical audit projects, and give you access to the latest evidence.
At DHCFT we are committed to the promotion and conduct of clinical research and work with our local research networks to increase the number of opportunities for our service users to take part in these high-quality research studies.

The studies that we work on vary greatly in content from a simple questionnaire to studies with pharmaceutical companies. All of the studies running within the Trust have had stringent checks and ethical approval from research committees across the country.
Our Clinical Research Team works with clinicians to promote, facilitate and deliver national studies within the Trust. The aim of the team is to make it easier for NHS staff and service users to get involved in research. We are always on the lookout for individuals who have an interest in research and want find out more about taking part in research.
The Own Account Team supports Trust-led projects. The team supports colleagues to embed evidence and conduct their own service evaluation and research projects. The Own Account Team also hosts the Centre for Self-Harm and Suicide Prevention Research and supports embedded researchers working in clinical teams.
The Clinical Audit Department leads and coordinates the Trust's participation in National Clinical Audits and supports colleagues to undertake audit projects. Clinical Audit is a quality improvement tool. It is a systematic review of care and clinical practice against specific criteria and evidence-based standards. It will either identify areas of weakness which need to be addressed or provide assurance of best practice.
Our Library and Knowledge Services ensure colleagues have access to the latest evidence and provide services to colleagues, volunteers and students, including evidence searches, document delivery, books loans, electronic resource delivery and enquiry services.
---
"After 25 years working as a psychiatrist across Derby and Derbyshire, I can say for sure
that it has been a perpetually stimulating experience and makes me proud of the area and its people."

Dr Simon Thacker, Consultant Psychiatrist , Associate Clinical Director
---
Medical education
All consultants are expected to maintain themselves in good standing for CPD. There are several active consultant peer groups, and all Consultants will be invited to join one of these.
---
Celebrating success
Here at Derbyshire Healthcare, we are proud to share the achievements of our Trust and colleagues. From staff survey results to award nominations and good news stories, we understand the importance of celebrating our successes.
Some examples:
In June 2022, Derbyshire Healthcare colleague Simon Rose received the prestigious President's Medal from the Royal College of Psychiatrists for his efforts to promote patient involvement in mental healthcare and psychiatry.
A team of specialist vaccination staff at Derbyshire Healthcare have been recognised for providing a bespoke Covid vaccination service for people with severe mental illness, learning disabilities or autism, by being named as a regional winner at the 2022 NHS Parliamentary Awards.
In 2020, Derbyshire Healthcare set up the Derbyshire Mental Health Helpline and Support Service, a free, 24-hour helpline offering support to those with mental health issues in Derbyshire. The support line was initially launched on as a response to the COVID-19 pandemic, in recognition that the pandemic was going to have an impact on people's health and wellbeing and has been supporting people across the county ever since.
---
Receiving care
We are a provider of NHS mental health, learning disabilities and substance misuse (drug and alcohol) services in Derby city and Derbyshire county. We also provide a wide range of children's services. We employ more than 2,800 staff providing services from a number of community bases across the whole of Derbyshire. Across the county and the city, we serve a combined population of approximately one million people.
Our vision: To make a positive difference in people's lives by improving health and wellbeing.
We have a clear vision for the Trust which guides us in how we balance the interests of patients, the local community and other stakeholders. Our vision is supported by four strategic objectives that serve as the basis for decision making and forward planning, the first of which is 'Great care':
Delivering compassionate, person-centred, innovative and safe care
Choice, empowerment and shared decision-making is the norm.
To support our vision, the Trust has developed a series of Core Care Standards. These enable all teams to have a consistent way of planning and delivering care, whilst recognising the needs and standards of particular services and the people they serve. The standards aim to increase quality and safety and apply to everyone who uses our services. Resources that support the standards all have the apple 'quality mark' on to indicate this.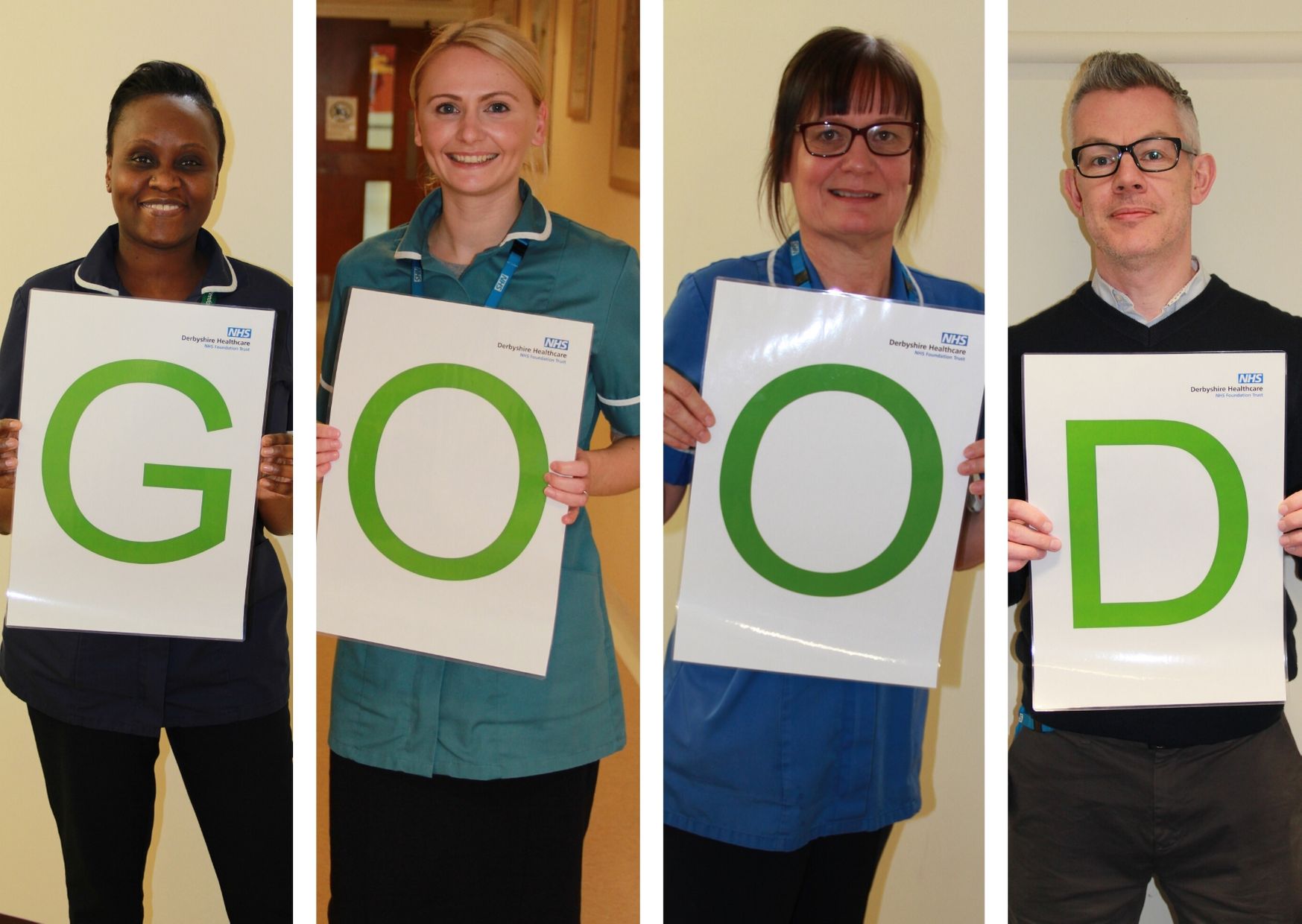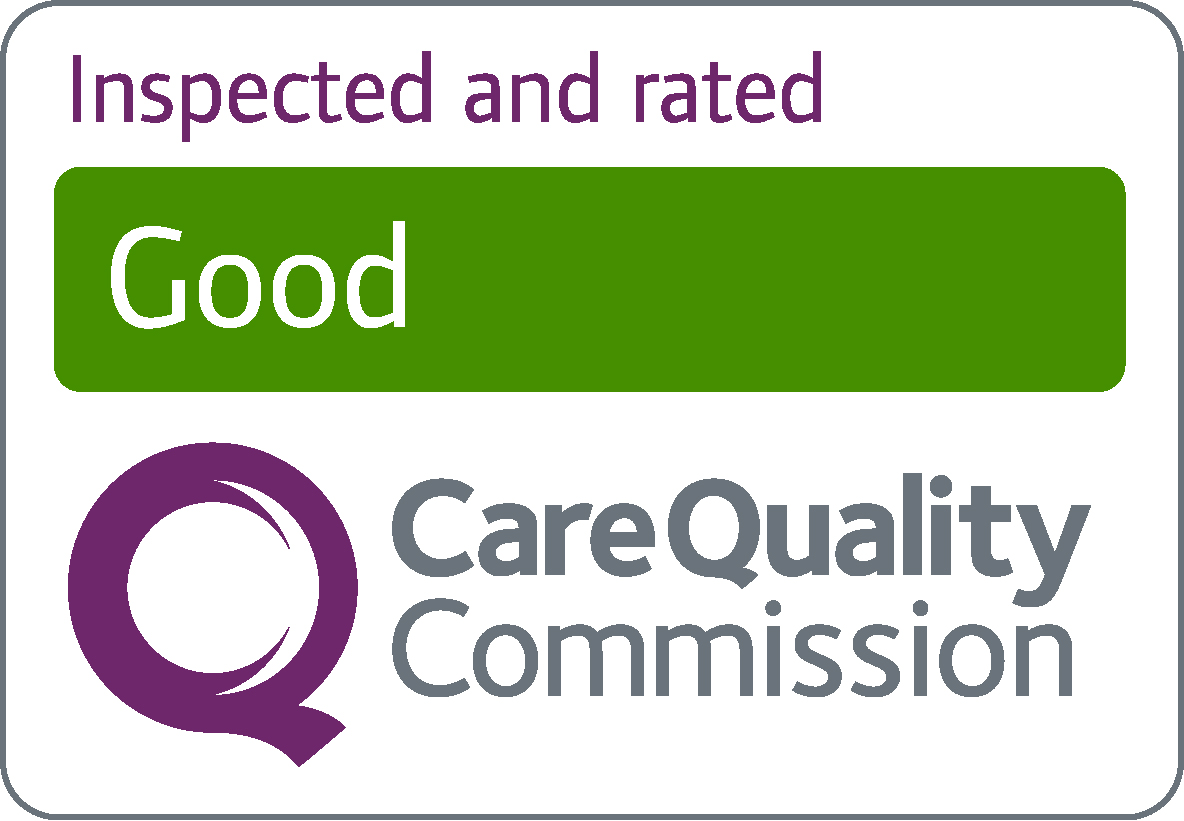 We want to make a positive difference in people's lives, and we are proud that our inspectors have rated our caring as 'good'. We are committed to bringing our values to life in the way we care for people in our services. We try to do that in a number of ways:
Focussing on individual needs
Respecting privacy
Protecting personal information and data
Controlling infection
Smoke free buildings and grounds
Promoting equality and diversity
Our Trust strategy outlines our clinical ambition, which is that our services will:
Be based on the best clinical evidence
Be designed in consultation with our colleagues and people who use our services.
And that our clinical model will:
Be person centred, seek to prevent ill health and support our patients beyond periods of acute illness
Involve people who use our services in designing their care and treatment, to meet personal goals throughout their lives
Provide care at home or in the community where possible, through a partnership approach to promote individual and community resilience
Ensure any admission to hospital is within Derbyshire where possible and kept to the shortest effective period of time
Be compassionate and take account of trauma informed practice.
---
A great place to work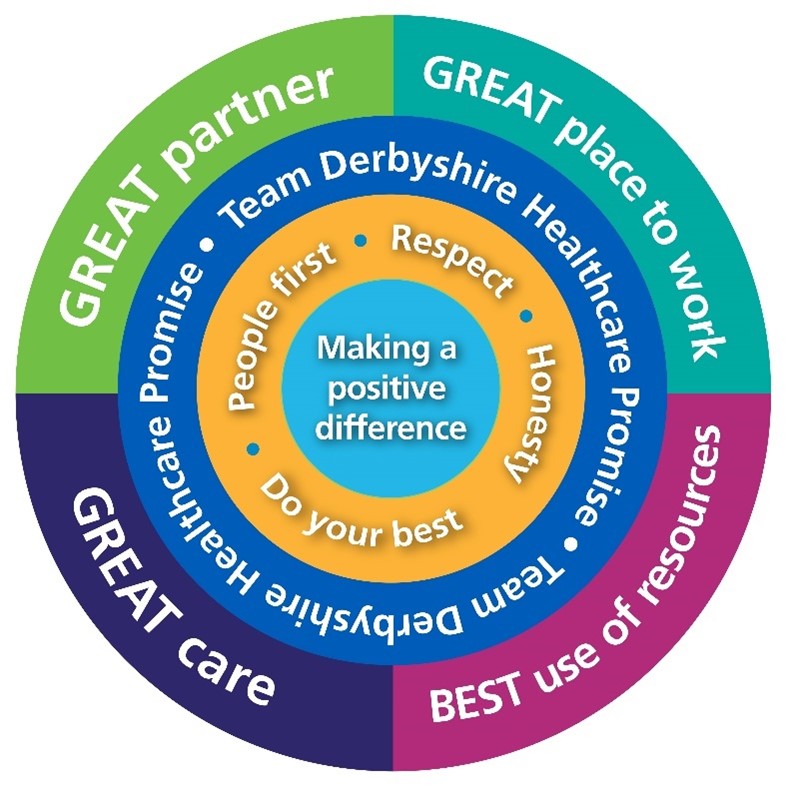 Want to make a real difference and have a truly rewarding career? Join 'Team Derbyshire Healthcare' and become part of a talented, compassionate and enthusiastic workforce committed to a vision of 'making a positive difference in people's lives'.
Our vision is underpinned by four key values, which have been developed in partnership with our patients, carers, staff and wider partners.
We can only provide good quality services through our dedicated colleagues, working together with a common purpose. Our values reflect the reasons why our workforce choose to work for the NHS and for Derbyshire Healthcare.
People first – We work compassionately and supportively with each other and those who use our services. We recognise a well-supported, engaged and empowered workforce is vital to good patient care
Respect – We respect and value the diversity of our patients, colleagues and partners and for them to feel they belong within our respectful and inclusive environment
Honesty – We are open and transparent in all we do
Do your best – We recognise how hard colleagues work and together we want to work smarter, striving to support continuous improvement in all aspects of our work.
Join us on our mission
We are on a mission to make a positive difference in people's lives - and to make 'Team Derbyshire Healthcare' a great place to work.
Rated good overall by the CQC in March 2020 with some outstanding services - "all staff we spoke with felt positive and proud about working for the trust".
A focus on inclusion, with a range of staff networks - chief executive Ifti Majid is co-chair of NHS Confederation's BME Leadership Network.
Clear vision and values - "Staff knew and understood the Trust vision and values and how they were applied in the work of their team".
A 'people first' approach: during Coronavirus 96% of colleagues said they felt informed and 85% said they felt supported.
"From grand rural vistas to inner-city challenges, the world is here and yet we work in a close-knit and supportive organisation. Give us a try and you are likely to get hooked."

Dr Simon Thacker, consultant psychiatrist - shortlisted for RCPsych Awards Psychiatrist Of The Year
There are few careers that are as rewarding as one at Derbyshire Healthcare. Here you will have the opportunity to support people of all backgrounds and ages.
By joining 'Team Derbyshire Healthcare', you will become part of a talented, compassionate and enthusiastic group of people who work towards a set of values, committed to making a positive difference in people's lives.
We are passionate about making equality, diversity and inclusion part of our DNA. We take pride in our "People First Culture" which creates a workplace where everyone feels a genuine sense of belonging, difference is celebrated, and people are comfortable to bring their whole selves to work. Our Chief Executive, Ifti Majid, is a national advocate for Equality, Diversity and Inclusion. We value the richness that comes from having colleagues that are fully representative of the local community. We welcome people who identify as Black, Asian or from a Minority Ethnic background, protected characteristics, and with all backgrounds and experiences.
Wellbeing
The health and wellbeing of all our colleagues is and will remain a priority for the Trust. Our leaders are constantly seeking innovative ways to support our staff and we have a wide range of wellbeing offers in place, to both prevent and respond to health and wellbeing needs.
We have a dedicated wellbeing team who are on hand to support colleagues whilst focussing on developing and improving our staff wellbeing offer, as well as providing access to 24/7 counselling support when needed.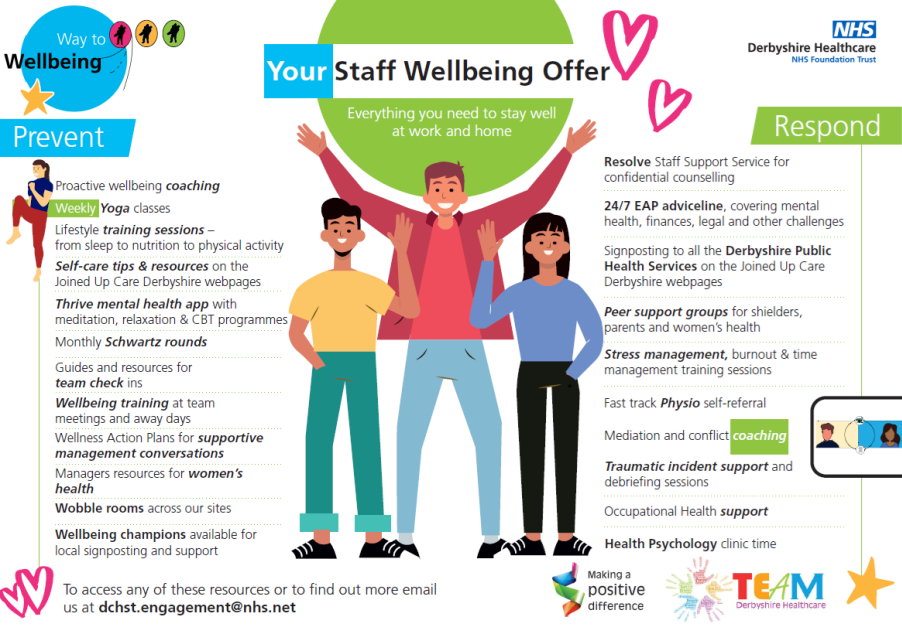 ---
Putting down roots - why Derbyshire?
Derbyshire is a wonderful place to live. Our county has stunning county side, amazing history and of course, fabulous people.
Derbyshire is an area of great natural beauty with rugged, peat-covered moorlands and magnificent limestone dales, with picturesque towns and villages, historic churches and some grand houses. It is the location of Britain's first National Park - the Peak District National Park, a popular place for walkers and climbers.
Whether you enjoy your shopping or leisurely sightseeing trips, Derbyshire's lively towns offer a delightful array of attractions. Derby itself offers the best of both worlds – multicultural city life on the doorstep of a stunning rural environment.
---
Hear from our consultants
Watch the videos below featuring Dr Madeleine Bonney-Helliwell, our North Derbyshire Perinatal Consultant Psychiatrist, and Dr Bushra Azam, our Hospital Liaison Team (North) Consultant Psychiatrist. Learn why they have chosen to work for Derbyshire Healthcare.