We want this website to be as easy to use as possible. We also want to be clear about our terms of use. This page covers three areas:
Website accessibility: using our assistive toolbar
A website that is not accessible could prevent people from taking an active part in life, and getting information about their health and wellbeing.
We have added to our website a web accessibility and language toolbar by a company called Recite Me. We have done this to make the website accessible and inclusive for as many people as possible.
The toolbar helps the one in five people in the UK who have a disability, including those with common conditions like sight loss and dyslexia, to access this website in the way that suits them best. It also meets the needs of the one in ten people in the UK who don't speak English as their first language, by being able to translate our web content into over 100 different languages. Learn more about the toolbar on the Recite Me website.
How do I open the assistive toolbar?
You can open the toolbar by clicking on the green button marked

'accessibility' at the top of the page. This green button now appears on every page of our website. The button is pictured here, to show you how it looks.
After you click on the green 'accessibility' button, the toolbar opens. It displays a range of different options for customising how the website looks and how you can access the content.
How can the toolbar help me?
The toolbar has a range of functions to help you access the information on this website. You can use it to:
Have the text on our website read aloud (including PDFs)
Download the text as an MP3 file to play it where and when it suits you - the MP3 file downloads automatically to your computer or device
Change font sizes and colours
Customise the background colour
Translate text into more than 100 different languages
Access a fully integrated dictionary and thesaurus.
Below are basic instructions on using some of the most popular tools on the toolbar. You can find out more by reading the toolbar user guide on the Recite Me website.
Tool 1: Screen reader (audio)
Our screen reader helps people who are visually impaired or neuro-divergent to perceive and understand our website content.

Key features include:
All content read aloud in a natural voice
35 different language options
Speed controls and word-by-word highlighting for total customisation
The toolbar allows you to highlight any text and create an MP3 file, which downloads automatically to your computer. Audio is created in a natural-sounding conversational style.
Tool 2: Styling
The toolbar allows you to customise the way our website looks, so you can make it work for you.

Key features include:
Text size and colour
Website background colour
Text font type, including Open-Dyslexic
Text-only option, where all styling is stipped away. This leaves text only for your viewing, much like a document.
Tool 3: Reading

To make it easier to read our content, the toolbar provides a number of tools, including:
Ruler - to read line by line with no distractions of what is below
Reading mask - to mask away 90% of our website, leaving only the information you want to concentrate on
Dictionary - highlight a word to get a definition of what it means
Magnifier - to zoom in to sections of the text making reading more clearly easier
Margins - when in text-only mode, you can use the margin feature to position content in the best place for you.
Tool 4: Translation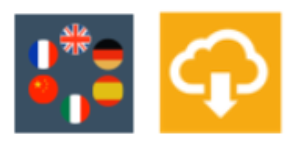 Around one in 10 people don't speak English as their first language in the UK.
Our toolbar can quickly and easily translate all our website content into over 100 languages. The screen reader (turning text to speech) can also be used in 35 languages. The translation function changes everything you see on our website.
You can also download information to your device as an audio file, simply by highlighting text and then clicking on 'download audio file'.
Website accessibility: improving your experience
We are working hard to improve this website, but we know that more needs to be done.
Measuring the site's accessibility
To be accessible, the Derbyshire Healthcare website must be as easy to use and understand for as many visitors as possible. We are working to ensure that our website complies with the World Wide Web Consortium's (W3C's) Level AA guidelines for accessibility and we are committed to maintaining and improving the accessibility of our site. You can view our progress on the Silktide website, which rates all NHS trust websites. You can also learn more by reading our accessibility statement.
Contacting us
If you have any problems accessing information on this website, please let us know by emailing dhcft.communications@nhs.net or calling our Communications team on 01332 623700 extension 31218.
Please note that we cannot guarantee the accessibility of third party websites, documents and multimedia content that we may link to.
Keyboard navigation
Do I have to use a mouse to navigate the website?
No - you can use your keyboard. Use your arrow keys to scroll up or down the page. You can use your Tab key to move between links, and press Return or Enter to select one.
On online forms:
Use the Tab key to move from one 'field' or response box to the next. To go back, press Shift-Tab
Use the Return or Enter key to open up a drop-down list,and your arrow keys to move up and down that list. Use Return or Enter to select your preferred option
Use the Tab key to move between multiple choice buttons, and then the Space bar to select your preferred option. To 'uncheck' an option, press the Space bar again
Use the Space bar to tick the box confirming that you agree to our privacy policy
Use the Space bar to tick the reCAPTCHA box which says 'I'm not a robot'
Use the Space bar to submit the form.
PDF accessibility
We try to make sure that PDF documents on the Derbyshire Healthcare website are as accessible as possible. If you are having problems accessing a particular document, please let us know by emailing dhcft.communications@nhs.net
Is there anything I can do to make PDF documents more accessible?
Useful information about how to make Acrobat documents more accessible can be found on Adobe's website.
More information can be found on Adobe's pages on accessibility.
Downloading documents
What formats are downloadable documents provided in?
Downloadable documents on this website are provided in different formats. The most common are PDF, Word and Excel. If you require a document in an alternative format, please contact us at dhcft.communications@nhs.net.
What if I don't have the software to open a document?
Most computers already have the software to open these document formats. If you do not have Adobe Acrobat Reader (for reading PDFs), it is available from the Adobe website.
How do I save documents to my computer?
If you have a PC, right-click on the link to the document. If you use an Apple device, hold down the mouse button over the link. In both cases, a popup menu will then appear. Scroll down the menu and click on 'Save as' or 'Save target as'. You will then be asked to choose a folder on your computer where you can save the document.
Some browsers such as Firefox and Chrome automatically download documents to your computer when you open them.
Video accessibility
Are Derbyshire Healthcare videos accessible?
As part of our commitment to the British Deaf Association's BSL Charter, all our most recent Trust videos are generally subtitled and have BSL interpretation. Our videos are uploaded to our YouTube channel where you watch them with closed captions.
If you need the text of a video, please contact us by emailing dhcft.communications@nhs.net. Don't forget to let us know which video you are interested in.
Our terms of use and privacy policy
View our privacy policy, which is on a separate page.
Please open the accordion (drop-down box) below to view our terms of use.
Copyright
The content of this website is the copyright of Derbyshire Healthcare NHS Foundation Trust unless stated otherwise. You may only download material for your personal use, private study, research or in-house use. You must not copy, distribute or publish any material from this website unless formal permission is obtained from the copyright holder.
Accuracy
While we have tried to compile accurate information on this site – and to keep it updated – we cannot guarantee that it is 100% complete or correct.
The information provided on this site does not constitute professional advice and is subject to change.
Links
Links from this website are only provided for your information and convenience. We cannot accept responsibility for the link sites available through this website or the information found on them. A link does not imply we endorse a particular site. Neither does not linking to a site imply lack of endorsement.
Please note that Derbyshire Healthcare NHS Foundation Trust is not responsible for the privacy policies of other websites. We advise you to read the privacy statements of other sites when you leave Derbyshire Healthcare NHS Foundation Trust webpages.
Availability
We cannot guarantee uninterrupted access to this website, or the sites it links to. We cannot accept responsibility for any damages which arise from the loss of use of this information.
Privacy Statement
Our privacy statement below discloses the privacy practices for this website.
Collection and use of information
Derbyshire Healthcare NHS Foundation Trust does not collect or keep any personal information about site users as a matter of course.

We will only retain any personal information you provide via the website feedback forms to assist us with your enquiry or complaint. This information is treated confidentially – in the same way, as your medical records would be. The information you provide will only be shown to such of our employees who need it to deal with your comments or enquiry.
Any confidential information you provide to us is governed by our Data Protection Policy and codes of conduct.
Logged information
We use records of the number of visitors our site has to analyse trends, or administer the site and to see what pages visitors use. These records do not contain personal information.
Anonymous access
You can access and browse this site without disclosing your personal identifiable information.
We do not automatically store or collect any personal information about our visitors, neither do we store nor collect personal information from other sources, such as public records or private organisations.
We do collect information from the technology that is used to view our site which we use to analyse trends and administer the site. The data collected to enable us to do this is anonymous and does not identify you as an individual.
Computer viruses
Every reasonable effort has been made to ensure that the information held on this website is free from computer viruses or other contamination. However, it is recommended that content downloaded from this site is checked by your own anti-virus checking system prior to use.
Derbyshire Healthcare NHS Foundation Trust cannot accept liability for any damage caused to computer systems and/or data contained therein by any product, including viruses, in content downloaded from this website.
Notification of changes
Any changes to this disclaimer or the privacy statement below will be posted on our homepage so that our visitors are always aware of what information we collect and how we use it.