This page provides information for carers on our services and support during the pandemic, and other support provided locally. Learn more by clicking on the buttons below.
Our approach to working with carers during COVID
Coronavirus is a contagious disease that is affecting everyone throughout the country. We need to work hard to make sure that we do not spread the infection to others around us. As a carer for someone with health difficulties, or a carer for children, you are probably worried about your loved ones' care and want to make sure that they are protected and stay well, whether that is at home or in hospital. As a carer, it is also important we do everything we can to help you keep healthy.
We will do our very best to continue to provide services and work with you to keep the person you care for safe and well. We have adjusted the way we provide care and support but you can still contact us if you need to. Carer support is still available from a variety of organisations and you can read our information below on how to contact them.
July 2021 update: our services are still 'COVID secure'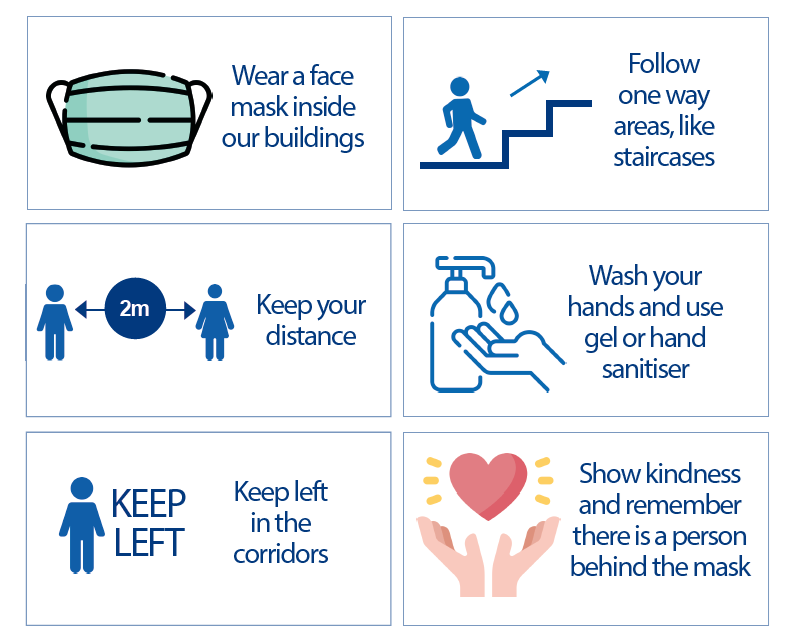 When you visit someone in one of our hospital units, or come to speak to one of our teams face to face, please continue to:
Wear a face mask inside our buildings
Keep 2 metres from others (social distancing)
Wash your hands and use gel or hand sanitiser
Follow one-way routes, like staircases
Keep left in corridors
Show kindness and remember there is a person behind the mask.
This is in line with national NHS guidance - see the NHS England website for details.
Derbyshire's hospitals, GP practices and pharmacies are now vaccinating patients and staff aged 16 and over against COVID-19.
You can book your appointment now using the National Booking System or by calling 119. Walk-in clinics are also being set up across the county.
There is more information on the COVID-19 vaccination programme on the Joined Up Care Derbyshire (JUCD) website or on the NHS website.
To book your vaccination appointment, you will need your NHS Number. Look at this link to find your NHS Number. You should also be able to find your NHS Number on any letter or document you have received from the NHS, including prescriptions, test results and hospital referral or appointment letters. If you cannot find your NHS Number in these ways, you can ask your GP practice to help you. They should be able to provide the number for you as long as you are registered with them. To protect your privacy, you may be asked to show a passport, driving licence or some other proof of identity.
If you are not registered with a GP, this link will provide you with details. The registration process requires a form to be filled in (not on line) and then handed to the relevant GP practice. The GP practice should be able to assist with filling in the form if needs be. You can register with a GP practice to get an NHS number. If you do not already have an NHS number, you'll be assigned one during registration. You'll get a registration letter in the post and your NHS number will be shown in the letter.
These uncertain times can be very worrying if you care for someone with mental illness. If you are worried it is important you try and get support for yourself.
If you live in Derbyshire
If you live in Derby City
Further information
Online information

Helplines
NHS Carers Direct 0300 123 1053
Mind Infoline 0300 123 339
Age UK Advice Line 0800 055 6112
The Trust has launched a new scheme, which aims to encourage ongoing communication between people who are currently being supported on one of our inpatient wards and their friends and families.
'Thinking of you' is a scheme through which friends and families can write a letter to an individual on our wards, perhaps with some photographs or other images that they would like to include. A small team will then confidentially print this information, in a way that is discreet and respects your privacy, place it in an envelope and make sure it reaches the intended recipient.
How the scheme works
Please make sure you include the following information with your email:
Full name of the patient that you are sending your message to
Their date of birth – if you have it
The unit and ward name where they are staying
Contact details for the sender including a phone number and email address if possible
The message and any images or pictures, either within the email or sent as attachments.
Please be aware of the following guidance about your message:
We cannot pass on videos through this scheme
Please make sure the content of the message is appropriate. This means you would feel comfortable if someone else read the message
Attachments to your email, such as images, must not exceed 10 MB in total.
If you would like to send a letter to a loved one on our wards, please email it to dhcft.thinkingofyou@nhs.net.
Have the contact details of the person you are caring for changed recently? If so, please let us know by telling a member of the team who supports them.
Help us keep their NHS records up-to-date by telling us if they:
have changed address or telephone number
have changed GP
want letters sending to another address.
We'd also like to know if your contact details have changed, as their carer.
We are also encouraging service users to share their mobile phone number and email address so we can contact them about their care, send appointment reminders and seek feedback about their experience of our services.
This information is also helpful for arranging video consultations.
Helplines

• NHS Carers Direct 0300 123 1053
• Mind Infoline 0300 123 339
• Dementia Connect Support Line 0333 150 3456
• Age UK Advice Line 0800 055 6112