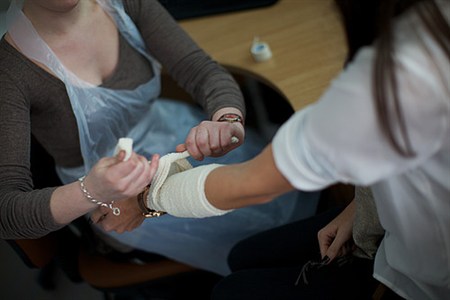 If you need help - whether it's an emergency or non-emergency - please see the list below where you can find the right help and support for your needs.
For immediate life-threatening emergencies, where a crime is being committed, or a fire is in progress, contact the emergency services by calling 999 immediately and ask for the Ambulance, Police or Fire Service. For non-emergency police issues, please call 101)
In medical emergency and life-threatening situations only, where a person has taken an overdose or needs urgent medical attention, please dial 999 or attend your nearest hospital A&E department.
If you are feeling unwell but it's not too urgent, please contact your GP or a local pharmacist.
In the event of a wide-scale major incident or emergency in Derby or Derbyshire, please go to the Derbyshire Prepared website.
To find out more about emergency and urgent care services in your local area, please visit the NHS website.
You can also visit the Derby and Derbyshire Emotional Health and Wellbeing website, a regularly updated signposting website that contains local and national links.
The role of an out-of-hours Careline is to make people feel safe until the next working day. Daytime workers may become involved to follow up on a problem that has been dealt with at night or over a weekend.
Social care numbers you can ring for help include:
Derby City Careline - During office hours you can call 01332 786968 for social care support. Alternatively, for out of hours support, please call 01332 786968. If you are Deaf, please text 0789 0034081. The service operates from 5pm to 9am Monday to Friday and 24 hours a day on weekends and bank holidays.
Call Derbyshire - Call 01629 533190. The call centre is open between 8am to 8pm, Monday to Friday and 9.30am to 4pm Saturdays to provide you with a speedy and direct response.
The Derby and Derbyshire emotional health and wellbeing website is a very useful directory of support services that are available in the city and county. It is jointly managed by the Derby and Derbyshire NHS and local authorities.
If you have an urgent mental health problem or you are experiencing a mental health crisis, please visit our help in a crisis webpage for information and advice on the options available to you.
The NHS website has a range of information on different health conditions. View their A to Z list.
Mental health
The NHS website covers a wide range of mental health conditions.
In addition, a series of self-help leaflets have been produced by the NHS - by Northumberland, Tyne and Wear Trust. These leaflets cover a range of subjects including anxiety, hearing voices and depression and low mood.
You can also find more information on our planning to keep well page.
A clear distinction is often made between 'mind' and 'body'. But when considering mental health and physical health, the two should not be thought of as separate.
Poor physical health can lead to an increased risk of developing mental health problems. Similarly, poor mental health can negatively impact on physical health, leading to an increased risk of some conditions.
For further information on ways to help improve your physical health such as losing weight, quitting smoking and reducing your drug and/or alcohol intake, please visit one of these websites:
If you are worried about the safety or wellbeing of a child or vulnerable adult, please contact:
Derbyshire Social Care on 01629 533190
Derby Social Care on 01332 641172 or 01332 786968
Police Central referral unit for issues relating to Domestic Violence and Child Abuse on 0300 122 8719
Public Health on 01246 515700 or 01332 888080 ext 8383
Safe places are places that people with a learning disability may go to for help if they are out and about; this includes libraries and some doctors surgeries as safe places. In 2015 all kinds of new Safe Places were introduced in Derbyshire at museums, town halls, leisure centres, cafes, charity shops and cake shops.
To view a list of safe places in Derbyshire, please visit the Derbyshire County Council website
The Derbyshire Discretionary Fund can support people to resolve their immediate financial difficulties and can put them in touch with other support services. There are two types of grant; Exceptional Pressure Grant and Emergency Cash Payment
For further information please call 01629 533399 between 10am - 4pm, Monday to Friday. Alternatively, please visit the Derbyshire County Council website
Advice about benefits
The best source of information is the gov.uk website. The following sites may also be of help:
For information about help with health costs, please visit the NHS website.
There are a number of food banks across Derby City and Derbyshire County. To find a local food bank, please visit one of the following sites:
Places that can offer help and advice include:
Did you know that you may be able to claim a refund under the 'Healthcare Travel Costs Scheme' (HTCS) of the cost of travelling to hospital or other NHS premises for NHS-funded treatment or diagnostic test arranged by a doctor or dentist? To find out more and to see whether you qualify, please visit the NHS website.
Community Transport for Town & County (CT4C) is here for you! It provides a travel service to help people, especially those with mobility problems. To find out more, please visit the CT4C website.
Connected Derby is all about making sustainable travel choices a way of life in Derby. Why? Because it can save you money, time and help you to keep fit and active. To find out more, please visit the Connected Derby website.
The Wheelchair Service provides assessments for people with mobility problems, who may also need special postural support in their wheelchairs. The service provides wheelchairs, pressure care cushions and accessories for wheelchairs. Find out more by visiting the Derbyshire Community Health Services NHS Foundation Trust website.
Derbyshire Handy Van Network - The network offers older and vulnerable people help with practical household tasks, ranging from taking down curtains to putting up shelves, as well as undertaking secuity and fire safety checks to improve safety in the home.