The following diagrams outline what items of PPE should be used for which purpose in primary and secondary care and what can be re-used:
Recommended PPE for healthcare workers by secondary care inpatient clinical setting, NHS and independent sector

Recommended PPE for primary, outpatient, community and social care by setting, NHS and independent sector.
There is also a useful visual aid to what PPE colleagues should be wearing in which circumstances, which has been developed by Public Health England. Our 'high risk areas' would involve resus, the use of a nebuliser or the work of a small team of children's physiotherapists or learning disability speech and language therapists involved in aerosol-generating procedures (AGPs) such as dysphagia.
We will continue to keep colleagues updated on any further advice regarding PPE. You can access the most up-to-date PPE guidance in the PPE hub on the gov.uk website.
The latest version of the PPE guide for community health and social care settings is a helpful visual guide to when and how to use PPE. It is also a useful summary for colleagues returning to clinical practice after a period of working from home.
Other useful guidance on PPE:
Remember:
Have a supply of the PPE required before you undertake an interaction – for community workers this means having the PPE with you. Making up a small pack to take may be easier and more discreet for entering people's homes. In the community, use a clear plastic bag for the PPE, which can then be disposed of in the service user's domestic waste
Eye protection still requires a risk assessment prior to use: see the recommended PPE diagrams above
Please do not dispose of eye protection. We have undertaken a corporate risk assessment and ask that this is cleaned
and re-used, unless damaged or heavily soiled or clearly marked 'for single use only'. The eye protection should be cleaned using a green Clinell wipe and kept safe for use again. If there are no green Clinell wipes, use a detergent wipe. All other elements of PPE are single-use disposable
Document which PPE you use and the rationale in the care record.
Use of face masks by colleagues in patient-facing roles in hospital and community settings
As of 15 June 2020, face masks need to worn by all colleages in hospital and community settings. See the all-staff message of 11 June. Two guides are available:
Safety alert - Cardinal Health type 2R face masks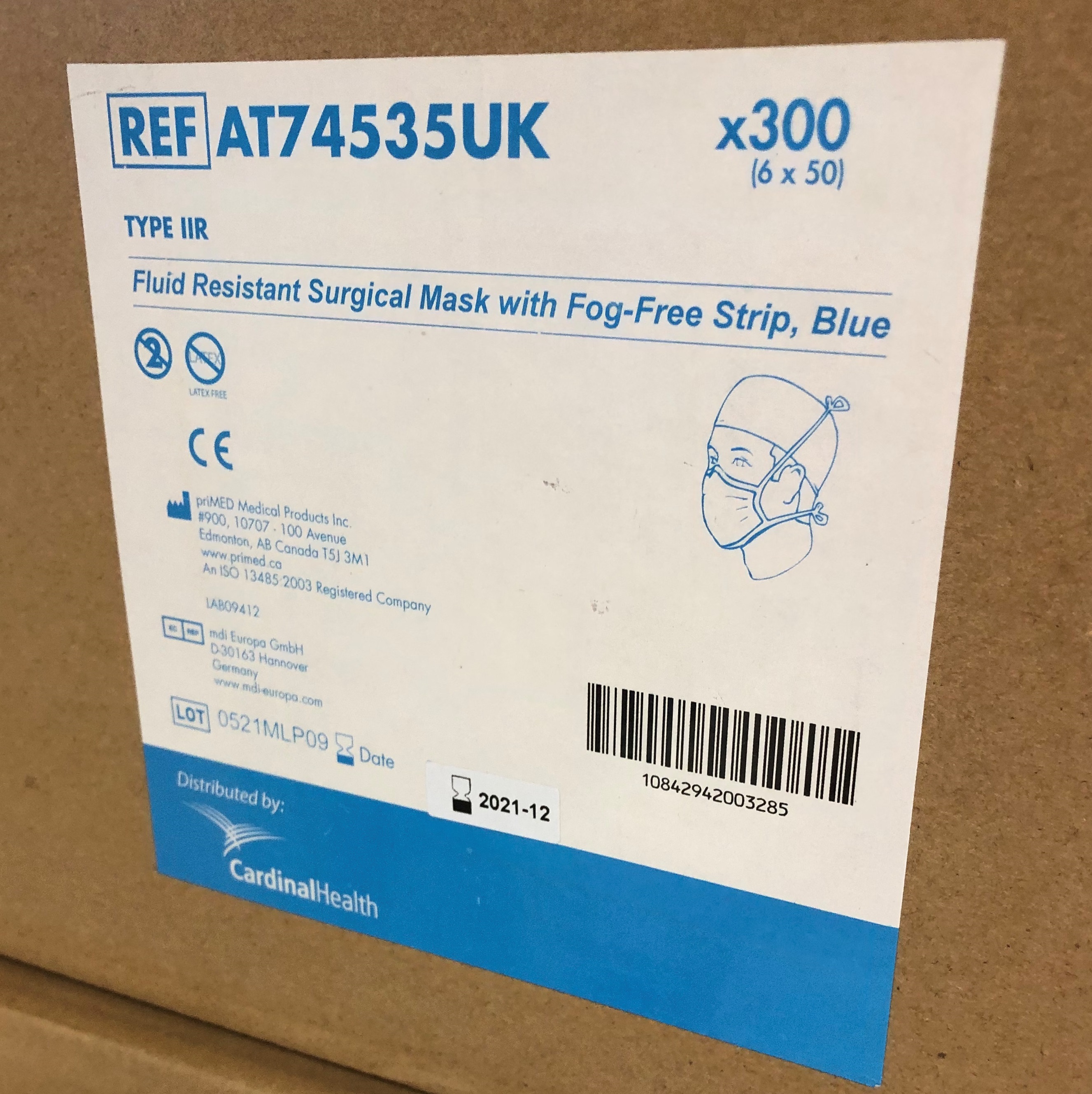 NHS Supply Chain has received some complaints about Cardinal Health Type 2R face masks – specifically item code AT74535UK – from health and care staff. Although these masks meet the breathability, filtration and splash resistance requirements of BS EN 14683, the Medicines & Healthcare products Regulatory Agency (MHRA) is recommending that all lots of this product are disposed of as a precaution. We do have other Cardinal Health products where there are no safety concerns identified.
Our PPE team has gone through past orders of face masks and identified some shipments which have included these Cardinal Type 2R masks. They are busy contacting individual clinical teams that may have been supplied with these masks, and teams are starting to dispose of the masks.
The boxes that the masks are provided in – both the large cardboard boxes and the smaller boxes containing 50 masks – will show the Cardinal Health logo and item code AT74535UK, as pictured above. Click on the image to view it full-screen.
Please make sure these masks are removed from use and are disposed of. If you have any questions or concerns, please email dhcft.ppe@nhs.net
The rules of hands, face, space apply. Within our services this means:
Wash your hands well and often. You can see a video on how to effectively wash your hands. Use hand sanitiser if and when you are not able to wash your hands with soap and water.
Top tips for handwashing include:

Wash your hands with soap and water often – do this for at least 20 seconds
Wash your hands as soon as you get home
Cover your mouth and nose with a tissue or your sleeve (not your hands) when you cough or sneeze
Put used tissues in the bin immediately and wash your hands afterwards
Do not touch your eyes, nose or mouth if your hands are not clean

Wipe down regular touch points such as door handles, printers, code pads etc
Keep your windows open and your areas well ventilated
Wear a mask or a face covering when you are at work – it must be a surgical mask if you are in a patient-facing role, team or service. Wear the right PPE for the job you are doing – see the PPE section of this page.
Keep your distance from others – even when wearing PPE. Keep to two metres as much as possible
Take extra precautions at times when you might be vulnerable – for example, eating and drinking.
If you must share a car, keep your windows open, wear a face mask and sit as far apart from each other as possible
If you are in a patient-facing service, please use the lateral flow tests – these detect the virus in its early stages, before any possible symptoms may be experienced
Please follow the restrictions for the area that you live in when you are not at work.
The importance of ventilation
Public Health England has published guidance about the importance of ventilation in indoor spaces in preventing the spread of COVID-19.
When someone with COVID-19 breathes, speaks, coughs or sneezes, they release particles (droplets and aerosols) containing the virus that causes COVID-19. While larger droplets fall quickly to the ground, smaller droplets and aerosols containing the virus can remain suspended in the air. In poorly ventilated rooms, the amount of virus in the air can build up, increasing the risk of spreading COVID-19, especially if there are lots of infected people in the room. The virus can also remain in the air after an infected person has left.
Bringing fresh air into a room and removing older stale air that contains virus particles reduces the chance of spreading COVID-19. Please make sure you incorporate ventilation as part of the 'pyramid of protection' against COVID-19.
At the same time, please remember the importance of building security. If a building, or part of a building, is going to be empty when you leave, please make sure windows are closed before you go. This is everyone's responsibility.
Ventilation does not prevent COVID-19 from spreading through close contact and is only one of the actions you should take to reduce the spread of COVID-19. This is why it is important that everybody follows the guidance on how to stop the spread of COVID-19 all of the time, especially as it is possible to have COVID-19 with no symptoms. You can pass COVID-19 on to others if you only have mild symptoms or even no symptoms at all.
Colleagues are asked to ensure any room they are occupying has adequate ventilation. Please make sure you open windows and/or doors where possible and ensure a regular flow of fresh air.
Use of heating and cooling systems
Heating and cooling systems can be operated normally, as there are no direct implications around COVID-19 spread though their use. Planned preventative maintenance and servicing aligned with the latest health guidance will continue to be carried out by our Estates team.
In buildings without mechanical ventilation systems it is recommended to open windows as much as possible to enhance air exchange rates. It is recommended to open windows for at least 15 minutes when entering a room, especially if the room has been occupied by others beforehand.
Room occupancy numbers
The more people who use or occupy an area, the greater the risk that an infected person is there, increasing possible exposure to aerosol transmission. Reducing the number of people who use or occupy an area reduces this risk.
Please make sure you continue to abide by the maximum number of people that should occupy any room by observing the poster displayed on each door of our office and meeting spaces.
Ventilation in vehicles
Like buildings, enclosed vehicles including cars, vans, and buses can also be high-risk for spreading COVID-19. It is important that vehicles are well ventilated to help reduce the risk of spreading COVID-19.
When operating or travelling in vehicles:
Switch ventilation systems on while people are in the vehicle. Make sure you set to drawing fresh air in, not recirculating air
To improve ventilation, windows can also be opened (partially if it's cold). Heating can be left on to keep the vehicle warm
Wipe down any touch points within your car
Wear a mask or face covering if you need to travel with someone who is not a member of your household or support bubble.
Every Action Counts
Colleagues working in NHS trusts across the country have pulled together a series of materials to talk about the importance of our infection, prevention and control (IPC) guidance – and how we must feel comfortable in challenging people if we see they are not abiding by the current rules.
We all know how strange it can feel to distance ourselves from others when we are at work, and that it can feel impolite to challenge someone, or decline the offer of a lift or a snack which, however well intentioned, could increase the risk of spreading COVID-19. These are feelings and worries we all have – and it is important to talk about them.
Colleagues are encouraged to watch a short film, titled 'Because I care'. Please take a look and discuss in your teams how we take steps like social distancing and wearing a face mask because we all care about looking after ourselves and others.
The film is accompanied by a range of additional materials that are available on our dedicated "Every Action Counts" pages
Cleaning of IT equipment and devices
It is important to disinfect IT equipment, especially any shared devices like ward laptops or office computers. Evidence shows that the use of detergent or disinfectant will significantly damage the virus and disrupt its form and function.
However, we are experiencing cases where colleagues are applying too much liquid – for example, by spraying sanitiser onto keyboards or laptops, or using too many wipes – and the equipment is getting damaged.
Please continue to clean IT equipment but please try to minimise the amount of liquid used, and avoid the use of sprays. One detergent wipe per item (keyboard, mouse etc) should be adequate.

More Information below:
If an individual presents at hospital with symptoms:
Key signs of domestic abuse and the services that are available.
Although these services are not exclusively there for or just needed by women, they are essential in supporting women who are in these distressing and sometimes dangerous situations. Across all organisations, our message to women at this time is simple – the NHS is here for you.
Domestic violence or abuse includes physical, emotional and sexual abuse in couple relationships or between family members. It can also include coercive control and 'gaslighting', economic abuse, online abuse, threats and intimidation, emotional abuse and sexual abuse.

Where to access further information/support
The NHS website has advice for the public on spotting the signs of domestic abuse and domestic violence and where to go for help. There is also a help page for those who have been raped or sexually assaulted. There is a freephone 24-hour National Domestic Abuse Helpline number 0808 2000 247 and associated online support available at www.nationaldahelpline.org.uk and Domestic abuse: get help during the coronavirus (COVID-19) outbreak.
Sexual Assault Referral Centres (SARCs)
SARCs remain open and accessible during COVID-19 to offer advice and support. Victims and survivors will be triaged on contact with the SARC, to ensure safe management during this period. Remote support will be available to support pathways to therapeutic interventions. Forensic examination services will be offered to those that want it, to support a criminal prosecution. If a patient presents with the signs of sexual assault it is important that the SARC is informed urgently. A directory of local services is also available.
Resources for NHS staff
Join Trust group discussing women's safety
The Trust is looking to bring together a number of colleagues who are interested in further discussing issues of women's safety, particularly within the workplace. If you would like to join these conversations please contact Clare Meredith via email clare.meredith3@nhs.net

A patient information leaflet has been developed for patients with suspected Coronavirus who have not been admitted to hospital and will be isolating at home.
This includes information on self-isolating, arranging a test and supporting recovery. Please share this leaflet with any patients you feel it would be beneficial for.

NHS England and NHS Digital have announced that, given the effectiveness of the vaccination programme and other treatments, the Government believes that the time is now right to end the shielding programme. (Sept 2021)
This means patients will no longer be classified as clinically extremely vulnerable (CEV) and will not be advised to shield going forward. People who were previously identified as CEV will receive a letter notifying them of this development. There will no longer be a marker on their health records to highlight that they are CEV.
For us, the end of the shielding list does not mean the end of the need to support people.
What this means for service users
This marks an important step-change in the way we manage our patients' health as we come out of the pandemic. It is important that a clinical risk assessment is completed, and individual needs are still accounted for, particularly in inpatient settings.
Work is underway within the Trust to see if there's a way to reflect on the patient record that someone was classed as CEV. However, please make sure that you investigate each patient's physical health requirements and tailor their care accordingly.
Uniforms and changing clothes before entering/leaving inpatient areas
If you are in a role where you wear uniform, please make sure you change into your uniform when you arrive for your shift and get changed again before leaving. We have changing areas and showers available in all of our inpatient units for this purpose.
Please also follow our laundry guidance as outlined:
• Place your uniform in in a standard disposable bag (not alginate/red bag as previously advised)
• Empty the bag directly into the washing machine drum; no other household items should be included in the wash
• The bag can be disposed of via the general domestic waste
• Uniform should be washed at the highest temperature the garment allows, and at a minimum of 60 degrees Celsius
• Other clothing items should be washed at the manufacturer's recommended temperature for the garments.
Other frequently asked questions:
• Should I wash my uniform at 60 degrees?
Please wash it at the temperature indicated on the garment – they are usually designed to tolerate higher temperatures, but please check the label.
• Should I wash my other work clothes at 60 degrees as I have seen recommended for uniforms? Doing this seems to be damaging them…
Please wash your non-uniform work clothes at the recommended temperature – again, check the label on each garment. Whilst higher temperatures may kill viruses and bacteria more quickly, the IPC guidance does not state that all clothes must be washed at 60 degrees – only uniforms and scrubs, which are designed to be. The physical movement and detergent in your washing machine at home play a significant part in cleaning the clothes and killing germs, particularly since a typical wash cycle at home is much longer than an industrial, high-temperature laundry cycle (which is under 10 minutes). So the extra time and greater movement will make up for the fact that you may have to wash your non-uniform work clothes at a lower temperature.
We would recommend that you wash work clothes often, and wash them separately from all your other clothes.
• I've read the Trust messages asking inpatient colleagues not to travel to and from work in uniform. I am based in the community – what do I do?
We understand that community-based colleagues may be confused by this request. If you are travelling between home and a community appointment in uniform, we recommend you cover your uniform – for example, with a fleece or jacket which is easily washable – to indicate that you are 'off duty', and then wash your uniform as soon as you return home.
If you are in a role where you wear uniform in our inpatient services, please make sure you change into your uniform when you arrive for your shift and get changed again before leaving. We have changing areas and showers available in all our inpatient units for this purpose. Place your uniform in a standard disposable bag, and empty the bag directly into the washing machine drum; no other items should be included in the wash. The bag can be disposed of in the general domestic waste.
• My team doesn't currently have uniforms – would it be better to have uniforms from an infection prevention and control point of view?
Uniforms have several benefits, not least in terms of creating a clear visual separation between work and home – and this can help people to feel 'switched on' to the importance of good hand hygiene, going bare below the elbow and so on. There is no direct evidence to show that wearing uniforms alone reduces the transmission of viruses and bacteria, but the evidence does show that clinical staff who wear uniforms uphold better infection control standards. Teams are welcome to request uniforms if they feel this would be of benefit, but we recognise that it is the standards Trust colleagues adhere to that make the difference. We will support community colleagues to make a choice that best suits their needs and those of the people they work with.
General care of home laundry facilities:
A weekly mild solution of bleach on a high temperature can be used in the machine to decontaminate it.
Make sure the seal and door of the machine are wiped before closing.
It's important to consider how we support and communicate with all our patients, service users and carers. With restrictions on movement in place, many of the people we care for are going to be feeling isolated and anxious. This could make them more at risk of abuse or harm.
Below are some hints to help you make the most of every conversation and form of contact you have with service users and carers:
Ask about overall health and wellbeing (if you're making contact in an interactive way such as over the phone or through Attend Anywhere) – show a genuine interest and ask follow-up questions, especially for those who are struggling to cope. If they are struggling, have they had suicidal thoughts? Use the 'six steps' on the suicide prevention page on Focus to guide that part of your conversation.
Make sure service users and carers are aware of any changes in the level or type of support your service is providing to them – while the Derbyshire Healthcare website is seeing record numbers of visitors, not all service users and carers will have access to the internet, or even know the name of our Trust. A direct explanation is very important. Be honest about what has caused any changes – for example, by explaining the need for colleagues within the Trust to work within different services while the pandemic is affecting our staffing numbers.
Check if there any questions about how your service might be operating differently due to COVID-19 –Some service users and carers may be anxious because they are not sure about simple things like whether they would be safe if they had a face-to-face appointment or whether they could be accompanied at appointments or on video calls. If an upcoming appointment will be on Attend Anywhere, describe a little about how this works; you can read up on this on the video consultations page on our website.
Find out the best way to share information and to make contact in the future – please check that the contact details we have on record are up to date, but also ask people how they prefer to be contacted.
Check that service users and carers know whom to contact if they need help in a crisis or an emergency – please agree with your manager what these emergency contacts should be. During your service's opening hours, your team will no doubt be the main crisis contact; please make sure they understand who to call at other times (for example, it might be one of the Crisis Resolution and Home Treatment Teams or the 24/7 mental health support line – but please agree this with your manager). Please also raise awareness of the importance of calling 111 first before going to a hospital emergency department, unless it is an emergency – more information on this below.
Please remember…
The Triangle of Care – and keep carers involved and informed
"Think Family" – and consider the wellbeing of service users' family members.
If you have any concerns about an individual's safety, use one of the following points of contact:
If someone is in immediate danger call 999
DHCFT Safeguarding Team: 01332 623700 ext 31537 or view their Focus page
Call Derbyshire (adult and children concerns): 01629 533190
Adult Multi Agency Safeguarding Hub (MASH) – Derby city: 01332 642855
Initial Response Team (Derby city children concerns): 01332 641172
Careline (Derby City Social Care – out of hours): 01332 786968.

We know that people's recovery from COVID-19 can vary significantly from individual to individual. Further advice on recovery from the virus is available at the Your COVID Recovery website, https://www.yourcovidrecovery.nhs.uk, with the 'your road to recovery' section being particularly helpful. Please share with colleagues and patients.
Post COVID Syndrome Assessment Clinics are now being established across Derbyshire to support the identification, assessment and management of patients experiencing the long-term effects of COVID-19, often described as 'long COVID'. Derbyshire Community Health Services NHS Foundation Trust (DCHS) will host the service, which started delivering services in January 2021.
A Derbyshire Post COVID Syndrome Pathway has been developed and approved, together with locally developed patient screening questionnaires to assist GPs in the identification of patients experiencing post COVID syndrome symptoms. A diagnostic checklist has also been developed to aid GPs in carrying out the necessary investigations for those patients that require them.
The Post COVID Syndrome Clinic consists of a multi-disciplinary team from across all Derbyshire services, including Derbyshire Healthcare in order to both physically and psychologically assess and support the patient to ensure the best care.
For any queries regarding this service please email the team: ddccg.conditionsspecific@nhs.net

Revised and simplified guidance has now been issued for
See also guidance issued by the Resuscitation Council (UK) about:
This updated statement includes some recommendations that are focused around acute physical healthcare settings. However there are several recommendations within the document that we should be aware of.
Also published:
The updated advice covers both adult and paediatric resuscitation in both inpatient and community settings. The Trust's resuscitation training has been adapted to reflect these recommendations.
Please read the new guidance and cascade to teams as appropriate. For further advice please contact kate.pears@nhs.net (Resuscitation Lead DHCFT/DCHS).
If you need to undertake home visits please ensure you adequately risk assess the need to enter a patient's home. This would include a review of the individual service user with the Multidisciplinary team, Consultant or Pharmacy colleagues as appropriate.
When administering (or delaying) a depot injection to a patient showing signs of COVID-19 infection:
It is not possible to give a single, definitive answer for all scenarios that may present and clinical judgement will need to be made in each case.
The following points may be helpful considerations within an informed decision-making process:
Whether or not a depot is given the patient will still have a significant amount of that medication within their body. The injection "tops them up"
Changing from the usual depot to an alternative (e.g. oral antipsychotics) carries significant risks, including relapse at a time when inpatient capacity might be significantly reduced
A depot can be given a day earlier or later than planned as it is highly unlikely to present a significant risk. This can be done safely without any alteration to the depot prescription. The risk of relapse increases the longer a depot is left ungiven. Please contact the pharmacy team for further advice on a case-by-case basis about delays of more than a day and about whether future plans for administration should change or stay the same
There is clear advice about paliperidone long-acting injection from its manufacturer, available at: https://www.medicines.org.uk/emc/product/7653/smpc
There is also clear advice about aripiprazole long-acting injection from its manufacturer, available at: https://www.medicines.org.uk/emc/product/7965/smpc
Please see further advice on clozapine, antipsychotic depot/long-acting injections, other psychotropics and COVID-19 - supply and patient treatment advice for more information.
When making any home visits it is also vital that colleagues wear the right PPE (Personal Protective Equipment) for the role they are undertaking. For home visits this is likely to include a surgical face mask, apron, gloves and protective eye wear. Please see our focused PPE section on the Coronavirus resource web pages for more information.

Visiting arrangements vary slightly from one unit to another, and it is important for all carers or relatives planning to make a visit to contact the relevant unit in advance, to agree a date and time for their visit.
More information and advice is available on the guidance for inpatients page, in the public Coronavirus section on our website.
Please note: Visiting will be suspended in the event of a COVID-19 outbreak on an inpatient ward.
If you work on an inpatient unit, either in a substantive role or as a member of the Bank, please make sure you are fully aware of the arrangements in place on your unit. If in doubt, please check with the lead nurse or service manager.
A poster can be downloaded for display at our inpatient units.
A poster template can be downloaded for display at our inpatient units.
Please print these new posters out and display them at your workplace. Please replace any previous versions on display: