This page includes information on:
Kingsway Hospital vaccination hub
Covid vaccine booster jabs from 18 October
Using the same Trust booking system as for the flu vaccine, you will find that appointments from 18 October onwards at the Ashbourne Centre (clinic ID 129 on the system) give you three options: booking a flu jab, a Pfizer COVID booster jab or both.
So you can receive your flu and COVID vaccines at the same time at Kingsway Hospital hub from 18 October, if this is something you wish to do. Remember that you can only have your COVID booster 182 days or more after your second dose of the COVID vaccine.
The hub is based in the Ashbourne Centre at Kingsway Hospital, in the rooms next to the chapel on the main corridor. Several rooms have been repurposed to serve as clinical rooms, while the chapel itself is the recovery room where people sit and rest after they have had their vaccination. Signage has gone up around the Kingsway Hospital site, to indicate the one-way system for people attending the hub. Please follow signs for "Hospital Hub" to go to the vaccination hub.
A short simple video which is available to watch on YouTube, showing colleagues the route into the vaccination area.
If you have any questions about the Kingsway hub, please email dhcft.hpu@nhs.net or call 01332 389150
Covid vaccine booster jabs
COVID booster vaccinations at other sites in Derby and Derbyshire
Appointments can be made via the national booking system on the nhs.uk website where you can access appointments available at a range of clinics, close to your home address.
The national booking system will not allow you to book an appointment in advance; the system will only allow you to book an appointment when it has been 182 days since your second COVID vaccine dose. As a result, DCHS Trust has set up a SwiftQueue booking page which enables people to book a booster appointment at Midland House in Derby in advance of reaching their 182 days. The date of the appointment must still be 182+ days since you received your second dose, but this approach hopefully allows colleagues to plan ahead.
Colleagues will need to take their work ID badge and in some instances a payslip from the last three months to their appointment. There has been some discussion about only patient-facing staff being eligible but, as we prioritised that group for the original COVID vaccinations, these colleagues will naturally reach the 182-day window first. So our view is that, when you reach your 182 days, you are eligible, regardless of role.
The vaccine being used is Pfizer and you can remind yourself of your vaccination record and dates in the NHS app under the 'Your health' tab.
Let us know when you've had your COVID booster
If you have had your COVID booster vaccination by making an appointment through the national booking system, please tell us through our short online COVID booster reporting form. Completing the form takes only a few seconds. You will need to be logged on to the Trust network or remote access service to use this form.
See the FAQ Section for questions about the COVID Booster
How to download your COVID Pass for domestic and travel purposes
The NHS COVID Pass is available as a digital version or a paper version.
You can get a digital version by:
We have developed a simple infographic that outlines how you can download your vaccination status on the NHS App. If you download your COVID Pass as a PDF, always check the expiry date before using it.
You can get an NHS COVID Pass letter sent to you in the post – this shows your vaccination status only and does not show COVID-19 test results. You can ask for a letter after having your second dose of the vaccine. You may need to wait five working days before using the service, so that your record will be up to date, but you should then get the letter within five working days.
You can use your letter at venues in England where you need to prove your COVID-19 status two weeks after you have been fully vaccinated. You do not need to be registered with a GP surgery or have an NHS login for this. This is also known as a COVID-19 post-vaccination letter.
You can get a letter by:
Please be aware of COVID Pass fraud
Criminals are using the NHS COVID Pass as a way to target the public by convincing them to hand over money, financial details and personal information. The NHS App is free. The NHS COVID Pass is free. The NHS will never ask for payment or any financial details.

Oxford/AstraZeneca vaccine
Guidance for Oxford/AstraZeneca vaccines for people aged under 40
The Joint Committee on Vaccination and Immunisation (JCVI) has issued further guidance that people under the age of 40 with no underlying health conditions should be offered an alternative to the Oxford/AstraZeneca vaccine. This is due to the small but increased risk of blood clots in people under the age of 40.
If you are under 40 and have already received your first dose of the Oxford/AstraZeneca vaccine, please continue to attend your appointment to receive your second dose of the vaccine. The only people who should not have a second dose of the vaccine are those who experienced major venous and/or arterial thrombosis after their first COVID-19 vaccine was received.
The Kingsway Hospital vaccination hub will continue to offer the Oxford/AstraZeneca vaccines to people with a long-term condition, including individuals with learning disabilities or severe mental illness.
Public Health England has produced a new leaflet for people who have had their first dose of AstraZeneca vaccine and have concerns about having the second dose.
The leaflet, which is also available as a webpage on the gov.uk website, explains why having the second dose is so important. It also points out that the AstraZeneca vaccine causes fewer mild side effects (like headaches and chills) after the second dose.
The leaflet also addresses the rarer side effects of the AstraZeneca vaccine, which have been reported in the UK and internationally. It sets out the data showing that these rarer side effects have occurred far less often after the second dose of vaccine.
Any colleagues who are seeking an appointment to receive their first dose of the COVID vaccine and are under the age of 40 are asked to contact dhcft.covid-vaccination@nhs.net to discuss whether an appointment for an alternative vaccine can be made.
Vaccine buddy system: meet the colleagues happy to talk about the vaccine
Thank you to all colleagues who have offered to be a vaccine buddy, talking to other colleagues about the COVID vaccines and any hesitancy they may be feeling. We have had a very positive response and there are now a number of colleagues who can be approached for these discussions.
If you would like a chat with one of the buddies for 15 minutes or so, by phone or via Microsoft Teams, please give them a call or send them an email to arrange this at a time that suits you both. Use the list of the current buddies, which includes brief details about them and why they have volunteered for the role.
The buddies will offer support and listen to your worries in a non-judgemental and confidential way. They will help you to challenge myths and misconceptions and also share their own experience of having the vaccine.
If you would be interested in volunteering to be a vaccine buddy, please email dhcft.communications@nhs.net
We have also produced a suite of posters of colleagues explaining the motivation behind their decision to have the COVID-19 vaccine. Laminated copies of these posters are in the process of being sent out to all Trust bases to be displayed in areas such as kitchens and staff rooms, or on noticeboards. The posters can be viewed here:
Chinwe, Deep, Krystyna, Mary, Ranjit, Shannon
If your base hasn't received copies of these posters, or you need some more, please contact dhcft.communications@nhs.net.

Getting your vaccination
Please book an appointment if you haven't received your first vaccine already.
Make an appointment using the National booking system
If you have recevied a vaccination please record it on our Trust COVID vaccine recording system. It is very easy to complete – you just log on to the Trust network, click on the link above and then fill in a short form.
Information on the second vaccination
Who to contact about second vaccination appointments
Second appointments will automatically be made for colleagues at the time of making a first vaccination appointment, at whichever of the sites you attend.
If you do not have a second appointment scheduled or you have had to rearrange due to self-isolation or having tested positive for COVID-19, please contact dhcft.covid-vaccination@nhs.net
If you have forgotten the date of your second appointment, please do one of the following:
Immunity after second vaccines
Essentially the first vaccination dose provides a high level of protection from serious illness and hospitalisation if you were to catch the virus. The second dose might increase this a little further, particularly for any individuals who didn't get a full response to the first dose, but this is not the main reason for giving it. The benefit of a second dose is thought to be that it extends the protection, which might otherwise start to wear off.
We don't yet know how much longer this means people will be protected for, as the vaccines have not been in use for long enough for this data to be available. This remains an active area of study through clinical trials and through analysis of changes in COVID spread through the population. This is one of the reasons why we don't yet know if we will need 'booster' doses in the future.
Please remember that, even if the vaccine protects you from getting seriously ill with COVID-19, it is still possible that you could catch the virus and then transmit it to others. This is why we must maintain infection prevention and control measures, and continue with the use of PPE and lateral flow tests in our patient-facing services.
Vaccine information for BAME colleagues and communities
The impact of COVID-19 on people from a black, Asian and minority ethnic (BAME) background has been well documented. Good vaccine coverage in our BAME workforce and communities will be an important factor in reducing the disproportionate impacts we have seen in the past months. Nationally there is concern that BAME communities may be less likely to consent to receiving a COVID vaccination.
Members of our BME Staff Network have been discussing this important issue and we have added some of the frequently asked questions to help share information and encourage discussions about the vaccine with members of our BAME communities to our frequently asked questions page.
The British Islamic Medical Association has issued a myth-busting guide called 'COVID-19: Answering the Myths' which you can view on their website or download as a PDF.
Chinwe Obinwa, Consultant Forensic Psychiatrist at the Kedleston Unit and James Ntalumbwa, Deputy Director of Nursing and Quality Governance have released a video of a conversation t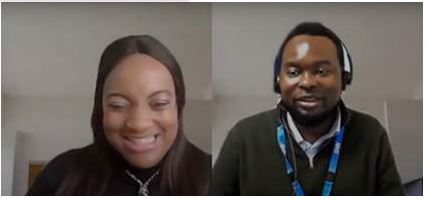 hey had recently about the COVID vaccination.
Chinwe and James, talk about the factors they considered when making the decision to receive the vaccine. Chinwe talks about the medical rationale behind the efficacy of the vaccine, wearing her doctor's hat, alongside some of the concerns that were raised by members of her family.
James discusses the information people need to have in order to make the personal decision to have the vaccine and acknowledges some of the anxieties present amongst families and communities, due to the level of misinformation being shared on social media.
James shares how he has experienced loss within his own family, due to COVID-19, and how he felt the benefits of having the vaccine outweighed any risks, especially if not being vaccinated could lead to testing positive for the virus.
Both James and Chinwe encourage colleagues to think through the information available about the COVID vaccines and have an open and honest discussion about any fears or anxieties.
If any colleagues wish to discuss their concerns about receiving the vaccine or have any questions that aren't already covered by our online vaccine page, please contact James by emailing james.ntalumbwa1@nhs.net or Chinwe by emailing chinwe.obinwa@nhs.net
'If you could save someone's life' – video for BAME communities
There is a useful video that the BME staff network has requested is shared amongst colleagues. Titled 'If you could save someone's life', the video features Sanveej Bhaskar, Adil Ray and other famous faces, who promote the COVID vaccination programme.
Please share this video widely - with colleagues, families, friends and local communities, to ensure people are provided with accurate information with which they can make an informed decision about the COVID vaccinations. Whilst the video is aimed at BAME communities it provides useful information about the vaccines for all audiences.
Watch the Race & Health Observatory Seminar
The NHS Race & Health Observatory ran a virtual seminar entitled 'Black, Asian and Minority Ethnic People, COVID-19 and the Vaccine' on Thursday 11 February. This event was chaired by Dr Chaand Nagpaul, Chair of the BMA. If you are interested in viewing the event, a recording is now available on YouTube.
Supporting local community leaders to talk about the vaccine
Joined Up Care Derbyshire (JUCD) has launched a set of Community Representatives' Communication Toolkits. The first four toolkits aim to assist African, Bangladeshi, Caribbean and Pakistani community and faith leaders in conversations with their communities to encourage vaccine uptake.
The toolkits use information from trusted sources and include scripts, videos, social media images and useful links, some translated into community languages.
JUCD has consulted Derbyshire's community leaders to understand community concerns and the best routes to engage and has identified what community leaders want to help them have meaningful conversations in communities.

More materials will be added to support other communities over the coming weeks.
Further information on COVID-19 vaccinations
As colleagues will be aware, the roll-out of the COVID-19 vaccinations is a national programme, which is being implemented locally. The Trust has no role or influence in making changes to the guidance outlined above, which is nationally directed.
The following guidance is available for any colleagues who are seeking further information on the COVID-19 vaccination programme:
Independent information about COVID vaccinations
The Vaccine Knowledge Project provides independent information about vaccines and infectious diseases. The content is aimed at the general public, but is also suitable for healthcare professionals, and is designed to help people make informed decisions about vaccine issues.
Since July 2016 the Vaccine Knowledge Project has been a member of the World Health Organization's Vaccine Safety Net. This means that this website has been judged to meet the World Health Organization's criteria for providing good quality information about vaccine safety issues.
We continue to receive a large number of enquiries about the vaccines and colleagues may find the Vaccine Knowledge Project website and their information about COVID vaccines useful, in addition to our own information about the roll-out of COVID vaccination programme.
Anaphylaxis reports
On 8 December 2020 the MHRA received reports that two individuals experienced an anaphylactic reaction. The MHRA subsequently issued the following advice:
Useful links
Published vaccine trial results
BNT162b2 mRNA Covid-19 vaccine (Pfizer-BioNTech COVID-19 vaccine)
Safety and efficacy of the BNT162b2 mRNA Covid-19 vaccine
Polack FP, Thomas SJ, Kitchin N, et al
The New England Journal of Medicine, 2020, December 10
Vaccines and Related Biological Products Advisory Committee Meeting
FDA Briefing Document: Pfizer-BioNTech COVID-19 vaccine
US Food and Drug Administration
December 10, 2020

ChAdOx1 nCoV-19 vaccine (AZD1222) (Oxford vaccine)
Safety and efficacy of the ChAdOx1 nCoV-19 vaccine (AZD1222) against SARS-CoV-2: an interim analysis of four randomised controlled trials in Brazil, South Africa, and the UK
Voysey M, Costa Clemens SA, Madhi SA, Weckx LY, Folegatti PM, Aley PK, et al.
The Lancet, 2020, December 08
PHE monitoring of the early impact and effectiveness of COVID-19 vaccination in England
Since the beginning of the programme, Public Health England has been monitoring the effectiveness of the vaccines in the real world and has now published its first analysis of the impact of the Pfizer/BioNTech vaccine on: symptomatic disease; hospitalisation; death and infection (symptomatic or asymptomatic).
Early effectiveness of COVID-19 vaccination with BNT162b2 mRNA vaccine and ChAdOx1 adenovirus vector vaccine on symptomatic disease, hospitalisations and mortality in older adults in England.
mRNA-1273 COVID-19 vaccine (Moderna vaccine)
Efficacy and safety of the mRNA-1273 SARS-CoV-2 vaccine
Baden LR, El Sahly HM, Essink B, Kotloff K, Frey S, Novak R, et al.
New England Journal of Medicine, 2020, December 30
Safety and immunogenicity of SARS-CoV-2 mRNA-1273 vaccine in older adults
Anderson EJ, Rouphael NG, Widge AT, Jackson LA, Roberts PC, Makhene M, et al.
New England Journal of Medicine, 2020, December 17
An mRNA Vaccine against SARS-CoV-2 — preliminary report
Jackson LA, Anderson EJ, Rouphael NG, Roberts PC, Makhene M, Coler RN, et al.
New England Journal of Medicine, 2020, November
Derby and Derbyshire COVID-19 Vaccination Programme Stakeholder Bulletins
This is a regular bulletin from Joined Up Care Derbyshire sharing the latest updates and information regarding the NHS Derby and Derbyshire vaccination programme.