Having your health checked is a positive step to helping you manage your health
Everyone is at risk of developing heart disease, stroke, diabetes, kidney disease and some forms of dementia. The good news is that these conditions can often be prevented, even if you have a family history of them.
A Health check can help you by assessing your risk of developing these health problems and giving you personalised advice on how to reduce it.
A health check can fall into two categories:
Screening (assess whether you are at risk of developing a condition and will help catch and treat serious conditions sooner)

Testing (as recommended by your doctor)
Health checks offered to you will depend on your stage in life.
Follow this link to find out what is relevant for you - NHS website - A guide to screening and tests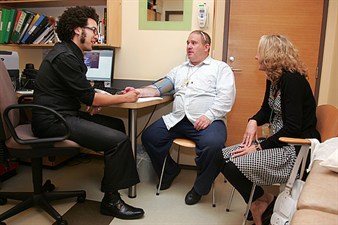 Many people with a mental illness have a reduced life expectancy and are diagnosed with, or have an increased risk of developing serious health issues such as heart disease, diabetes, cancer and obesity.
Research shows that physical health and mental health are directly linked and indicates that physical health of people with a severe mental health problem is poor.
Poor health is also linked to their reduced access to appropriate assessment and treatment for physical health issues. People often feel once they have received a diagnosis for their mental illness, their physical health is neglected. Additionally, they can experience stigma and communication difficulties affecting their ability to seek medical help.
Information guides and booklets