Having your health checked is a positive step to helping you manage your health
Everyone is at risk of developing heart disease, stroke, diabetes, kidney disease and some forms of dementia. The good news is that these conditions can often be prevented, even if you have a family history of them.
A Health check can help you by assessing your risk of developing these health problems and giving you personalised advice on how to reduce it.
A health check can fall into two categories:
Screening (assess whether you are at risk of developing a condition and will help catch and treat serious conditions sooner)

Testing (as recommended by your doctor)
Health checks offered to you will depend on your stage in life.
Follow this link to find out what is relevant for you - NHS website - A guide to screening and tests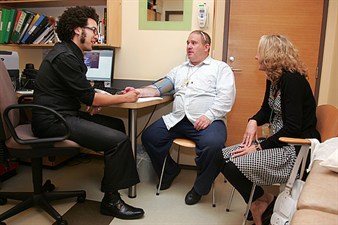 Many people with a mental illness have a reduced life expectancy and are diagnosed with, or have an increased risk of developing serious health issues such as heart disease, diabetes, cancer and obesity.
Research shows that physical health and mental health are directly linked and indicates that physical health of people with a severe mental health problem is poor.
Poor health is also linked to their reduced access to appropriate assessment and treatment for physical health issues. People often feel once they have received a diagnosis for their mental illness, their physical health is neglected. Additionally, they can experience stigma and communication difficulties affecting their ability to seek medical help.
People who have a serious mental health illness are encouraged to ask for their annual physical health check.
A physical health check will involve a doctor or nurse examining any health problems, to help people to receive the treatment they need to stay well.
This appointment allows for those with a serious mental health illness to ask questions and tell the doctor or nurse about any how they are feeling. This includes discussions around any treatment or medication you are under.
Who can have an annual health check
Mental health conditions where people should get an annual check include:
schizophrenia
bipolar disorder
psychotic disorders
depression that is so severe that it impacts on your daily life, or on the daily life of your family or carers
How can having an annual health check help
Evidence shows that people who have certain mental health illnesses are more likely also to develop physical health issues and that life expectancy can be 15 to 20 years less, compared to everyone else. This difference is largely due to preventable or treatable physical health problems.
Having an annual health check will help provide the information a patient needs about their physical health. They can then use this information to find out how to address any concerns, and where to get support and further help.
What happens during an annual health check
The check-up is performed by a GP practice team once a patient has been stable and discharged from mental healthcare services. If the patient is either recently diagnosed or still receiving mental healthcare from Derbyshire Healthcare Foundation Trust, the checks are performed by the Trust's doctors and nurses.
The doctor will screen for:
blood pressure
height and weight
blood glucose levels
blood cholesterol
smoking levels
alcohol consumption
These assessments will be able to identify the individual's potential risk of heart disease, stroke, diabetes, respiratory disease and liver disease.
The health care professional or doctor will then be able to offer specific advice on how to minimise these risks.
These tests and information can help to identify the potential risk of heart disease, stroke, diabetes and other illnesses.
The health check is also an opportunity to speak to the health care professionall, GP or doctor about any physical health issues or concerns you may have.
Physical health checks videos for people with serious mental illness
A series of Derbyshire-based video training resources are available to help encourage patients, carers and clinicians to take up and offer the annual physical health checks.
The videos were commissioned following research from Derbyshire mental health engagement service Mental Health Together, which is part of Healthwatch. This examined why people with serious mental illness often do not take up their annual physical health check.
The full length video for patients can be viewed on Joined Care Derbyshire's YouTube channel.