Derbyshire Healthcare NHS Foundation Trust is making some temporary changes to services in order to support people with potential or confirmed diagnoses of Coronavirus (COVID-19). Learn more below by clicking on one of the buttons below.
If you are having a virtual appointment with one of our health professionals using Attend Anywhere, visit our video consultations page.
July 2021 update: our services are still 'COVID secure'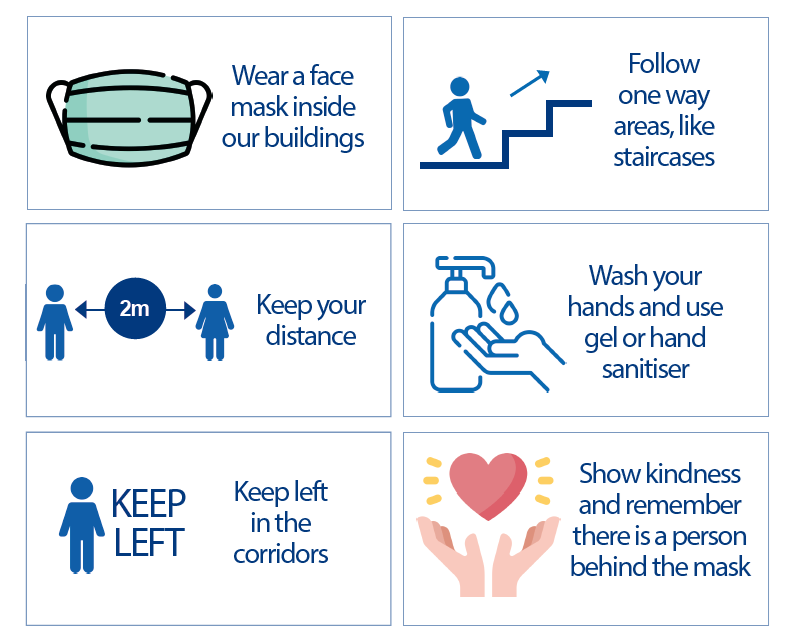 When coming for an outpatient appointment or visiting any of our buildings, please continue to:
Wear a face mask inside our buildings
Keep 2 metres from others (social distancing)
Wash your hands and use gel or hand sanitiser
Follow one-way routes, like staircases
Keep left in corridors
Show kindness and remember there is a person behind the mask.
View an accessible version of this information as a PDF document.
Why take this approach?
Cases in Derbyshire and cases in Derby city of COVID-19 remain at significant levels.
Our approach is in line with national NHS guidance - see the NHS England website for details.
Derbyshire's hospitals, GP practices and pharmacies are now vaccinating patients and staff against COVID-19.
You can book your appointment now using the National Booking System or by calling 119 if you are 16 or over. There are also walk-in clinics being set up across Derbyshire.
There is more information on the COVID-19 vaccination programme on the Joined Up Care Derbyshire (JUCD) website or on the NHS website.
To book your vaccination appointment, you will need your NHS Number. Look at this link to find your NHS Number. You should also be able to find your NHS Number on any letter or document you have received from the NHS, including prescriptions, test results and hospital referral or appointment letters. If you cannot find your NHS Number in these ways, you can ask your GP practice to help you. They should be able to provide the number for you as long as you are registered with them. To protect your privacy, you may be asked to show a passport, driving licence or some other proof of identity.
If you are not registered with a GP, this link will provide you with details. The registration process requires a form to be filled in (not on line) and then handed to the relevant GP practice. The GP practice should be able to assist with filling in the form if needs be. You can register with a GP practice to get an NHS number. If you do not already have an NHS number, you'll be assigned one during registration. You'll get a registration letter in the post and your NHS number will be shown in the letter.
A number of changes are currently in place across the Trust's community based services.
In every case, if you or anyone in your household has any symptoms of COVID-19, please stay at home, do not go to a GP surgery, pharmacy or hospital but follow the advice that can be found on www.nhs.uk/coronavirus
The main symptoms are:
A high temperature (you feel hot to touch on your chest or back)
A new, continuous cough (this means that you have started coughing repeatedly)
A loss of or change to taste or smell.
CAMHS
Due to COVID-19 we have made changes to our service which will have had an impact on the level and type of care you and your child may receive. In order to protect the young people, families and carers that we work with, as well as our own staff, we have had to take the following measures:
Reduction in face-to-face contact and increased use of telephone or Microsoft Teams for consultations and support to reduce the spread of the virus
Reduction in frequency of sessions with your CAMHS practitioner, therapist or Consultant
Changes in staffing which may mean you are contacted by a CAMHS clinician who is not known to you.
We recognise what a stressful time this is and we wish to support everybody receiving a service from us in the best way that we can. If you feel your child's needs change or you have concerns about your child's mental health please contact us on 0300 790 0264 between 9am and 4.30pm Monday to Friday.
Here are some sources of support at this time:
Children's services and adult community mental health services
There is a need for reduced face-to-face contact to reduce the spread of the virus. The services may also be working with fewer staff as they may be self-isolating or on sick leave themselves.
These temporary changes might mean that you are or your child is seen less frequently, offered telephone or MS teams appointments rather than face-to-face appointments, or you might be contacted by people who are not your or their regular workers.
You might also find that an appointment has been cancelled (we will contact you separately if we do this).
We are keen to support everybody who is receiving a service from us to the very best of our ability, and recognise what a stressful time this is. If you feel your needs or your child's needs change or if you have concerns related to your child's medical condition then please contact us on 0300 123 4586 (Options 2 and 5) to let us know (within usual office hours). If you are an adult service user, please contact us via one of our community teams.
Useful websites and phone numbers
Some useful websites and local numbers should you need support:
NHS 111 - free and 24-hour support
Social Care Telephone: Derby City Careline, during office hours, 01332 786968; Call Derbyshire, 01629 533190.
If you're worried about a child or adult experiencing or at risk of abuse, you can ring the police on 999 or 111, or contact Derbyshire County Council on 01629 533190 or 01629 532600; Derby City Council on 01332 642855, or 01332 786968
Silverline 0800 4708090
Dementia Helpline 0300 2221122
Samaritans on 116 123 (free, open 24 hours) email jo@samaritans.org
Further information regarding recovery and wellbeing
You will know by now that due to the current COVID-19 virus we are all having to make changes to how we carry out our daily lives. Part of the changes that Derbyshire Healthcare needs to make includes altering the level of care we provide as a service.

These temporary changes might mean that you are seen less frequently, offered telephone appointments rather than face-to-face appointments, or you might be contacted by people who are not your regular workers.

If you have an existing appointment with one of our teams, we will contact you if we need to make any changes.
If you are due to meet with any of our staff – either in one of our buildings or at your own home – and you have symptoms that could be COVID-19 please contact the team on the number that is outlined on your appointment letter.
Do not attend your appointment if you have symptoms of Coronavirus. We will discuss an alternative way of providing support to you.
If you feel your needs change or your symptoms worsen please contact your usual team to let us know (within usual office hours).
If you have one of more of these symptoms, do not leave your home, apart from to have a COVID-19 test:
a high temperature – this means you feel hot to touch on your chest or back (you do not need to measure your temperature)
a new, continuous cough – this means coughing a lot for more than an hour, or 3 or more coughing episodes in 24 hours (if you usually have a cough, it may be worse than usual)
a change to or loss of sense of taste or smell
If you have one or more of these symptoms, you need to book a free test as soon as possible - and within the first eight days of the symptoms starting.
To protect others, do not go to places like a GP surgery, pharmacy or hospital. There is guidance about who should stay at home and for how long on the gov.uk page. This page is updated regularly so do check.
Use the 111 online coronavirus service to check your symptoms.
BSL videos on 'Spotting the signs' and 'self isolating if you have symptoms' are available to watch.
The following brochure is available to all our service users and carers in the community, and gives information on what changes they can expect to take place during this time.
BSL Coronavirus videos
Have your contact details changed recently? If so, please let us know by telling your care co-ordinator or a member of the team who supports you.
Help us keep your NHS records up-to-date by telling us if you:
have changed address or telephone number
have changed GP
want letters sending to another address.
We'd also like to know if your family or carer's contact details have changed.
Please let us have your mobile phone number and email address so we can contact you about your care, send appointment reminders and seek feedback about your experience of our services.
This information is also helpful for arranging video consultations.
The government is helping pharmacies to deliver prescriptions. Prescriptions will continue to cover the same length of time as usual. If you do not currently have your prescriptions collected or delivered, you can arrange this by:
1. Asking someone who you can trust to pick up your prescription from the local pharmacy (this is the best option, if possible)
2. Contacting your pharmacy to ask them to help you find a volunteer (who will have been ID checked) to deliver it to you. You may also need to arrange for collection or delivery of hospital specialist medication that is prescribed to you by your hospital care team.
Please visit the following websites for further information about Coronavirus: