Published on: 29 January 2018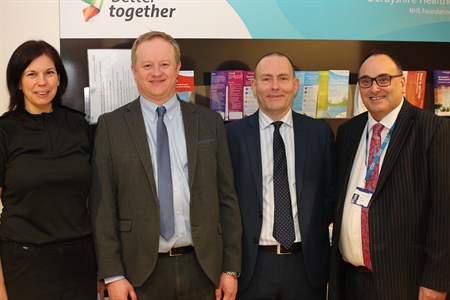 A launch event today (29 January) showed how NHS England funding will help some of Derbyshire's most vulnerable adults, children and young people.
Derbyshire's Criminal Justice Liaison and Diversion service aims to help vulnerable people when they come into contact with the police, probation workers or the courts.
Glyn Thomas, Head of Implementation for the Liaison and Diversion Programme at NHS England, said: "I have been pleased to observe how the Derbyshire L&D team have embraced the new NHS England liaison and diversion service specification, delivering a service that is improving access to health care and support services for vulnerable people in contact with the criminal justice system and reducing health inequalities.
"I have also been impressed with the level of partnership working across both health and criminal justice sectors in Derbyshire, where the Trust's collaborative approach is seeking to deliver improved patient outcomes and efficiencies within the criminal justice system and to make a contribution to reducing rates of re-offending."
Broadened service
Previously, Derbyshire Healthcare was running a criminal justice support service aimed mainly at people with mental health problems. Thanks to extra funding from NHS England, the service has broadened the support offered.
It can now identify and work with people who have mental health, learning disability, substance misuse or other vulnerabilities when they first come into contact with the criminal justice system as suspects, defendants or offenders.
Criminal Justice Liaison and Diversion services provide a prompt response to concerns raised by police, probation service, youth offending teams or court staff.
Staff at the service can now provide key information without any unnecessary delay to help police and courts when it comes to supporting charging, case management and sentencing decisions.
"A massive support"
One carer described how the service had helped her daughter when she was in trouble with the police: "The service was a massive support for her, and when she went to court, they supported her through that. She was also able to access a lot of other services, including mental health services.
"She's almost like a different kid. She has really started turning her life around, she has started home education and is doing a hair and beauty course. I would totally recommend this service, and all I can do is thank them for everything they have done for me and my daughter."
"Positive difference"
Derbyshire Healthcare Trust Chief Executive Ifti Majid said: "I am delighted to have welcomed Glyn Thomas to the Trust and to have been able to show him how this expanded Criminal Justice Liaison and Diversion service is already making a positive difference.
"This service is an excellent example of how the NHS, police and other public service bodies can work in partnership to bring about the best results for vulnerable people in the criminal justice system.
"We are really grateful for NHS England's support and we are looking forward to demonstrating how the new service will develop and grow in the months and years ahead."
Partnership working
The service can act as a point of referral and follow-up for service users to make sure they know about and are supported to attend treatment and rehabilitation appointments.
Partnership working between police, healthcare providers, local authority and criminal justice agencies has been used to establish effective patient-care pathways for those using the Liaison and Diversion service.
The launch event was at Derbyshire Healthcare's Centre for Research & Development at Kingsway Hospital, Derby. The event also showcased the newly expanded service to voluntary and third sector organisations and others involved in crisis care.