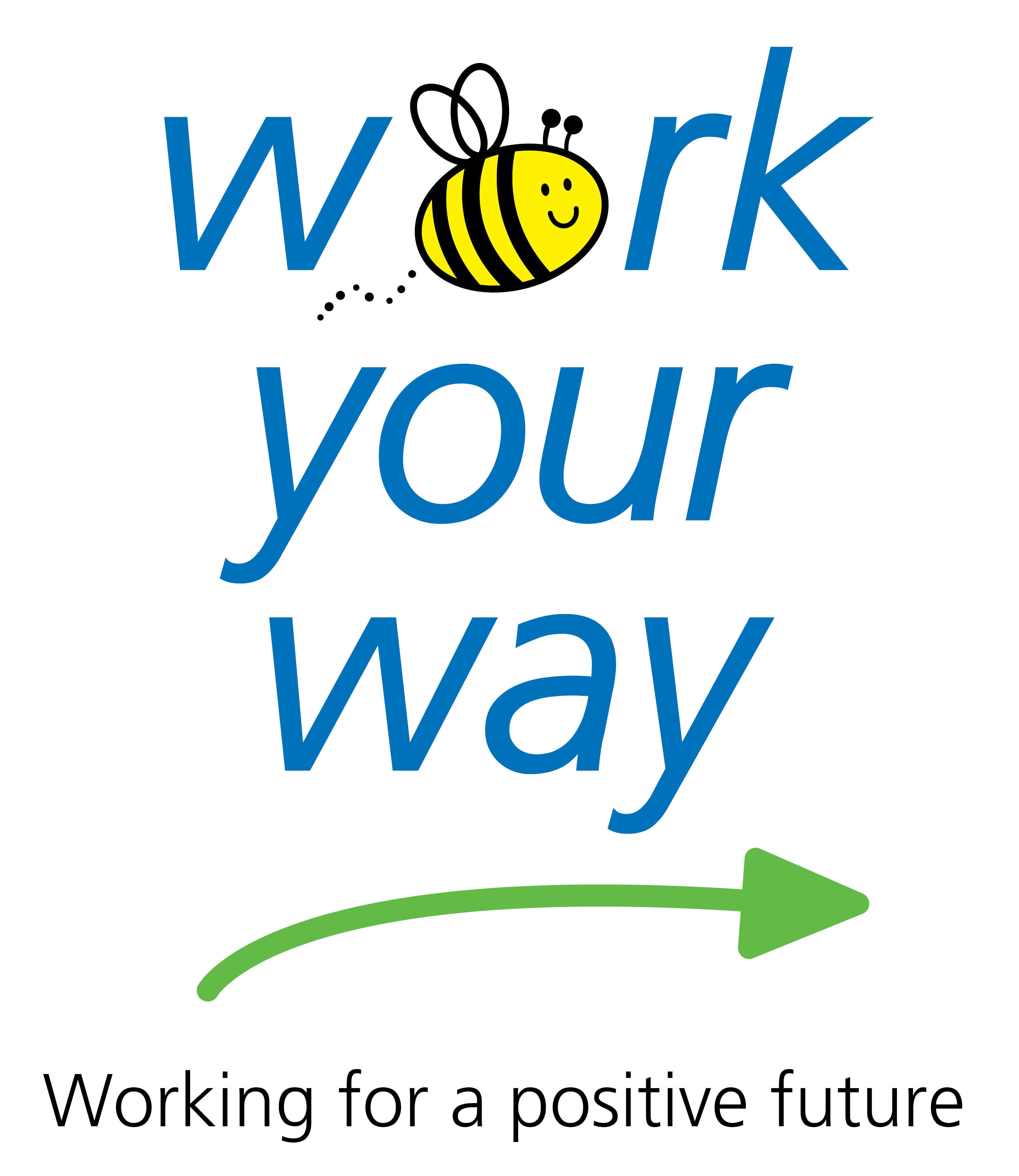 Work Your Way: your Derbyshire NHS employment service,
helping you to find the job that's right for you, right now.
What is Work Your Way?
We are a team of employment specialists and job coaches. We help people using community mental health services in Derbyshire to find work and stay in work, because we know that having a job can help people get well and stay well.
We don't just find our clients any old job, though. Our aim is to help people find the right job: one that suits their ambitions, their talents and their needs.
How can the team help?
When you contact us, we will arrange to meet with you at a time and place that suits you. We will listen to your story and find out what's important to you:
what skills you want to use and develop
where you see your career heading in the future
how many hours you'd like to work, and when you'd like to work them.
We will then contact employers and recruiters, and support you every step of the way as you apply for jobs, go for interviews and get settled in at work.
What about benefits?
Lots of people have questions about benefits. And we can answer those questions!
We will give you clear advice and information about whether the job you choose to do will have an impact on your benefits. We want you to you feel confident and comfortable from your very first day at work.
I'm an employer - can I contact you about recruitment opportunities?
Yes - we will come and meet with you at your place of business to find out more. And we will work closely with you, to make sure any applications from Work Your Way clients are suitable and a 'good fit' for everyone.
Please contact the Work Your Way employment specialist for your area, or the Work Your Way service manager - view their contact details.
Watch a video
Watch a short video where Georgie, one of our peer support workers, explains why Work Your Way is such a unique employment service.
We will talk to your care team about this, but you are in control of this decision. If you want to apply for jobs, we will support you.
We will also encourage your care team to support you, too. We are in regular contact with the community mental health teams and Early Intervention Service in Derbyshire. With your permission, we will talk to them about your career plans and ambitions, and ask them to adjust their care around your job search.
We are funded by NHS England. Our service is known as an Individual Placement and Support service, or IPS for short. We report on our performance to NHS England and locally to Joined Up Care Derbyshire – the partnership that brings together Derbyshire's NHS trusts and local councils.
We don't get paid any commissions or bonuses for helping people into work. That means we only have to think about our clients' interests and needs.
How do I find out more?
Please call or email your local employment specialist from the list below. Or fill in the 'contact us' form at the bottom of this page.
Amber Valley
Louise Birks
Telephone: 07767 851475
Email: louise.birks1@nhs.net
Bolsover and Clay Cross
Nicole Ellis
Telephone: 07384 820262
Email: nicole.ellis5@nhs.net
Buxton
Jo Sanders
Telephone: 07979 344594
Email: j.sanders3@nhs.net
Chesterfield
Joe Buckman
Telephone: 07464 498365
Email: j.buckman@syha.co.uk
Employment support in the Chesterfield area is provided by South Yorkshire Housing Association's Good Work team - you can make an enquiry using the Good Work referral form
Derby city
Elaine Moore
Telephone: 07767 846567
Email: elaine.moore9@nhs.net
Nicole Gordon
Telephone: 07767 836226
Email: nicole.gordon1@nhs.net
Erewash
Christopher Spencer
Telephone: 07919 527875
Email: christopher.spencer5@nhs.net
Killamarsh
Molly Hudson
Telephone: 07493 868215
Email: m.hudson@syha.co.uk
Employment support in the Killamarsh area is provided by South Yorkshire Housing Association's Good Work team - you can make an enquiry using the Good Work referral form
South Derbyshire and South Dales
Diane Hawksworth
Telephone: 07741 171595
Email: diane.hawksworth@nhs.net
Peer support workers - countywide
Laura Hawksworth
Telephone: 07775 702235
Email: l.hawksworth3@nhs.net
Michael Silvester
Telephone: 07770 342136
Email: michael.silvester@nhs.net
General enquiries
Mark Weir, IPS Team Manager
Telephone: 07741 171651
Email: mark.weir2@nhs.net
Samantha Parr, Service Manager
Telephone: 07919 291368
Email: samantha.parr1@nhs.net
'Contact us' form
Interested in receiving support from the Work Your Way team? Please complete the short questionnaire below and a member of the team will get back to as soon as possible.
Do you live in the Chesterfield or Killamarsh areas? Employment support in these areas is provided by South Yorkshire Housing Association's Good Work team - you can make an enquiry using the Good Work referral form.