You should refer the patient with learning disability to any service that you would usually refer other patients to with similar symptoms or diagnosis. This includes health promoting services. You will need to make the service aware that the person has a learning disability, and what that will mean for their appointment. This maybe that the carer needs to be included in correspondence, or that longer time may be required or any other 'reasonable adjustments'.
NHS e-Referrals Service systems, which replaced Choose and Book in June 2015, can be difficult for people with learning disabilities. It's a good idea to book any appointment using this the NHS e-Referral Service with the patient from the surgery.
Derby Hospitals
Derby Teaching Hospitals Audiology service offers a service tailored for people who would find the usual clinic difficult. Over 40% of people with learning disabilities are likely to have a hearing problem, many unidentified. To refer to this clinic please use the term 'Special Hearing Clinic' and refer to Audiology at the Royal Derby Hospital.
A Consultant in Rehabilitation Medicine provides a service for people with learning disabilities who have the most complex physical needs, supported by Therapists specialising in Learning Disability. To refer to this service please refer to Dr Lin at the Department of Rehabilitation Medicine at the Royal Derby Hospital.
Wellbeing worker
Derbyshire County GPs, please use the Live Life Better Derbyshire website for further support.
Derby City GPs, please refer to Live Well.
Services and information for 0-25 year olds with special needs and disabilities
Derby City Council's one-stop online portal called The SEND Local Offer includes symbols to help visitors understand the content better. View the portal at www.derby.gov.uk/education-and-learning/special-education-needs-disabilities
Derbyshire County Council's referral service for children called Starting Point offers requests for early help, advice, support and safeguarding services for Derbyshire children and young people. From now on, all requests for support should be made on the electronic form, available at www.derbyshire.gov.uk/startingpoint
More information about the healthcare services available to children residing in Derby and Derbyshire can be found in our children's services booklet.
Online referral form for Adult Social Care
Following the Accessible Information Standard
From July 2016 all health and social care organisations must follow the Accessible Information Standard. This standard tells organisations how they should ensure that disabled patients and, where appropriate, carers and parents receive information in formats that they can understand, and that they receive appropriate support to help them to communicate. You should record your patients communication needs, respond to these and inform any services that you refer to about the patient's communication requirements. More information can be found at: www.england.nhs.uk/ourwork/accessibleinfo
Learning Disabilities Liaison Nurses
Many Derbyshire Health Services have easy read information, and most hospitals have a Learning Disability Nurse. The nurse helps the hospitals to respond appropriately to patients with learning disabilities. You should still refer in the usual way to the relevant department. Read more about the Learning Disabilities Liaison Nurse at Chesterfield Royal Hospital. You can alert the nurse to the referral or ask the patient or carer to contact her. Not all patients will need the support of the Learning Disability Nurse. The packs given to Derbyshire GP practices contains the contact details for some other Hospitals.
Videos to support hospital visits for people with a learning disability
The Royal Derby Hospital and Chesterfield Royal Hospital have videos available on their websites to help patients with learning disabilities understand what happens during their hospital visit. View the videos at:
Specialist Learning Disability Services cover Derbyshire and support some people with complex needs. They do not work with everyone who has a learning disability, and do not replace other health services. Contact details are available for the South Derbyshire Community Learning Disabilities Service and North Derbyshire Community Learning Disabilities Service.
Dental referral form and support
A referral form for Salaried Primary Care Dental Services is available along with an Easy Read Guide for extra support available to have dental treatment.
Providers of Derbyshire's learning disability services
The learning disability service covering South Derbyshire is provided by Derbyshire Healthcare NHS Foundation Trust:
The learning disability service covering North Derbyshire is provided by Derbyshire Community Health Services:
Where patients are to be discussed at the MDT and there is no learning disability specialist worker involved, you could invite the Strategic Health Facilitator Nurse to attend the meeting to provide learning disability knowledge.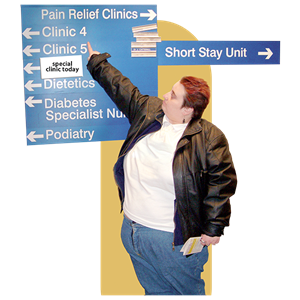 Image courtesy of Photosymbols: www.photosymbols.com