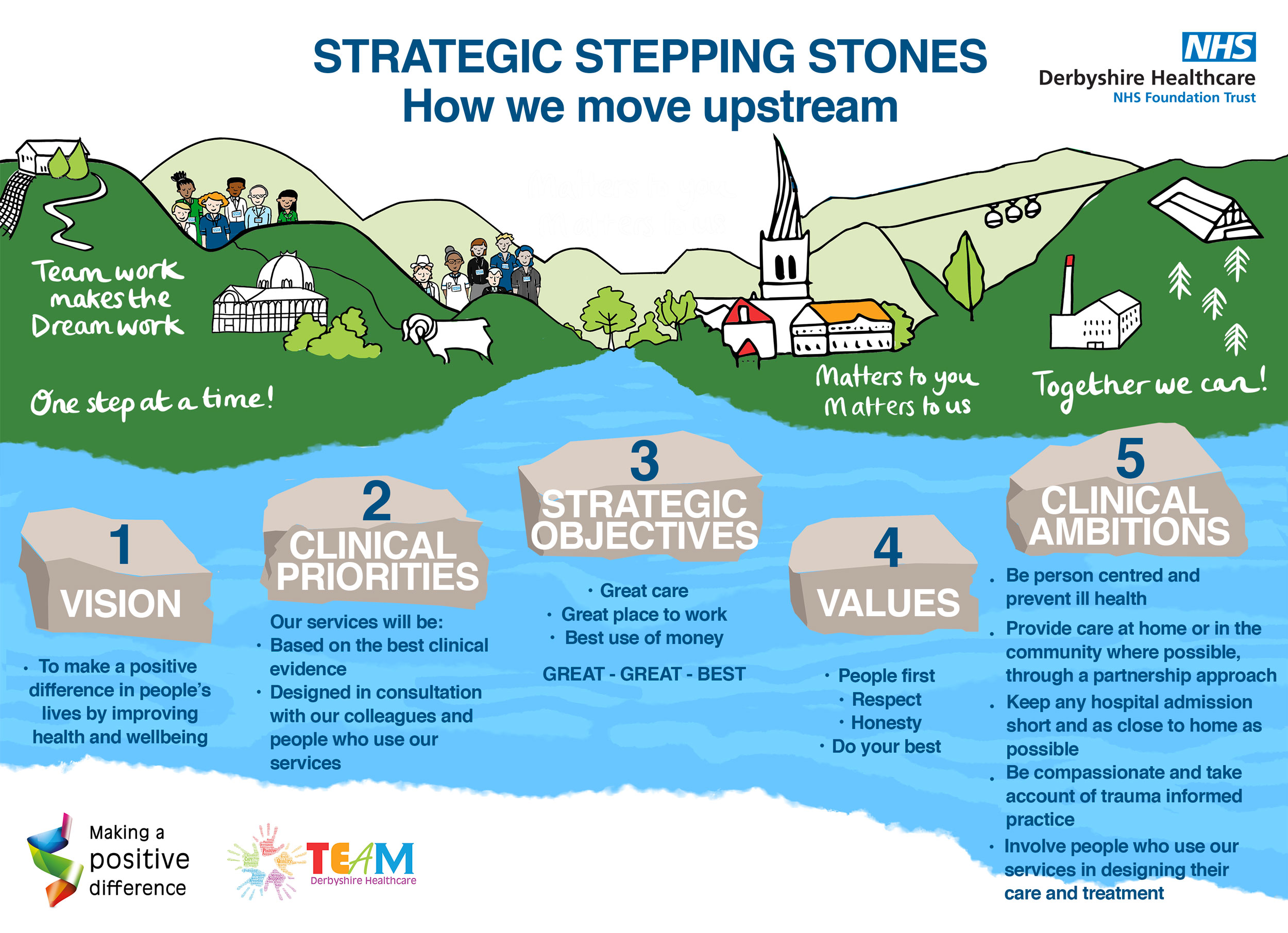 Our Trust strategy sets out our shared ambition from 2018 to 2022. The strategy takes a 1, 2, 3, 4, 5 approach which we have captured in our 'strategic stepping stones', illustrated above. You can click on the image to view it full-screen.
The stepping stones show the following elements of our strategy:
One vision
'To make a positive difference in people's lives by improving health and wellbeing'
Two clinical priorities
Our clinical priorities are that our services will be...
Designed in consultation with our colleagues and people who use our services
Based on best clinical evidence.
Three strategic objectives
Our strategic objectives are as follows:
1. Great care
Delivering compassionate, person-centred, innovative and safe care
Choice, empowerment and shared decision-making is the norm.
2. Great place to work
Attracting colleagues to work with us who we develop, retain and support by excellent management and leadership
An empowered, compassionate and inclusive culture that actively embraces diversity.
3. Best use of money
Making financially-wise decisions every day and avoid wasting resources
Always striving for best value by finding ways to make our money go further.
Four values
Our vision is underpinned by four key values, which were developed in partnership with our patients, carers, colleagues and wider partners:
People first – We focus on our colleagues, in the knowledge that a well supported, engaged and empowered workforce results in good patient care

Respect – We respect and value the diversity of our patients, colleagues and partners and support a respectful and inclusive environment

Honesty – We are open and transparent in all we do

Do your best – We work closely with our partners to achieve the best possible outcomes for people.
Five clinical ambitions
Our clinical ambitions are that our services will:
Be person-centred and prevent ill health
Provide care at home or in the community where possible, through a partnership approach to promote individual and community resilience
Ensure any admission to hospital is within Derbyshire and kept to the shortest effective period of time
Be compassionate and take account of trauma-informed practice
Involve people who use our services in designing their care and treatment, to meet personal goals throughout their lives.
We have also developed an image to illustrate these clinical ambitions. View this below. You can click on the image to view it full-screen.