Published on: 31 January 2020
2020 is Florence Nightingale's bicentennial year, designated by World Health Organisation as the first-ever global Year of the Nurse and Midwife. Nurses and midwives make up the largest numbers of the NHS workforce.
They are highly skilled, multi-faceted professionals from a host of backgrounds that represent our diverse communities. 2020 is our time to reflect on these skills, the commitment and expert clinical care they bring, and the impact they make on the lives of so many.
This year is also an opportunity to say thank you to the professions; to showcase their diverse talents and expertise; and to promote nursing and midwifery as careers with a great deal to offer.
To celebrate and showcase the amazing work of our diverse nurses, we will be featuring a nursing colleague each month, sharing their journey and experiences within the profession.
First up in our #YearoftheNurseandMidwife features is Carolyn Green, our Director of Nursing and Patient Experience.
Become a nurse and have the most 'amazing experiences'
Carolyn started her nursing career in the south east, where she started to train as a Registered Nurse at the age of 17.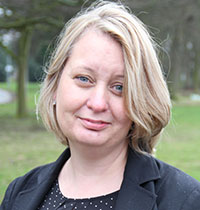 She recalls: "I first started to dream of being a nurse when I was 13 years old. I'd had a spell in hospital with a burst appendix and watched the nurses around me, and my experience inspired me to think about a career. At that point I wanted to become a children's nurse although I later did my work experience in a mental health hospital – which is where my interest of children's nursing and mental health care first came together."
During her nurse training, Carolyn converted to a career in mental health nursing and graduated at the age of 20. Her first job was working as a Staff Nurse on an acute adult admissions ward in West London, before being seconded to London Metropolitan Police to provide mental health awareness training to the police and to trial one of the first ever street triage services.
Carolyn then moved to South London and the Maudsley NHS Foundation Trust, where she stayed in a variety of roles for the next 23 years. She says: "I worked in a variety of different roles and teams here, including acute, early intervention, parental mental health care and CAMHS.
'Real privilege to serve my colleagues'
"I moved into CAMHS in a clinical lead and Head of Nursing role, followed by being the Deputy Director for Nursing and Education. My highlight was opening the country's first-ever early intervention in psychosis ward in Brixton in 2000. I love clinical work and I really enjoyed establishing family inclusive practice and education groups.
"I moved to my current role in Derbyshire in 2014, which involved a complete geographical relocation for myself and my family, but we've never looked back. I really enjoy meeting new nursing and AHP students and seeing them grow. It is a real privilege to serve all my colleagues and to help the communities of Derbyshire."
Carolyn says that quite often people will ask her what it is like to be a nurse and whether it's a profession she would recommend. And in response, she wholeheartedly says: "Just do it! Nursing is the best career; you have countless opportunities and have the most amazing experiences."
Join #TEAMDerbyshireHealthcare during 2020, the #YearoftheNurseandMidwife. See our current vacancies. #futurenurse