Published on: 17 August 2021
Derbyshire Healthcare NHS Foundation Trust is staging its Annual Members Meeting on the theme of 'Cohesion through COVID-19': a reflection of the last financial year and the Trust's aspirations for 2021/22.
The meeting is on Thursday 9 September, from 4pm – 6pm. Full details of the agenda and running order of the meeting are now available via this link.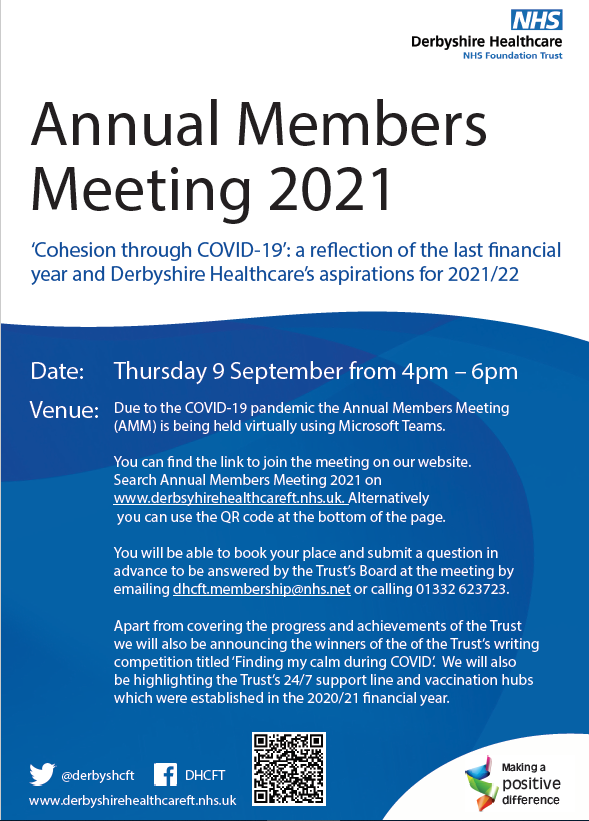 Due to the COVID-19 pandemic the Annual Members Meeting (AMM) is being held virtually using Microsoft Teams. Here is the link to join the meeting: Click here to join the meeting.
You can book your place and submit a question in advance to be answered by the Trust's Board at the meeting by emailing dhcft.membership@nhs.net or calling 01332 623723.
The meeting will cover the progress and achievements of the Trust and will also see the announcement of the winners of the of the Trust's writing competition, titled 'Finding my calm during COVID'. The meeting will also highlight Derbyshire Mental Health Helpline and Support Service and the Trust's vaccination hub which were established in the 2020/21 financial year.
For further information please email dhcft.membership@nhs.net or call 01332 623723. You can also view a poster about the event.