Published on: 3 June 2020
Our Derby Family Health team has launched a new text messaging service, so that both young people and parents and carers living in Derby city can get confidential health advice and support.
Young people in Derby city aged 11 to 19 can text 07507 327104.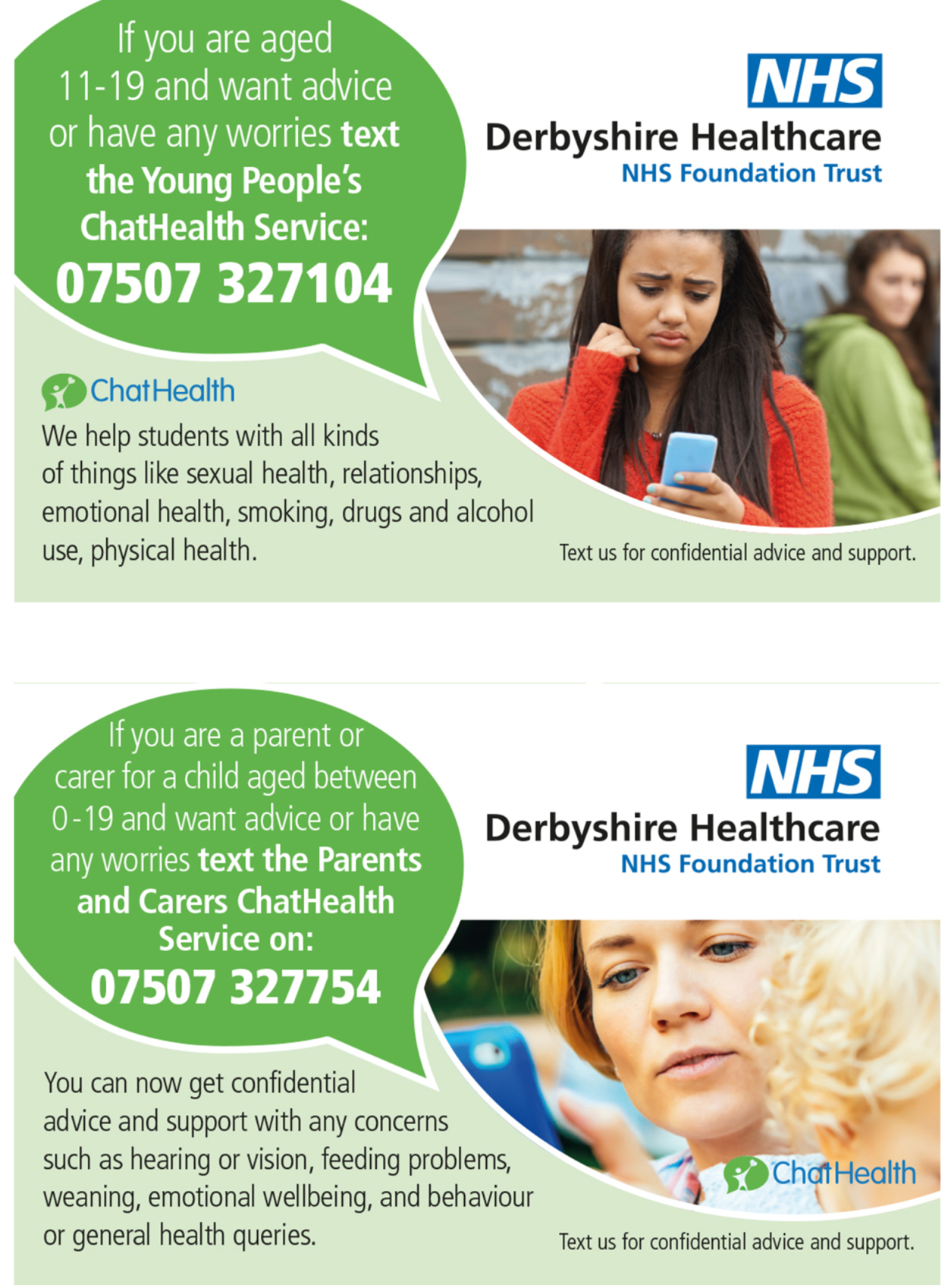 Parents and carers of Derby children aged 0 to 19 can text 07507 327754.
The text messaging service is powered by the ChatHealth system, used by several NHS trusts across the country.
Messages sent to these dedicated numbers are delivered to a secure website and responded to by one of the team's health professionals. Out of hours, anyone who texts the service receives a bounce-back message explaining where to get help if their question is urgent and when they can expect a response. Texts are usually replied to within one working day.
The team, which is made up of qualified school nurses and health visitors, is able to advise and support young people on issues including:
Sexual health
Relationships
Emotional health
Drug and alcohol use
Physical health.
Young people can remain anonymous if they wish, and don't have to give their name.
The team is able to advise and support parents and carers on issues including:
Bedwetting, soiling or toileting
Concerns about hearing or vision
Feeding problems
Weaning
Emotional wellbeing
Behaviour
Speech concerns.
Again, parents and carers can remain anonymous if they wish.
Many people find text messaging not only quick and easy but also less embarrassing or judgemental than an initial phone call or face-to-face appointment.
Learn more about the work of the team on our family health – Derby city pages.
See below for some frequently asked questions:
Your confidentiality is very important to us. Your messages are stored in a secure system. They can only be seen by health care professionals within the Derby Family Health team who all follow the same confidentiality rules. Records may also be shared with GPs. We might inform someone if we were concerned about your safety but we would usually speak to you first. Parents with children up to the age of 19 can contact us and we will ensure the relevant practitioner will respond.
We aim to reply to you within one working day and you should get an immediate message back to confirm we have received your text. Texts will only be seen between 9am and 5pm. If you need help before you hear back from us contact your GP, nearest walk-in centre or dial 111.
Our text number does not receive voice calls or MMS picture messages.
The ChatHealth system supports messaging from UK mobile numbers only. This does not include messages sent from landlines, international mobile numbers and some 'number masking' mobile apps.
Messages are charged at your usual rates.
To prevent the health professional from sending messages to you, text STOP to our number.