Published on: 11 June 2019
Teamwork across Derbyshire Healthcare NHS Trust was celebrated at the Trust's 2019 Quality Awards.
Colleagues were praised for initiatives ranging from improving the lives of children and new mothers to working with service users in substance misuse to give them new hope.
Partnership working, a holistic approach to intervention and clear evidence of listening to patients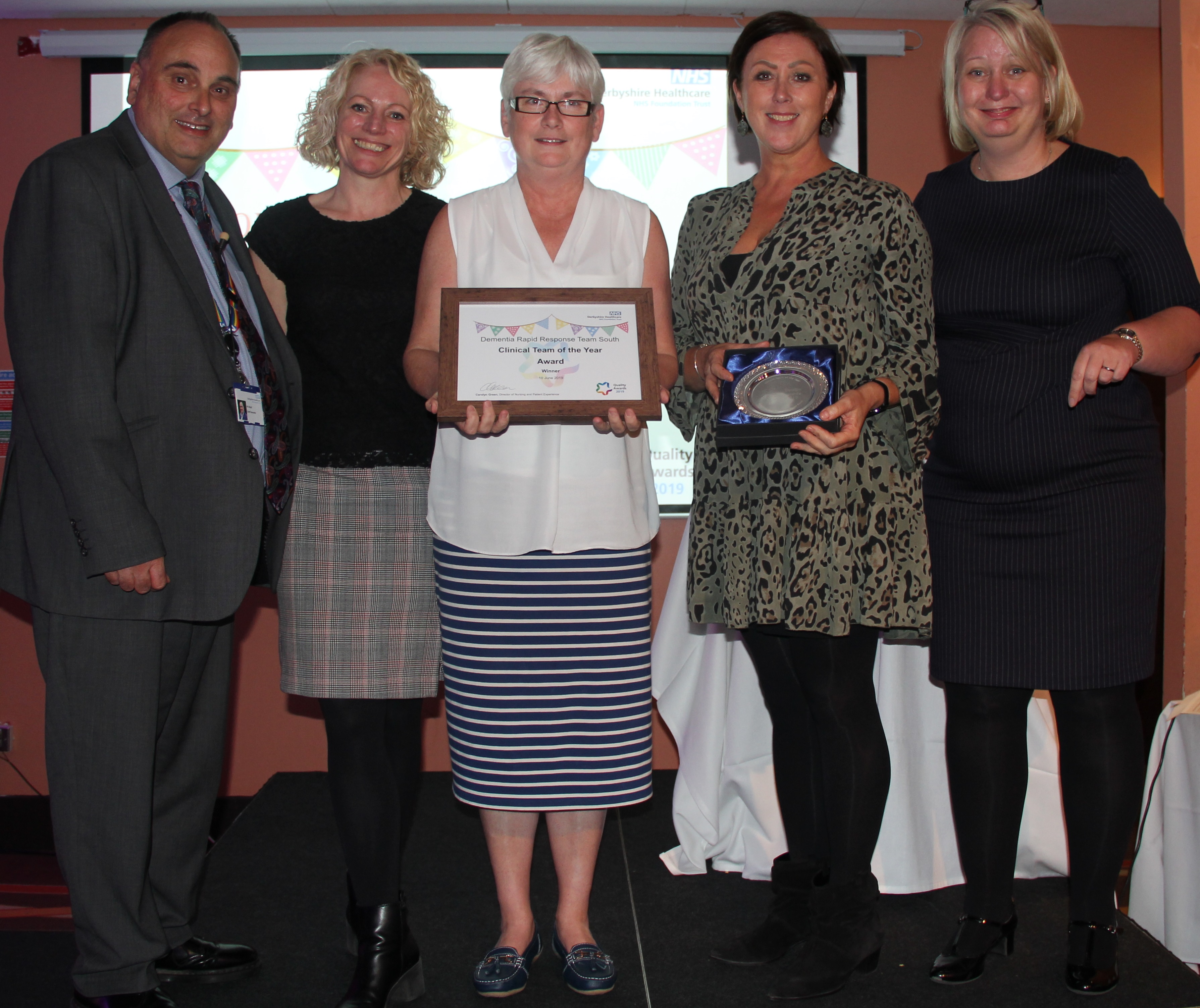 were picked out for praise, alongside the clinical and non-clinical teams of the year.
The event, chaired by trust Chief executive Ifti Majid, was staged at Chesterfield FC's Proact stadium on 10 June. Three finalists in each category were chosen following quality visits and a detailed moderation and shortlisting process, involving a range of staff and one of the Trust's public governors.
The shortlist was then presented to Trust staff who voted to choose the winner in each category.
Clinical team of the year
The award for Clinical Team of the Year went to Dementia Rapid Response Team South (pictured right), for its work on carer support and education. Feedback included: "Everyone from the team had a complete understanding of dementia and made a massive difference."
The finalists in this category were Children's Continence Service, for their collaborative work with a range of professionals to help a six-year-old boy move from nappies to washable pants, and Liaison Team North, for work with acute care colleagues, developing consultant nurse-led clinics to reduce attendances at Accident and Emergency by between 50% and 100%.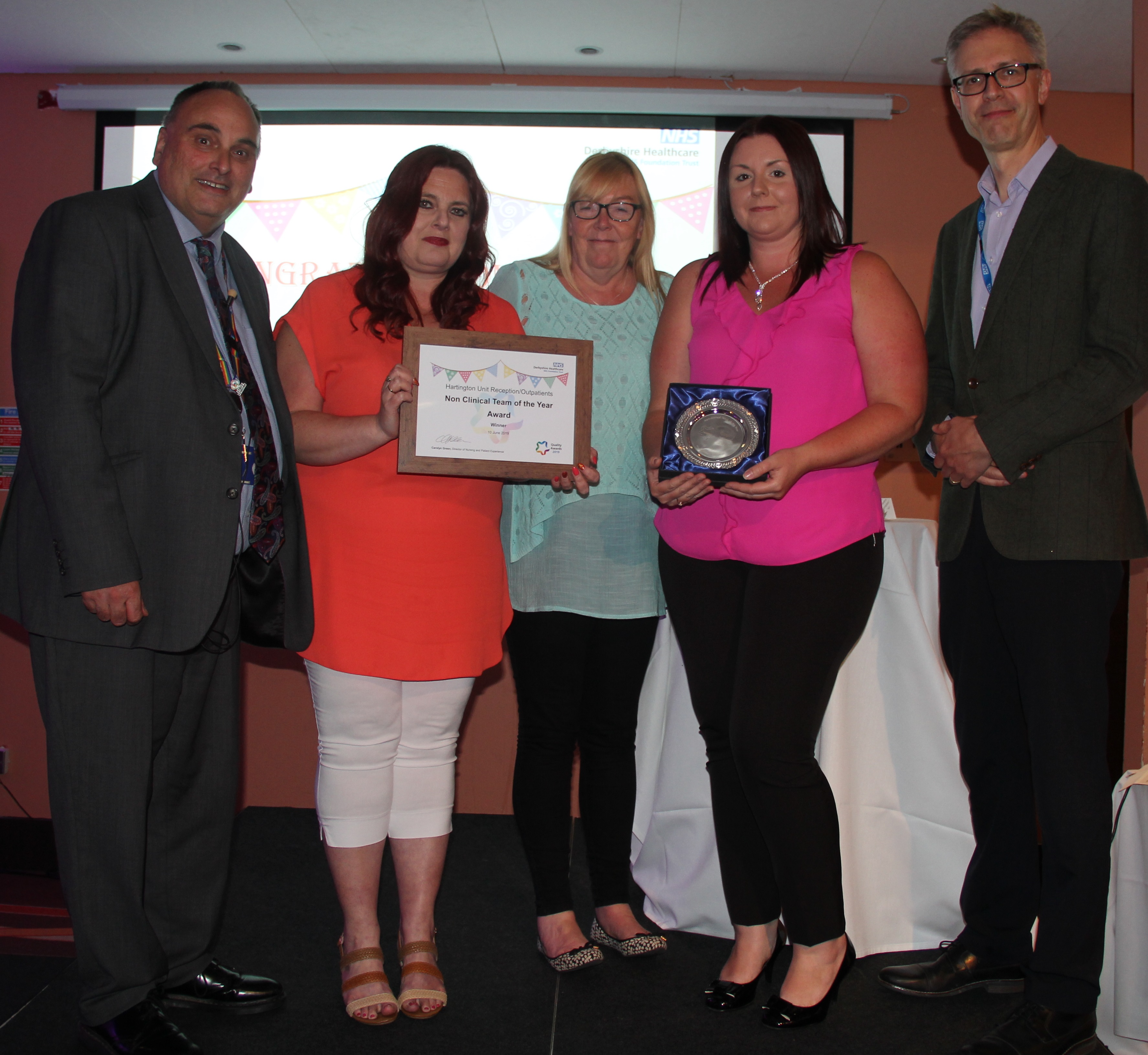 Non-clinical team of the year
Non-Clinical Team of the Year was Hartington Unit Reception (pictured right), for colleagues' work to provide single-label printers in each consulting room at the unit, to reduce error from handwriting patient details and cut waste, an initiative described as "brilliant".
Finalists were the Finance Directorate, where team member Dave Martin was supported to join Enterprise for Education, to help future proof the Trust's finance department, and Information Management and Technology, for their work to support staff in using hand-held devices to record observations.
Inclusion and involvement award
The Inclusion and Involvement Award was won by Perinatal Services, for the team's work with a mum with a complex presentation, including physical health problems and difficulties with engagement.
Finalists were the CAMHS Eating Disorders Team who used family-focused therapy for children and young people, and Derby City Community Team for Learning Disabilities, for work on the care of one person, linking with NICE guidelines.
Improving and innovating award
Winner of the Improving and Innovating Award was the 0-19 Derby Integrated Family Health Service, who used a role play to work on emotional wellbeing training for Health Visitors, working with new mothers.
The finalists were Derby City Neighbourhood Team A, for the Positive Living Group, a 10-week programme based on the Five Ways To Wellbeing, and the Strategic Health Facilitation Team (Learning Disabilities), for work on STOMP – stop over medicating people who have learning disabilities with psychotropic medication.
Green shots award
The Green Shoots Award went to Derbyshire Substance Misuse Service – Derbyshire Recovery Partnership, for a focus on service user involvement, with the aim of developing a Recovery Through Nature programme. One service user said: "I'm mixing with great people who are so supportive."
Finalists were Liaison Team South for work in gathering data on suicide and self-harm, and Morton Ward, Hartington Unit, for its introduction of ward-based Occupational Therapists.
Hearing the person's voice award
The award for Hearing the Person's Voice went to the Safeguarding Children and Adults Teams for their work to support the survivors of the abuse identified at Aston Hall. Feedback included: "You listened to us, believed what we said; and now I have some peace."
Finalists were the Cognitive Behavioural Psychotherapy Team, for work on psychological Therapy with military veterans, underpinned by NICE guidelines, and the Early Intervention in Psychosis Team North for adopting a new family involvement strategy approach to psychosis.
Resilience award
The Resilience Award was won by Memory Assessment Services, for the way in which the assessment process supports needs-led clinical assessment and a holistic approach to interventions.
Finalists were Learning Disabilities Assessment and Treatment Support Service, where a case study showed how a new approach prevented readmission for someone with autism, and South County and South Dales Neighbourhood Working Age Adults Team, for its work in improving service user satisfaction by reducing length of waiting times.
Working in partnership award
The Working in Partnership Award went to the Children in Care team, for improving processes by which looked-after children are assessed, to increase the number who have a robust and detailed Initial Health Assessment.
Finalists were Day Hospital Services for working with ambulance colleagues to improve transport issues, and Ward 1, London Road Community Hospital, for collaboration on the case of a service user, which saw his mental and physical health improve.
A massive well done to all finalists – as Ifti Majid, Chief Executive, said at the start of the event: "You are all winners."