Published on: 30 October 2019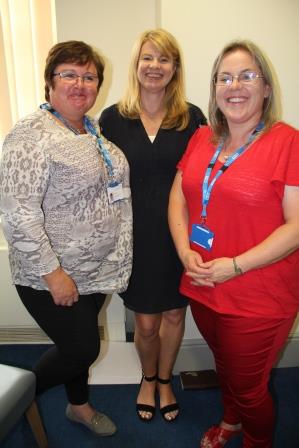 Three parents whose children have had issues with mental health can now offer advice and support for other families on a similar journey.
Derbyshire Healthcare NHS Foundation Trust, which provides CAMHS (Child and Adolescent Mental Health Services) in Derby and South Derbyshire, has appointed the three mums as Experts by Experience in the service.
The three, Lisa Cooke, Alison Moores and Gail Asher, have been chosen as much for the warmth and empathy that they can bring to the role as for their experience, though that is considerable. They hope their main role will be to represent service users – children and young people – their families and carers.
Gail said: "People don't know what to expect and what the service will offer. We have been there, so we can help them with that. We want to give feedback and hopefully use our learned experience to help to improve the service offered.
"No matter what we do, there is always going to be waiting time; what we are trying to do is think of how we can make that waiting time more bearable."
Lisa added: "People might start talking to us about waiting times, and we can provide them with information about it and feed back their comments. It's often the little things you can do that are most helpful."
Gail, like all three of the new Experts by Experience, has joined the Trust in her new role after several years volunteering with CAMHS. She added: "We have all said that we want to make a difference. And we all have different experience to bring."
Lisa, who has also been trained in peer support, said: "The idea is that another parent might be more approachable than a member of staff. We have been in their situation, we know what's happening and what's best to do. When our children were first using services, what we really wanted was to be kept in the loop. When you don't know what's happening it can be frustrating, which is what we can feed back."
Alison agreed: "We are looking at it from a totally different perspective from the professionals. We can do our first assessment as parents, and feed back about our experience and what could be better, to inform practice in the future. I personally can't fault the service we have had from the Trust, but everyone needs to experience that."
The trio are planning to put together a range of leaflets on issues that may affect young people, such as eating disorders, autism or ADHD, to be available in CAMHS waiting rooms, and also to develop a welcome pack for parents and carers new to the service.
And the three hope to establish closer links with parents and carers, perhaps through parent groups where they could have a presence, through a text messaging service to keep them informed, or by setting up a drama group or other activities for service users.
For more information or to contact the parent experts, call the Trust's CAMHS team on 0300 7900 264, or email CAMHS Expert by Experience Leanne Walker, who has helped facilitate the new team, on Leanne.walker7@nhs.net.