Published on: 6 December 2022
Recently, Derbyshire Healthcare NHS Foundation Trust held its first in-person HEARTS staff awards ceremony since 2019 at the Kingsway Hospital, Derby. And there were some incredible winners, including one member of staff who was praised by a member of the public for saving his daughter's life.
The awards ceremony was a 1920s Great Gatsby theme, hosted by members of the Trust's Board of Directors:
Trust Chair – Selina Ullah
Former Chief Executive – Ifti Majid
Interim Chief Executive – Carolyn Green
Director of Strategy, Partnerships and Transformation – Vikki Ashton Taylor
Chief Operating Officer – Ade Odunlade
Medical Director – Arun Chidambaram
Interim Director of Quality and Chief Allied Health Professionals (AHP) – Becki Priest
Director of People and Inclusion – Jaki Lowe
Non-Executive Director – Deborah Good
The awards recognise individuals and teams who have gone above and beyond the call of duty and performed at a consistently high level over the year to support patients, carers and fellow colleagues.
Carolyn Green, Interim Chief Executive at Derbyshire Healthcare, congratulated all staff who had made it as finalists as well as those who were nominated.
Carolyn said: "The last few years have been exceptionally hard so it is important that we celebrate outstanding talent across the board, especially colleagues who have gone over and beyond what is required of them.
"We have amazing staff who have shown compassionate care day-in, day-out. We received some heartfelt entries this year which is testament to the fantastic work and dedication shown by our colleagues.
"Thank you and well done to all who were nominated this year and a huge congratulations to our winners for their achievements."
One winner was presented with the 'Derbyshire Hero of the Year' award chosen by a Derbyshire Healthcare Carer for going above and beyond by putting people, colleagues, carers, patients and external organisations at the heart of everything they do. Emma Holmes, Senior/Specialist Occupational Therapist, accepted this award for her work with the Eating Disorder Service for providing compassionate care.
Emma is described as "a glowing example of how to get patient care right." She is a calm, listening and an engaging therapist who genuinely wants to support an individual in their return to normal life, whilst recovering from an eating disorder.
Emma said: "Thank you so much for this award. It is a privilege to be able to support our service users, but I couldn't do this without the unwavering support of a wonderful, dedicated team.
"I am just one part of this wider jigsaw. We are all so passionate about supporting those in our care - my colleagues working for Derbyshire Adult Eating Disorder Service are all heroes."
Beckie Richardson, Service Manager for the Amber Valley Older Adult Community Mental Health team, won not one but two awards – Beckie won the 'Inspirational Leader of the Year' award and was part of the team that won the 'Community Team of the Year' award.
Beckie said: "I was really honoured with my nomination. I have great admiration for the team and colleagues I work with so for them to go out of their way to nominate me was lovely and something I will not forget!
The Amber Valley Older Adult Community Mental Health team, despite having a challenging year, including the loss of a colleague were praised for "maintaining high standards of clinical care to improve overall support" to patients accessing this service through reducing waiting times for assessments.
The team introduced a 'carers clinic' which has been established as a joint approach led by Derbyshire Carers, which is being delivered within Ripley Town Hall, with access to an Older Adults clinician should this be required.
Beckie said: "The team are also really grateful and proud that all their hard work, resilience and compassion to care of our older people has been recognised.
"They thoroughly deserved the recognition for all of this and I am equally just as proud to win the Community Team of the Year award."
The 'Unsung Hero' award, a post-humous award, was dedicated to Mark Wright, Early Intervention in Psychosis colleague, who sadly passed award earlier this year. Mark demonstrated "compassion, tolerance and was overall a remarkable human". His colleagues claimed he "always thought outside of the box to give the best experience to clients, staff and students".
His nomination went on to say: "He touched so many people's lives. I am yet to find someone who does not feel the loss we share with his passing."
Mark's wife said: "Mark was very special, his work was his vocation and he always strove to do the best for others right to the end; to him he was just doing his job.
"He made an impression on so many lives and this award is a testament to an amazing man."
The Kedleston Unit, the Trust's low-secure mental health unit, was awarded the 'Inpatient Team of the Year' award for "going above and beyond" during exceptional circumstances to continue to provide "excellent care" no matter what factors may try to prevent this.
Carly Roe, Service Manager, and Josh Vinall, Nursing Assistant, for the Forensic Community Mental Health team at the Kedleston Unit said: "We both want to thank the Trust for honouring the hard work demonstrated by the Kedleston Unit staff this last year.
"The award reinforces why teamwork and operating as one is paramount in healthcare, in order to support our service users and their care."
Derbyshire Mental Health Helpline and Support Service accepted the 'Specialist Team' award for the second year running. The team were nominated for adapting new ways of working and striving for excellent patient-centred care under extraordinary circumstances.
Beth Hutchinson, Service Manager for the helpline, said: "We are very grateful to have received this award.
"We would like to thank the team for all their continued hard work and commitment to continually improving the service and providing to support to people across Derbyshire both through the helpline and our professional line which doesn't go unnoticed."
The Specialist ADHD Nursing Team who won the 'Children's Team of the Year' award were nominated for "demonstrating outstanding commitment" to the service, particularly through "embracing all challenges during and post-pandemic, regularly going above and beyond to ensure the child's voice is heard and families feel listened to and supported."
Donna Whitemore, Operational Team leader for the Specialist ADHD Nursing service, was overjoyed that the team had been recognised for their hard work. She said: "The team were delighted after being nominated for the Hearts award, and truly honoured to win the Children's team of the year.
"I am grateful to work with conscientious individuals with a great team spirit, everyone's contribution is acknowledged in the great feedback they have received."
A final award was dedicated to Ifti Majid during his last full week at the Trust. The 'Outstanding Chief Executive Award' was awarded to Ifti to honour his length of service as well as his exceptional care and commitment to Derbyshire Healthcare the last 26 years as he embarks on his last week at the Trust.
Ifti said: "It was such a surprise to be recognised by the Trust through the award. I also felt very humbled to share the stage with such amazing colleagues who had been recognised for some amazing innovations, outstanding contributions to patient care and fantastic leadership.
"This recognition of all colleagues' efforts is what makes Derbyshire Healthcare so special. It has been a privilege to play a leadership role in the Trust."
Award nominations had been considered by a judging panel made up of Chief Executive Ifti Majid, Chair Selina Ullah, Kyri Gregoriou Interim Assistant Director of Clinical Professional Practice, and Karl our patient representative.
A full list of winners from our HEARTS Awards are:
Derbyshire Healthcare Hero of the year, chosen by a Derbyshire Healthcare Carer – Emma Holmes, Senior/Specialist Occupational Therapist
Children's team of the year – Specialist ADHD Nursing Team
Going the extra mile award – Amy, Health Visitor, Alvaston/Boulton Health Visiting Team
Specialist team of the year – Derbyshire Mental Health Helpline and Support Service
Unsung hero award – Mark Wright (posthumous award)
Non-clinical/corporate team of the year – Positive and Safe Team
Inspirational leader of the year – Beckie Richardson, Amber Valley Older Adult Community Mental Health Team
Community team of the year – Amber Valley Older Adults Community Mental Health Team
DEED of the year – Jordan Yates, David Burton and Chris Dunne – Estates
Inpatient team of the year – Kedleston Unit
Outstanding Chief Executive Award – presented to Ifti Majid in his last week at the Trust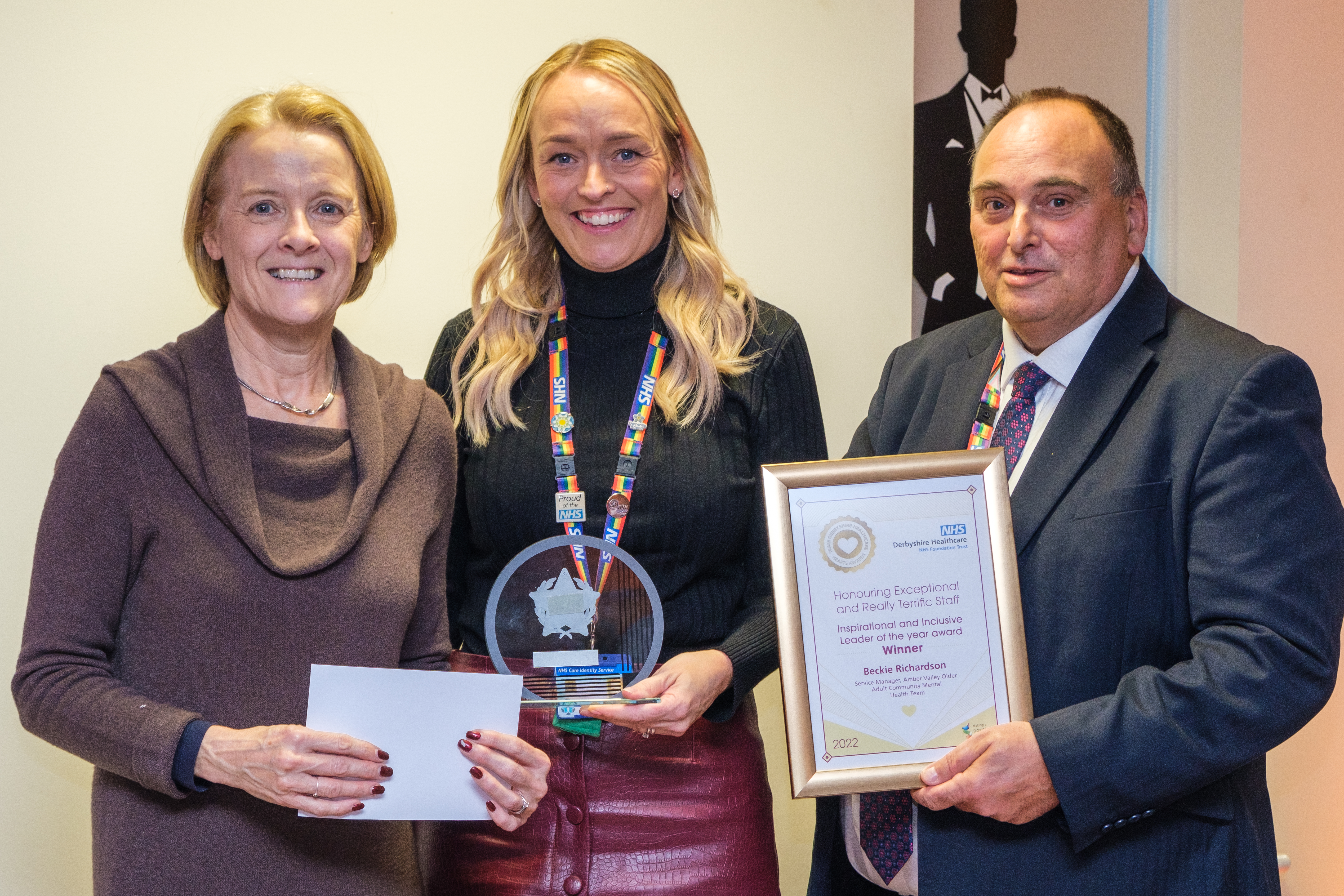 Inspirational leader of the year – Beckie Richardson, Amber Valley Older Adult Community Mental Health Team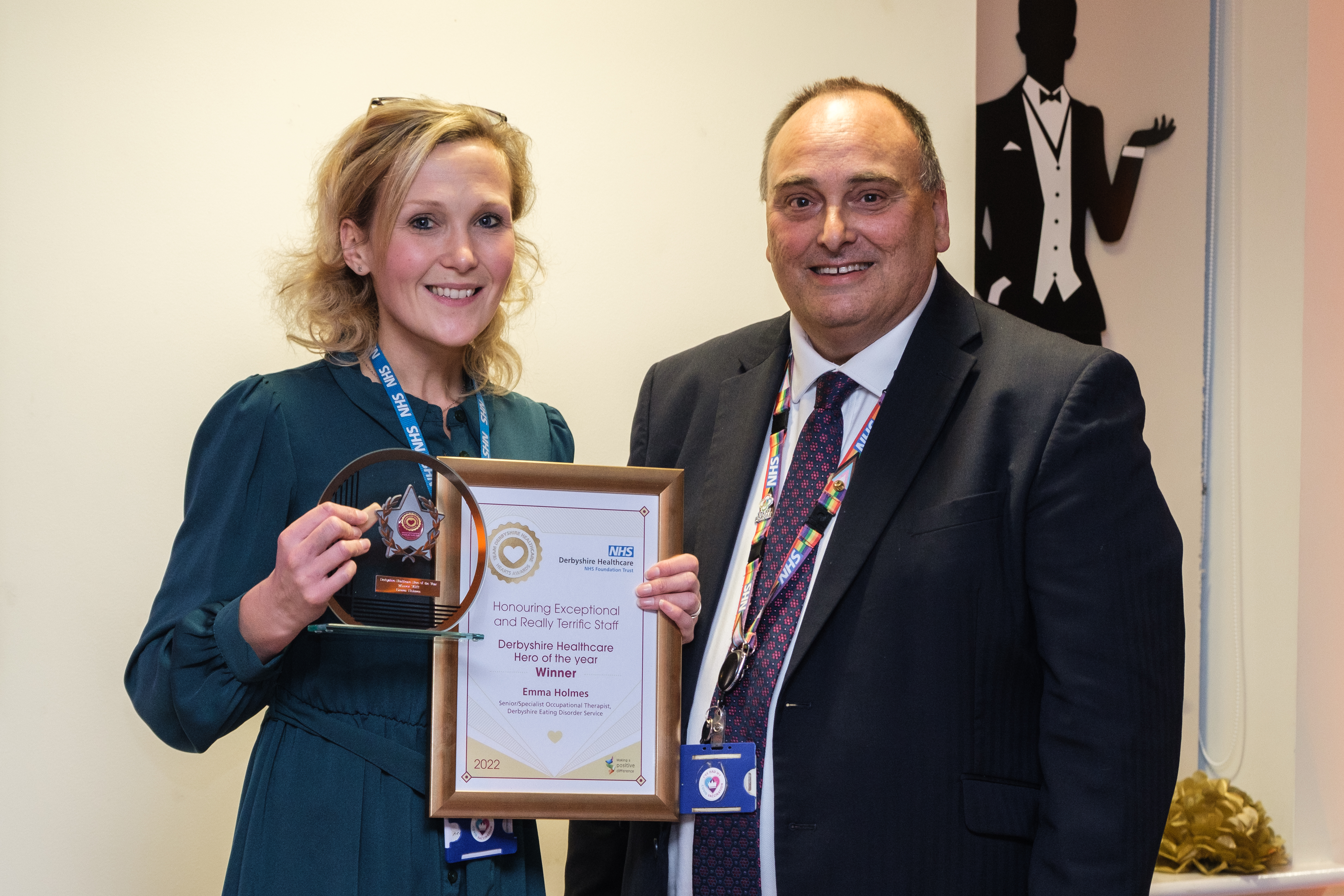 Derbyshire Healthcare Hero of the year, chosen by a Derbyshire Healthcare Carer – Emma Holmes, Senior/Specialist Occupational Therapist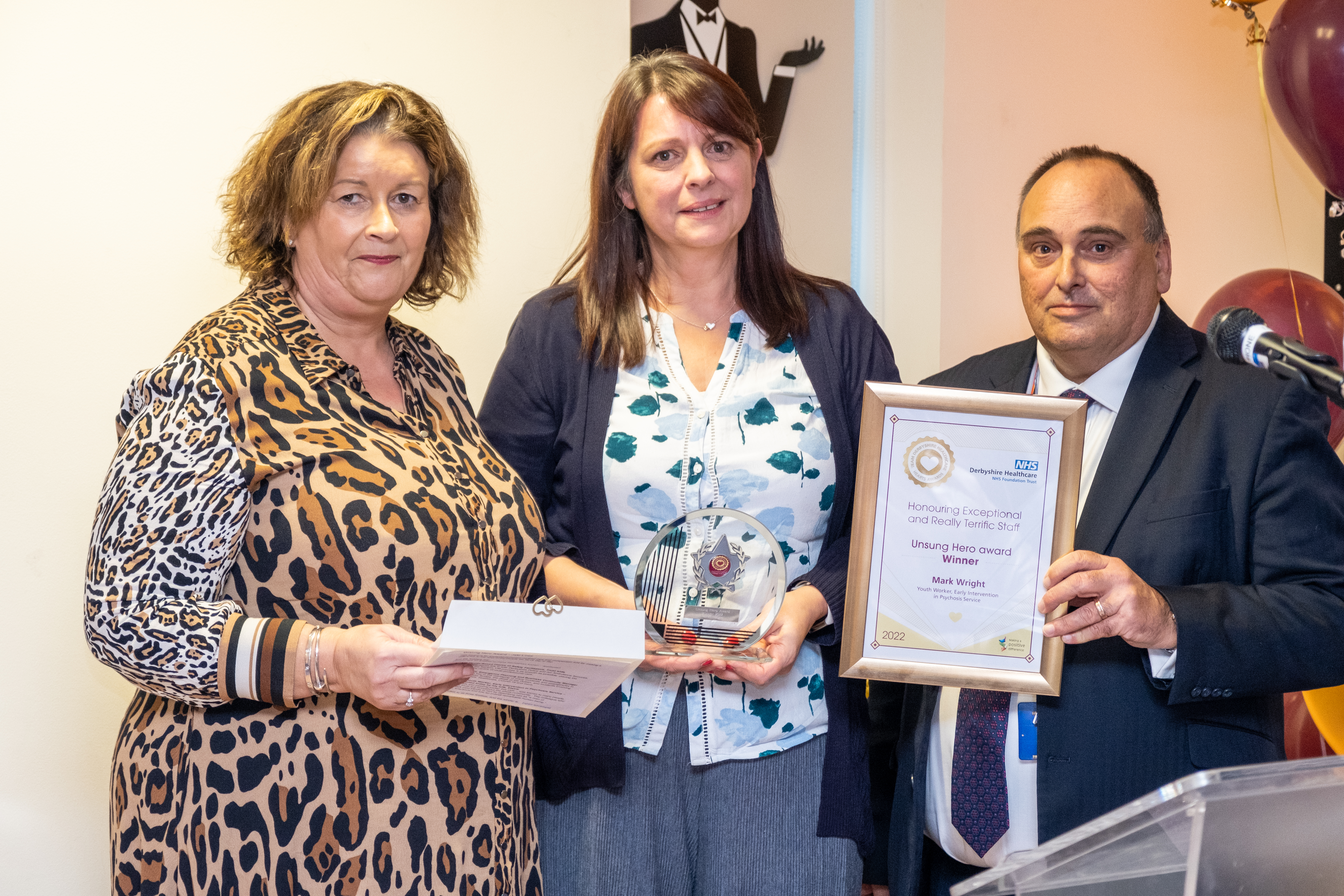 Unsung hero award – Mark Wright (posthumous award accepted by Mark's wife)
Community team of the year – Amber Valley Older Adults Community Mental Health Team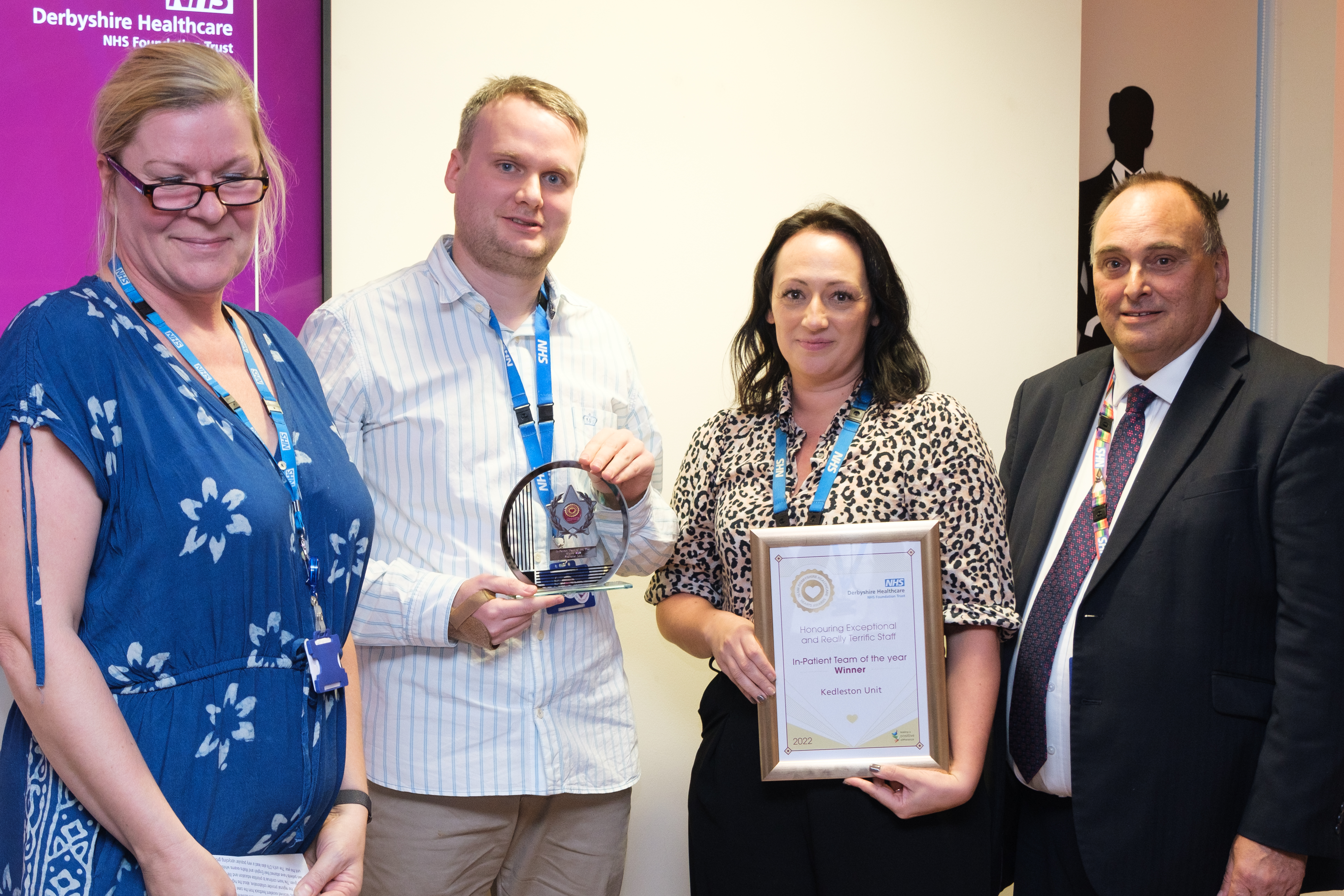 Inpatient team of the year – Kedleston Unit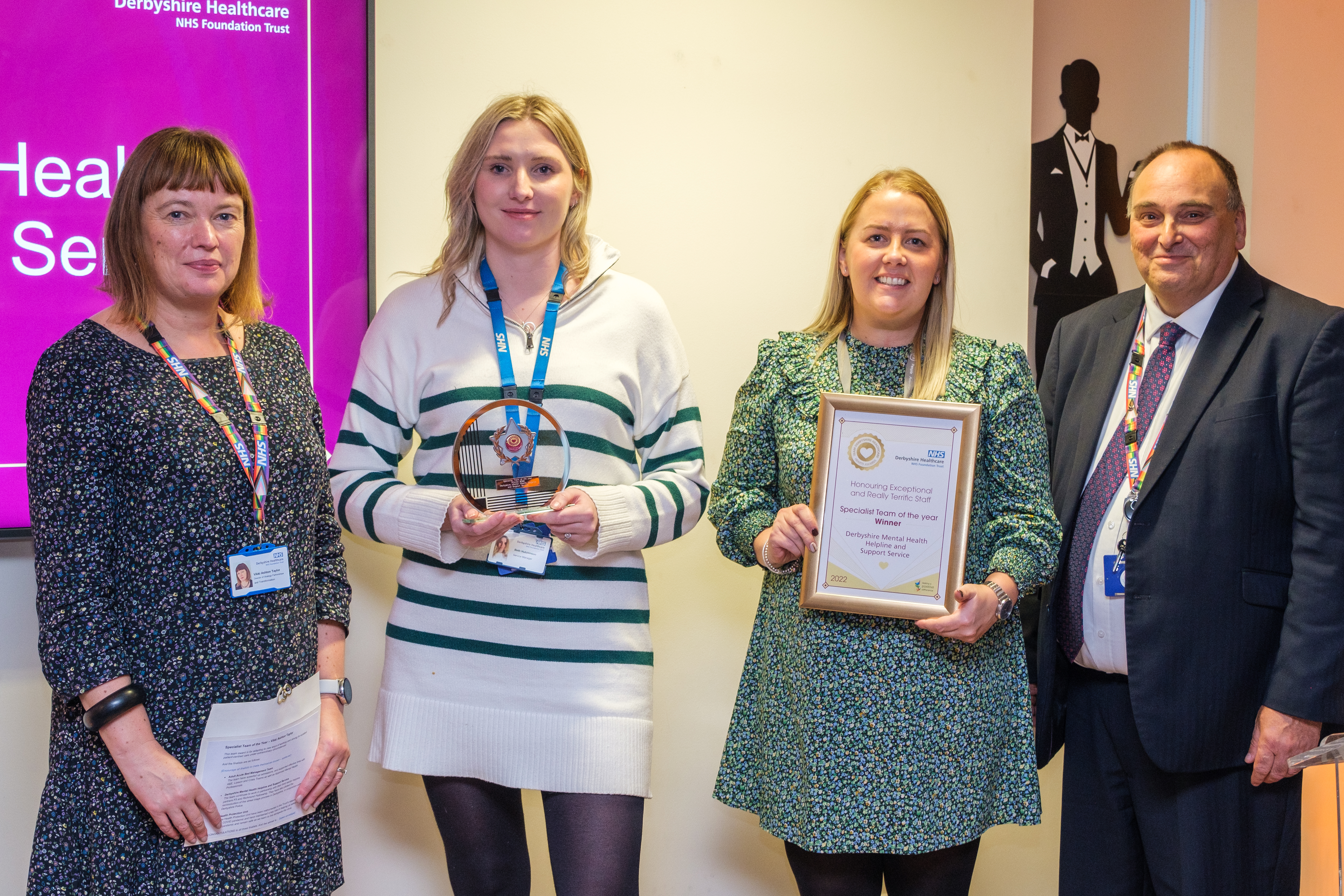 Specialist team of the year – Derbyshire Mental Health Helpline and Support Service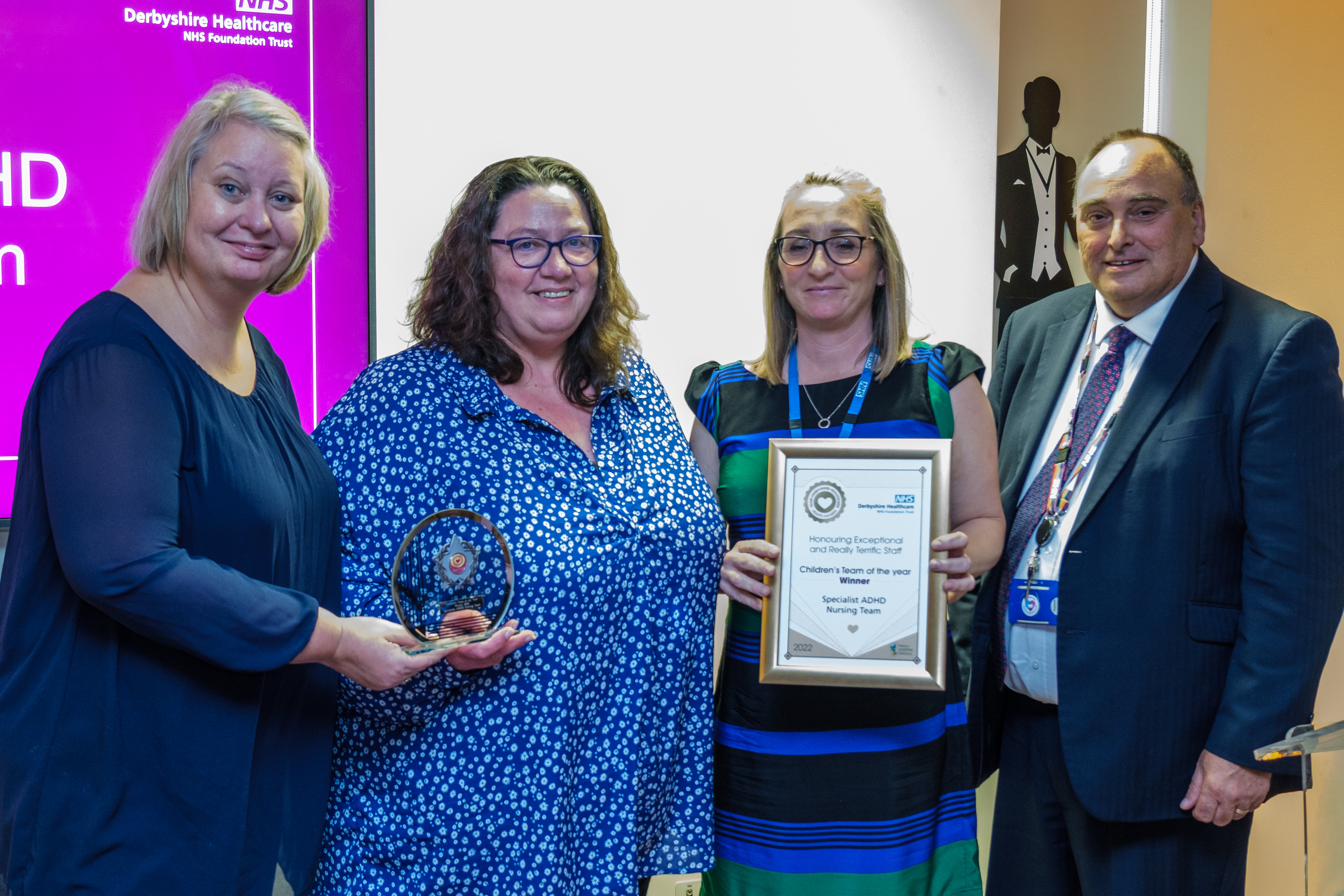 Children's team of the year – Specialist ADHD Nursing Team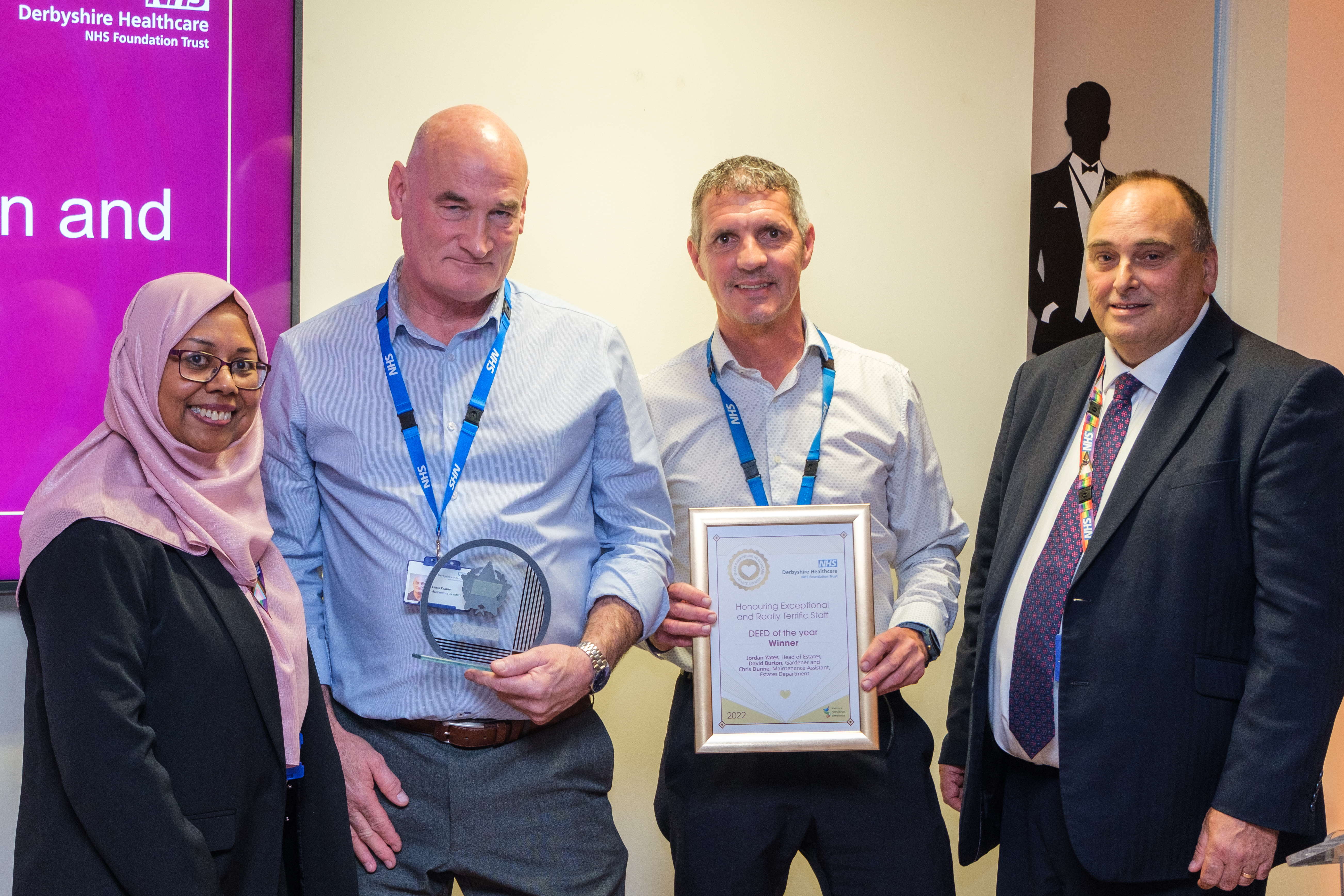 DEED of the year – Jordan Yates, David Burton and Chris Dunne – Estates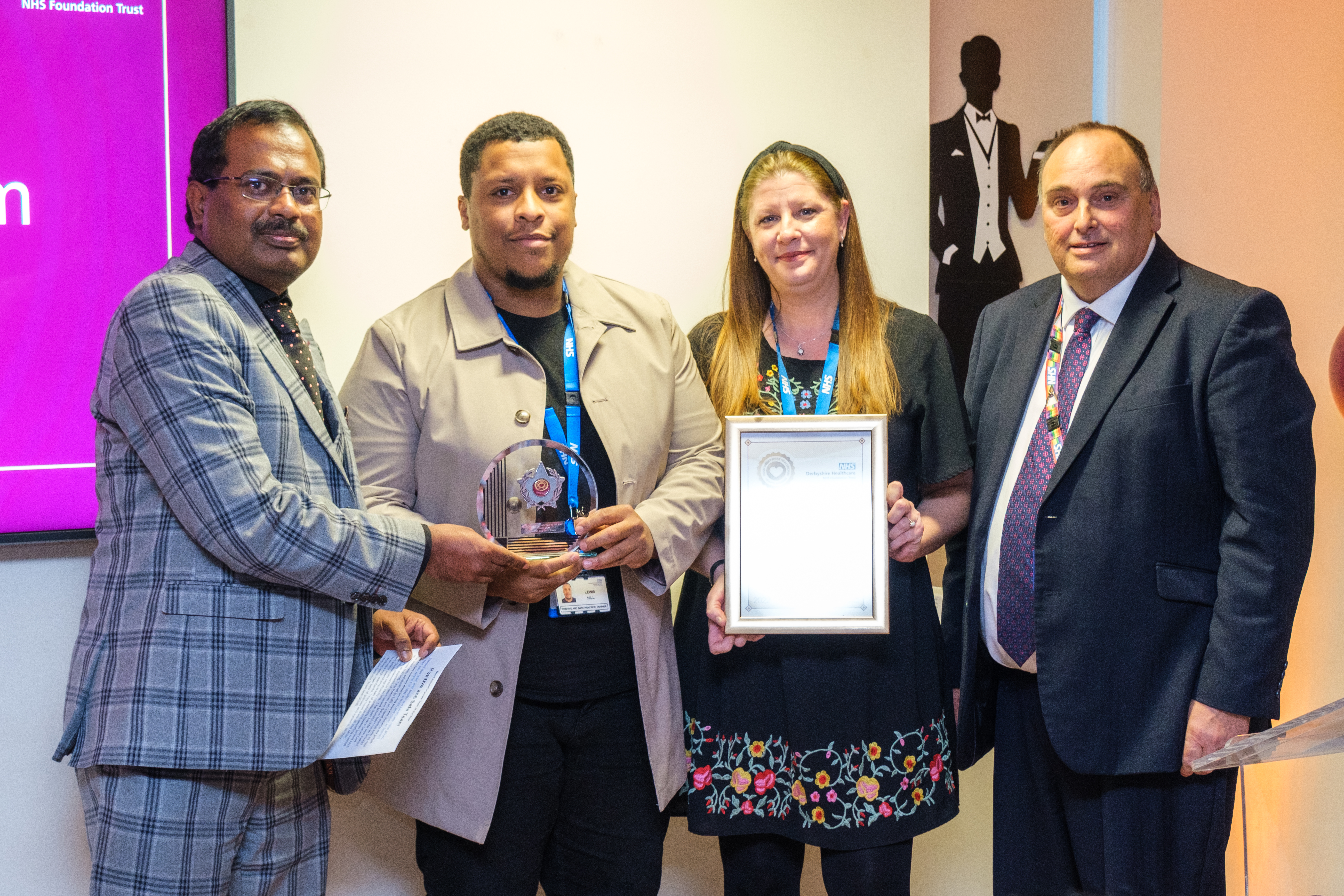 Non-clinical/corporate team of the year – Positive and Safe Team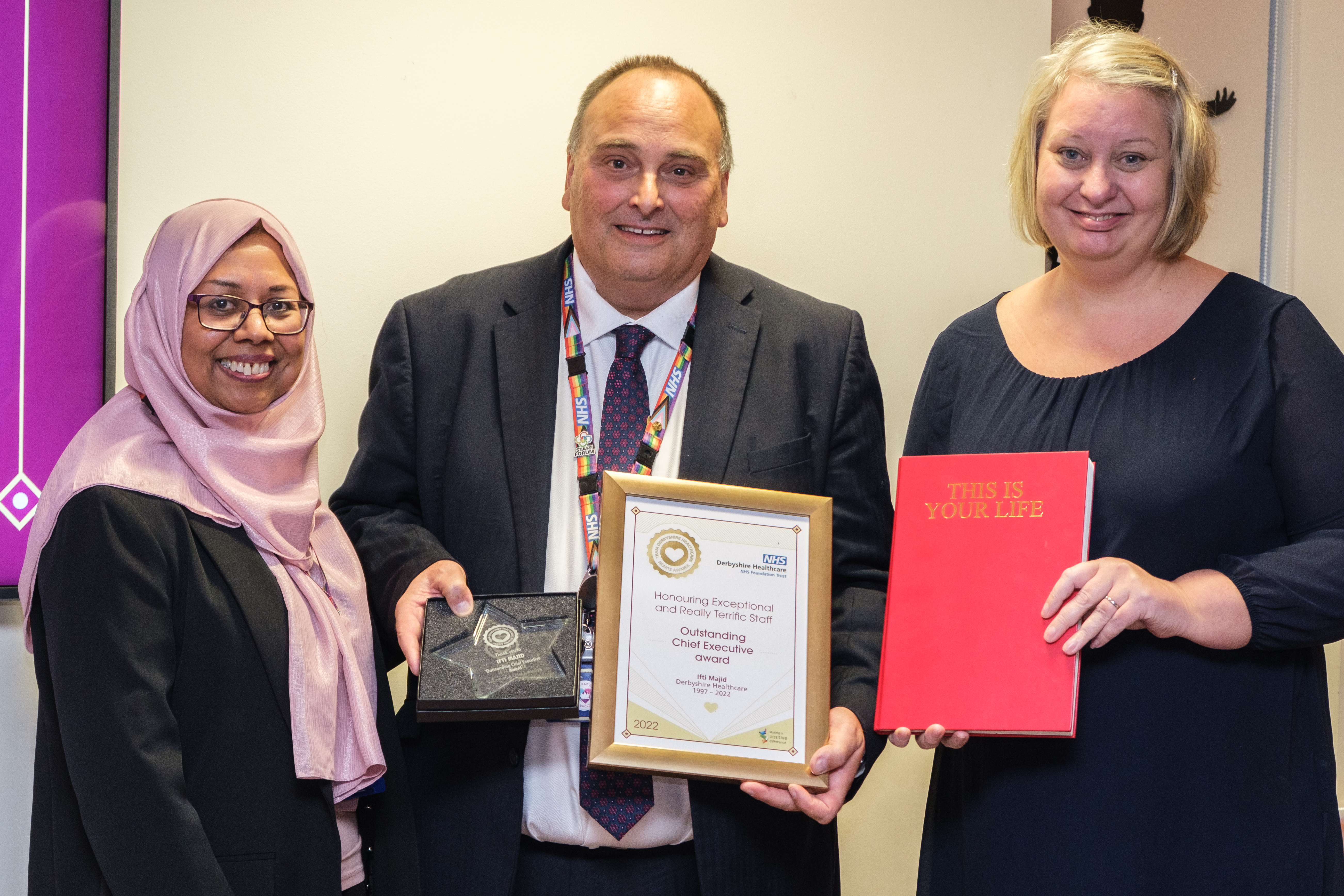 Outstanding Chief Executive Award – presented to Ifti Majid in his last week at the Trust