What is ImROC?
The Implementing Recovery through Organisational Change (ImROC) programme is an approach to helping people with mental health problems. In mental health, 'recovery' means the process through which people find ways to live meaningful lives, with or without the on-going symptoms of their condition. ImROC aims to change how the NHS and its partners operate so that they can focus more on helping those people with their recovery.
Click here to visit the ImROC website
Click here to view the ImROC publications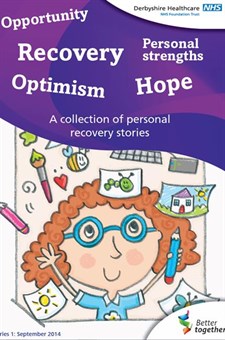 Recovery means different things to each person, and everyone has a story to share, everyone can choose their own steps towards recovery. We have gathered a selection of stories and they are written in the persons own narrative, reflecting the things that are of value to them, and convey powerful messages of hope, self-determination, resilience, inclusion and choice.
"I have had time to start to recover even though at first I found it so hard to sort anything out, and CPN did not force anything on me." Service User
Read a collection of Personal Recovery Stories