Recovery means different things to different people but recovery is something you can achieve for yourself. Building a meaningful or satisfying life even if you have on-going or recurring symptoms.
To help you with your recovery there are many different strategies or actions you can take to help you be as well as you can be.
Managing your own health can be a way of taking back control and building your confidence and resilience. This may include telling people (including families, friends and health professionals) what helps you when you're feeling unwell, managing your medication in a way that works for you or being involved in your treatment or decisions about you. You might also consider joining a support group or speaking to others who have been through a similar experience to you. Spotting early warning signs is also a good way of keeping you from becoming unwell. This can be a time to take action or seek help.
This section offers tools, tips and links to other services which can help you manage your own health and find out more about what works best for you.
Mindapples encourages us all to take care of our mental health. Click here for more information about mindapples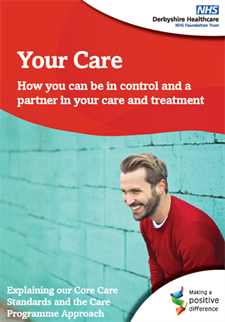 Click here to view the 'Your Care' booklet. You booklet is a useful tool to help you think about how you would like your needs to be met and how services can help you be as well as you can be.
If you haven't been given a copy of this booklet you can ask for one or download a copy You can use the booklet to record things that are important to you. You can bring it to appointments, and talk to our staff about things. You can even share it with family.
A plan of care is something that describes in an easy accessible way the services and support being provided, and should be put together and agreed with you through the process of care planning.
Agreeing a care plan with your health and social care professional means being able to talk about your situation, how it affects your life, what you want to do, and what you can do for yourself with the right support. It's about being given all the information you need, being listened to, being able to ask questions, and feeling able to say what's really important to you. The plan that is agreed should be the result of this process.
Sometimes plans will have to be made without the full involvement of the person, where they are not able to participate, but we will try our best to consult and communicate with them.
Care plans will also recognise that people can be in control of their lives and can regain a meaningful life despite a serious physical or mental health problem. Staying well and wellbeing approaches, and health promotion initiatives such as smoking cessation, physical health etc. will be an important part of this, as well as Recovery Tools and techniques such as Wellness Recovery Action Planning (WRAP).
Click here for the My Recovery Plan booklet
Click here to see our leaflet - How to get more out of your appointment with your psychiatrist
Care Planning includes:
Gathering and sharing stories: the views of all concerned, including the persons/child's, family/carers, and professionals views

A systematic review of the areas of need

Exploring and discussing information: to help work out what's most important

Goal setting: what do we want to achieve?

Action planning: what are we going to do, who is responsible, and when will it be reviewed?

Risk Management: how do we make your care as safe as possible?
We will make sure that you (the person using the service) will:
Be involved in putting the plan together, as much as you are able and want to be.

Be asked to consent to any treatment, and have any risks and benefits explained. If you aren't able to consent because of your age or condition, we'll take account of this.

Be offered a copy of the plan, and understand what's in it.

Have someone who is responsible for making sure the plan happens.
The plan will be:
Recorded so that it can be easily understood.

Shared with other people who are involved, such as the GP, and including family and carers where appropriate.

Agreed with all those providing services.

Checked regularly to make sure it's still OK.

If you have any questions or concerns about your care plan then please contact the Core Care Standards and CPA Service on 01246 515974.
Advocacy is about making sure that someone gets their views heard. Most people are able to speak up for themselves, but sometimes we all need some help. An advocate does not tell you what they would do; they help you to decide what you want. Advocates respect your views, work together with you, and do not judge your choices.
You can access different types of advocacy support, this may depend on where you live or what you need help with.
Specialist advocacy and representation is available for people with mental health problems who have substantial difficulty in being involved in their own care. This includes people who qualify under the Mental Health Act (IMHA service) and/or the Mental Capacity Act (IMCA service).
Click here to read about Advocacy Services in Derbyshire and Derby City
Contact:
If you live in Derbyshire - Derbyshire Mind, Tel: 01332 623732. Click here for more information

If you live in Derby City - ONE Advocacy Derby, Tel: 01332 228748. Click here for more information

Independent Community Advocacy
Independent Community Advocacy is a new requirement on Local authorities. If you are likely to have substantial difficulty in being involved in your care and if you do not have an appropriate person to support you the Local Authority has a duty to arrange independent advocacy.
An advance decision (which used to be known as an advance directive or a living will), explains what medical treatment you would not want in the future if you lack the capacity to make decisions (as defined by the Mental Capacity Act 2005). It can be about all future treatment, not just that which may be life-saving. An advance decision is legally binding (unless it is overridden by other legislation or there is a danger to you or others) , but it does not have to be written down, unless you decide to refuse life-saving treatment.
You can also make an advance statement, which is not legally binding, but will be taken into account by health and social care services. You can use one to say who you would like to manage your affairs, such as paying bills, or looking after children, or who you are happy for your information to be shared with. Ask for a copy of our booklet and advance decision form 'Sharing Information with Family and Carers' or talk to staff about making an advance decision or advance statement.
You can find our more by visiting:
Personal Health Budgets
Personal health budgets are being introduced by the NHS to help people manage their care in a way that suits them. They have been piloted in a number of places across England and since October 2014.
A personal health budget is an amount of money to support your identified health and wellbeing needs, planned and agreed between you and your local NHS team. The aim is to give people with long term conditions and disabilities greater choice and control over the healthcare and support they receive.
Personal health budgets work in a similar way to the personal budgets that many people are already using to manage and pay for their social care.
Together with your NHS team you will develop a care plan. The plan sets out your personal health and wellbeing needs, the health outcomes you want to achieve, the amount of money in the budget and how you are going to spend it. You can use a personal health budget to pay for a wide range of items and services, including therapies, personal care and equipment. This will allow you more choice and control over the health services and care you receive.
You don't have to change any healthcare or support that is working well for you just because you get a personal health budget.
Visit the peoplehub website to hear people talk about their personal health budgets
Click here to download the Derbyshire Personal Health Budgets leaflet
Direct Payments
Direct payments and personal budgets are offered by your local authority to give you more flexibility over how your care and support is arranged and provided. They are given to both people with care and support needs, and also to carers.
A personal budget or direct payment will be created after an assessment by social services. If the council decides that you need any kind of support, you will receive a personal budget and can choose a direct payment instead of letting them arrange services for you.
If you aren't able to, or don't want to manage your own finances, it's possible for another person to manage the direct payments on your behalf.
Direct payments are voluntary, and you need to request or agree to have one. You can't be forced to have direct payments. If you decide to have direct payments, you can change your mind about this at any time.
Visit the NHS Choices website to find out more about Direct Payments
Five universal tips for maintaining healthy relationships
Good relationships protect our mental health and wellbeing at any stage of life. People who are more socially connected are happier, physically healthier and live longer. Loneliness can be toxic to our wellbeing – our health declines earlier and we can have shorter lifespans. It's important to remember that it is good, supportive relationships that protect our bodies and our minds.
Give time
Put more time aside to connect with friends and family.
Be present
It can be tempting to check your phone, Facebook messages or even work emails when with family and friends. Try to be present in the moment and be there for your loved ones, and switch out of work mode wherever possible.
Listen
Actively listen to what others are saying in a non-judgemental way and concentrate on their needs in that moment.
Be listened to
Share how you are feeling, honestly, and allow yourself to be listened and supported.
Recognise unhealthy relationships
Being around positive people can make us happier. Our wellbeing can be negatively affected by harmful relationships, however, leaving us unhappy. Recognising this can help us move forward and find solutions to issues.
Find out more in Guide to investing in your relationships
Tell us what you think

The most important way we monitor and improve the quality of our services is from the comments we get from the people who use them, and their family and carers. If you have any feedback about the service you have received - good or bad – we would love to know.
For service users, carers or families who have compliments, comments, concerns or complaints, please let us know by either speaking or writing to us. Its best if you talk to staff locally first, as they might be able to sort out any problems for you, but if they cannot, or if you would prefer to talk to our Complaints Manager, please call us on 01332 623751.
You can also:
If you are still concerned
If you have talked to our clinical teams and our patient experience team and you are still concerned, you can contact any of the following:
Healthwatch is the health and social care consumer watchdog. You can call them for information or for advice to raise an issue.
01332 643988 or Text: 07812 301806
Email: info@healthwatchderby.co.uk
Healthwatch Derbyshire

01773 880786 or Text: 07943 505255
You can talk to the local safeguarding team in the local authority and talk to a social worker in

Derby City

01332 640777 or 01332 786968 outside of office hours

Derbyshire
Click here to rate our services on NHS Choices
You can share your care experience and raise a concern about your care and treatment with the CQC. Speak up by calling 03000 61 61 61, e-mailing enquiries@cqc.org.uk or using the online form.
It is important then when you need to use our services that we don't use jargon. Good communication underpins the care process and supports good relationships. Sometimes we use medical terms and below you can access the glossary which describes what some terms and acronyms mean. You can also read about the NHS Acronyms Buster and the Social Care Jargon Buster
Click here to access the glossary
Our staff are the greatest asset of our organisation, their skills reaching out into the heart of our community. We all know of someone whose health, wellbeing and quality of life has been improved by their expertise - it may be a family member, a friend, a colleague, a neighbour ... it may well be you.
We want to make sure that our staff always provide a good service. To make sure that they are able to do this, we set good recruitment and selection standards, follow the relevant legislation, and try to make sure that all staff:
Have approval to work in the UK

Have their qualifications checked before they are appointed

Have health clearance

Have provided satisfactory references

Have had a Criminal Records Bureau check when working in a clinical role

Have had an induction to the Trust, so that they know about our standards, and share our values

Are registered with their professional body where this arrangement is in place

Have training regularly, and specialist training where this is needed for their role

Have supervision
"You have the right to be treated with a professional standard of care, by appropriately qualified and experienced staff, in a properly approved or registered organisation that meets required levels of safety and quality." NHS Constitution