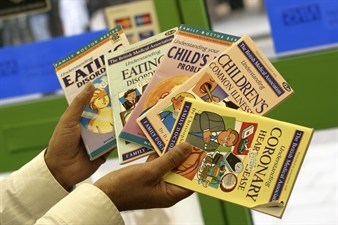 Knowing about your health can be a way of helping you to manage your wellbeing and understand how things like medication, your diet or a diagnosed condition can affect you.
We want to provide you with information which can help you make choices and decisions about what is best for you. For example, knowing about your medication can help you find out about any possible side effects or how well you think it is working. Or, knowing more about your condition may reassure that any symptoms your are feeling are normal.
It might also help to find out more about how services work and who can be helpful when things aren't going so well or you need some advice and support
Below you can find a variety of different sources of information. These include booklets, websites and telephone numbers for services that can offer help and advice.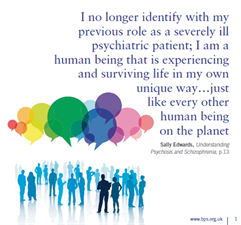 "I no longer identify with my previous role as a severely ill psychiatric patient: I am a human being that is experiencing and surviving life in my own unique way... just like every other human being on the planet." Sally Edwards, Understanding Pyschosis and Schizophrenia, p. 13
When you are given a psychiatric diagnosis you may have some questions about what this means. The British Psychological Society have published a leaflet which might answer some common questions such as:
What is a psychiatric diagnosis?

Is a psychiatric diagnosis the same as a physical health diagnosis?

What might have caused my difficulties?

Do I need a diagnosis to access services?

How might a psychiatric diagnosis affect me?

Are there other ways of understanding my

problems?

Can I discuss my views about diagnosis

with professionals?

Where can I find out more?
Click here to view or download the leaflet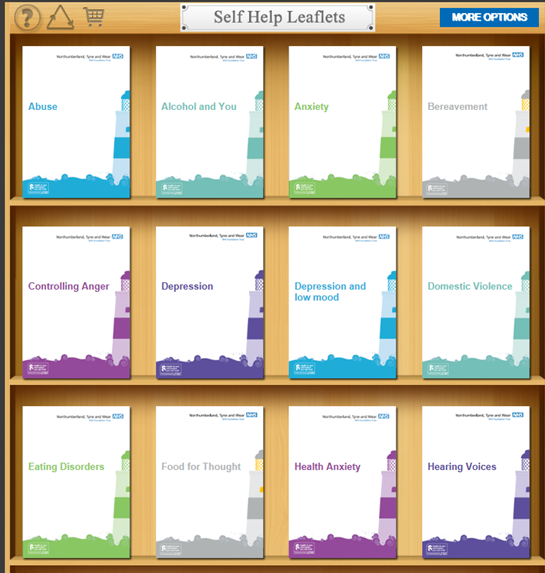 Click here to read Northumberland, Tyne and Wear NHS Foundation Trust self help booklets.
There are a wide range of booklets to choose from and they include information about:
Abuse

Alcohol and You

Anxiety

Bereavement

Controlling Anger

Depression

Depression and Low Mood

Domestic Violence

Eating Disorders

Food for Thought

Health Anxiety

Hearing Voices

Obsessions and Compulsions

Panic

Post Traumatic Stress

Post Natal Depression

Self Harm

Shyness and Social Anxiety

Sleeping Problems

Stress

Prisoner Anxiety

Prisoner Depression and Low Mood

Prisoner Post Traumatic Stress
You can get reading well books on prescription, or by registering yourself.
Reading Well Books on Prescription helps you to understand and manage your health and wellbeing using self-help reading. It is endorsed by health professionals and supported by public libraries. We have developed the scheme in partnership with the Society of Chief Librarians, with funding from Arts Council England. Books can be recommended by GPs or other health professionals from the relevant Reading Well Books on Prescription reading list. People can also self-refer to the scheme and use it without a professional recommendation. All the books are available in almost all English public libraries where they can be borrowed free of charge. The books have been recommended by experts, and been tried and tested and found to be useful.
The NHS website (www.nhs.uk) was launched in 2007 and is the official website of the National Health Service in England. It has over 48 million visitors per month. It provides a comprehensive health information service with thousands of articles, videos and tools, helping you to make the best choices about your health and lifestyle, but also about making the most of NHS and social care services in England.
Click here to visit the NHS website where you can find out about services in your area, including information about GP's, dentists and hospitals
Click here to visit the Health A-Z of Conditions and Treatments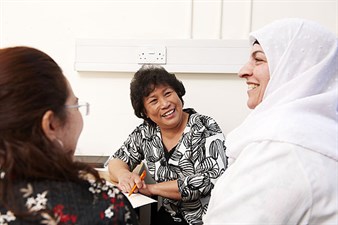 Our Choice and Medication website provides people with information about medicines used in the mental health setting to help people make informed decisions about medication. You can also find a wide selection of user friendly leaflets about medicines and common mental health conditions that you can print out. Click her to visit our Choice and Medication website.
Click here for information from the NHS website about medicines.
MIND have produced an alphabetical list of psychiatric drugs and you can click on the links to find out more about individual drugs. Click here to visit the MIND website and view the list.
Click here for more information about the Yellow Card Scheme. This scheme allows you to report side effects or problems with medication and helps MHRA monitor the safety of health products.
MIND is a national charity supporting people with a mental health problem. When you're experiencing problems supportive and reliable information can make a big difference. MIND works to empower people to understand their condition and the choices available to them through:
Click here to visit the MIND website. You can also read Mind's publication - How to improve and maintain your mental wellbeing
MIND has over 140 local branches. Derbyshire Mind was established as a local mental health group in 1967. It is an independent local association affiliated to the national charity Mind.
Derbyshire Mind is committed to:
Working for improvements in local mental health services

Making it possible for people with mental health difficulties to voice their opinions

Offering quality services

Challenging the stigma attached to people labelled "mentally ill" and increasing public understanding of mental health issues

Click here to visit the Derbyshire Mind website or contact them on 01332 380224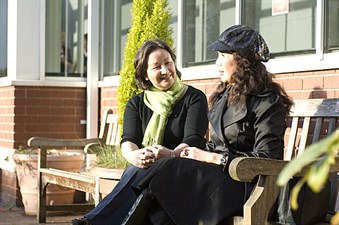 We shouldn't think of the mind and body as being separate. Poor physical health can lead to an increased risk of developing mental health problems. Similarly, poor mental health can negatively impact on physical health, leading to an increased risk of some conditions.
Looking after our physical health is important for everyone, but it can be an extra challenge if you have a mental illness. This may be related to the symptoms of the illness or the side-effects of medication. It may be because of smoking, not getting enough exercise, or other lifestyle factors. Physical health problems can also get overlooked when everyone's focus is on looking after your mental health.

It is important to have regular health check ups if you have a mental health problem, regular health checks are important for all of us to identify early signs of any problems. Early detection of any problem means earlier treatment and a better outcome. You can access this through your GP or talk to your health worker about it.
Healthy Living
A healthy lifestyle means enjoying yourself without risking your health. It also means stopping or reducing as much as possible things that are not healthy (such as smoking or abusing other drugs). Being physically and mentally healthy in your day-to-day life helps make all the difference, and includes:
eating and drinking healthily

being physically active in your daily life

sleeping well

managing stress

staying in touch with others

stopping smoking or cutting down
Rethink offer advice and information about Wellbeing and Physical Health
The NHS website offers advice about healthy living for everyone on its Livewell Hub
The Mental Health Foundation publishes information about what it important for Good Physical and Mental Health and How to look after your Mental Health. You can also read the booklet from the British Heart Foundation - Small steps to a healthier heart
Everyone's experience of mental health problems is different and so is the type of support needed. Sometimes we experience mental health problems because of a physical health problem. Click here to watch an Alternative Guide to Mental Health. This film has been published by the Kings Fund and shows how mental health services fit in with other health and public services and highlights some of issues people encounter.
Click on the picture below to watch the Healthy Body, Healthy mind video. As part of our Trust's work on the Healthy Body Healthy Mind programme, service users explain how their physical and mental health has improved by making some simple lifestyle changes

You may be interested in how Health and Social Care organisations make decisions about what services or treatments to offer or provide and what standards are place to make sure people get the right help or the right medication. Health and Social Care organisations follow guidelines, rules and legislation set up by a variety of different bodies. One of these public bodies is NICE (National Institute for Health and Care Excellence)
NICE's role is to improve outcomes for people using the NHS and other public health and social care services. NICE provides national guidance and advice to improve health and social care. It develops guidance, standards and information on high quality health and social care. It also advises on ways to promote healthy living and prevent ill health. They do this by:
Producing evidence based guidance and advice for health, public health and social care practitioners.

Developing quality standards and performance metrics for those providing and commissioning health, public health and social care services.

Providing a range of informational services for commissioners, practitioners and managers across the spectrum of health and social care
NICE produce different types of guidelines, these include:
Clinical Guidelines

Public Health Guidelines

Social Care Guidelines

Medicines Practice Guidelines

Safe Staffing Guidelines
The guidance is expected to be taken into full consideration by health and social care professionals and organisations when making decisions with the person receiving care. However, it is not designed to replace the knowledge and skills of individual professionals. NICE products and resources are produced for the NHS, local authorities, care providers, charities, and anyone who has a responsibility for commissioning or providing public health and social care services.
Its guidance is produced by healthcare professionals, NHS staff, patients and carers, members of the academic world, and other members of the wider healthcare and public health community
Click here to visit the NICE website and find out more