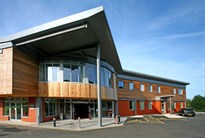 Address:
Ilkeston Resource Centre
Ilkeston Community Hospital
Heanor Road
Ilkeston
DE7 8LN
View the Ilkeston Community Hospital site map.

The following services are provided by Derbyshire Healthcare NHS Foundation Trust at the Ilkeston Resource Centre:
Contact us
Address: Midway Day Hospital, Ilkeston Community Hospital, Heanor Road, Ilkeston, DE7 8LN
Tel: 0115 907 1440
Opening hours: Monday and Tuesday, 8.30am - 4.30pm
Midway Specialist Day Service provides psychotherapeutic therapy and assessments for people over the age of 65 living with functional mental health issues. This includes anxiety management, confidence building, and healthy living and lifestyle matters groups.
The day hospital provides assessment, support and therapy for anyone living with a dementia diagnosis or suspected dementia diagnosis. This includes the living well programme, memory support and activities of daily living (ADL) skill based therapy. There is no age limit on this group of clients.
The team based at Ilkeston Resource Centre consists of consultant psychiatrists, nursing team, occupational therapists, physiotherapists, administration, and housekeeping staff.
Transport to and from the day hospital can also be arranged, if required.
Find out more by visiting our Specialist Day Services page.