Published on: 13 June 2019
Colleagues, service users, carers and Trust members are invited to put pen to paper and take part in our Trust writing competition, which aims to provide an opportunity for people to share their experience of our services in a creative and supportive way.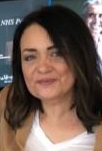 Successful author and former Radbourne Unit colleague Joanna Cannon (pictured), author of The Trouble with Goats and Sheep, will be on the judging panel and will present the award to the winner at the Trust's Annual Members' Meeting on Wednesday 11 September.
'Looking back/looking forwards'
The title for the competition is 'Looking Back/Looking Forwards' and the piece should be about:
The writer's experiences of mental illness, learning disabilities or any of the wider specialist services provided by the Trust including substance misuse or eating disorders
A story of recovery, challenge or hope for the future
The experience of children and/or families through our children's services.
Entries can be in any written form – for example a poem, short story, letter, diary entry or blog post. There is however a maximum limit of 500 words! The closing date for the competition is Friday 19 July.
Challenging stigma
The Trust and its Council of Governors hope that this competition will challenge the stigma around mental ill health, learning disabilities and wider services provided by the Trust, and celebrate equality, diversity and inclusion by giving entrants the opportunity to explore these topics.
If you would like to find out more or request an entry form and guidance, please email dhcft.membership@nhs.net or telephone 01332 623723.
Annual Members Meeting
If you are a Trust member and you wish to register a place to attend the Trust's Annual Members' Meeting (AMM) on 11 September 2019 please contact denise.baxendale@nhs.net. The event takes place in the Centre for Research and Development at Kingsway Hospital in Derby from 4pm with a market place of staff from 2.30pm.