Published on: 15 July 2019
The Trust's Killamarsh and North Chesterfield Occupational Therapy team works in partnership with Community Growth, a grou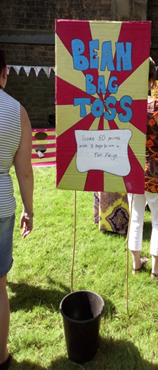 p aiming to use arts, heritage, enterprise and the environment to inspire positive change.
Between them they have developed a community group, Green Barrows, for service users.
Community Growth and Green Barrows were involved in a free community event in June: Staveley Feast. Held at Staveley Hall and Staveley Church, the event attracted hundreds of visitors.
Green Barrows made bunting and created and oversaw traditional games such as Battledore, Hoopla and Tin Can Alley - see picture right for an example of the work produced.
The event was also an ideal opportunity to promote Green Barrows and showcase the benefits of the NHS co-working with community partners.
Community Growth was presented with Cultural Life Award 2019 at Nottingham University and members thanked Green Barrows for being an integral part in the development of the enterprise and winning the award.