Published on: 15 May 2023
Two colleagues at Derbyshire Healthcare NHS Foundation Trust have been shortlisted for a Health Estates and Facilities Management Association (HEFMA) award for the Trust's Making Room for Dignity hospital building programme.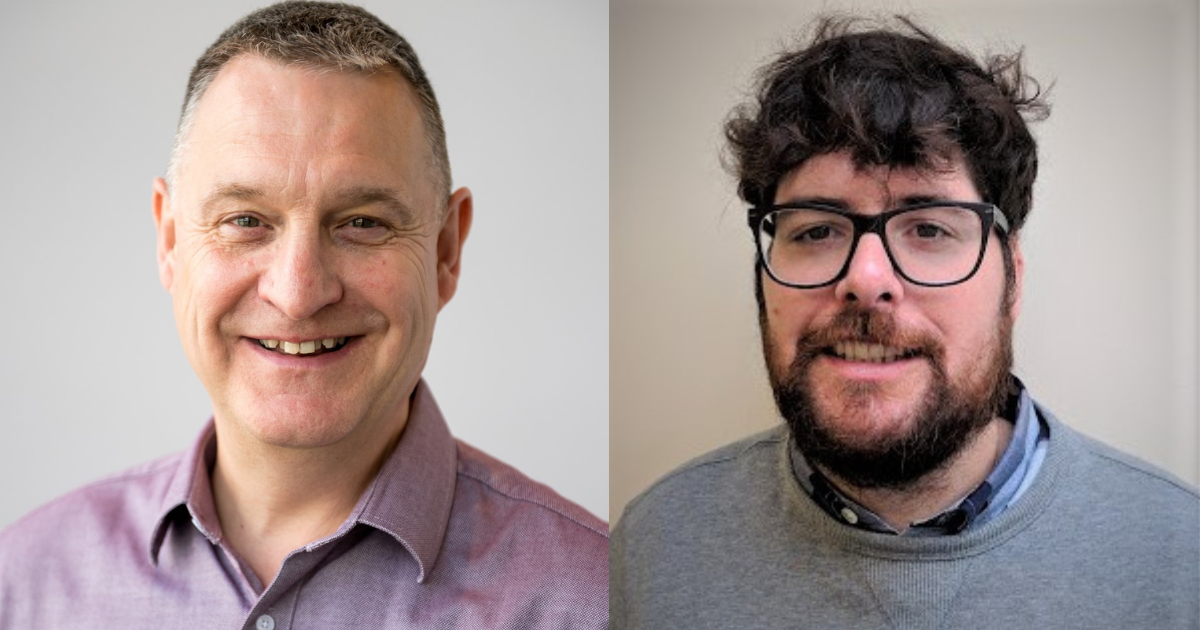 Geoff Neild, Programme Director (pictured to the left) – Dormitory Eradication, and Nick Richards (pictured to the right), Programme Support and Lived Patient Experience colleague, are in the running for two national awards. Geoff has been shortlisted for 'Leader of the Year' and Nick is a finalist in the 'Personal Development' category.
The HEFMA awards recognise the hard work, excellence and achievements of NHS estates and facilities management staff across the UK.
The Trust's ambitious Making Room for Dignity programme is a government-funded programme to revamp the existing acute mental health inpatient facilities in Derbyshire. Being delivered as part of the programme are:
Two new 54-bed acute mental health units – one in Derby and one in Chesterfield – which will have single, en-suite rooms and will replace the current facilities which have shared dormitory accommodation
A new 14-bed psychiatric intensive care unit (PICU) at Kingsway Hospital in Derby – Derbyshire does not currently have a PICU and people who need this level of support currently need to travel outside of the county to access an appropriate service
The refurbishment of the current Radbourne Unit in Derby to create an acute 34-bed female unit with single, en-suite rooms
The relocation of the northern Derbyshire older adult's mental health inpatient service from its current location to a purpose designed unit at Walton Hospital in Chesterfield
The refurbishment of a building called Audrey House at Kingsway Hospital – initially into a 10-bed decant ward, then into an eight-bed mental health 'Acute Plus' female unit, providing enhanced care to female patients.
The programme has progressed at pace despite the challenges caused by inflation and the war in Ukraine, with ground-breaking ceremonies being held for the two new 54-bed units in March this year. Geoff and Nick have played key roles in the programme's success.
Andy Harrison, Programme Director of Making Room for Dignity at Derbyshire Healthcare NHS Foundation Trust, congratulated the two for being shortlisted.
He said: "The Making Room for Dignity team have all done a remarkable job at delivering a superb programme so far. We have worked hard to ensure that the views of our patients and carers are integral to the developments, and both Nick and Geoff have been key to these conversations, making sure that our new developments are designed with people in mind at all times.
"It goes without saying that both colleagues deserve recognition on a national scale and I would like to congratulate both Geoff and Nick for being shortlisted."
Geoff Neild, Programme Director – Dormitory Eradication at Derbyshire Healthcare NHS Foundation Trust, said: "It is a real privilege to be recognised nationally for all the work that has gone into the Making Room for Dignity programme.
"I would like to thank all of the team for their support, especially Nick, who I am honoured to share this special recognition with. Having Nick's perspective on things has been a huge contribution to the programme's success to date."
Nick Richards, Programme Support and Lived Patient Experience colleague at Derbyshire Healthcare NHS Foundation Trust, was also very pleased to receive the news.
He said: "The programme is very special to me. It has allowed me to use my experience to support those with mental illness or disability whose voices need to be heard, particularly on a project that will largely effect their experience."
A full list of shortlisted nominees for the HEFMA awards 2023 can be found on the HEFMA website. Winners are expected to be announced during a ceremony at the Doubletree by Hilton in Milton Keynes on 25 May 2023.