Published on: 26 May 2023
A Derbyshire Healthcare NHS Foundation Trust colleague has been awarded with a prestigious Health Estates and Facilities Management Association (HEFMA) award for his part in the Trust's programme to build new mental health facilities.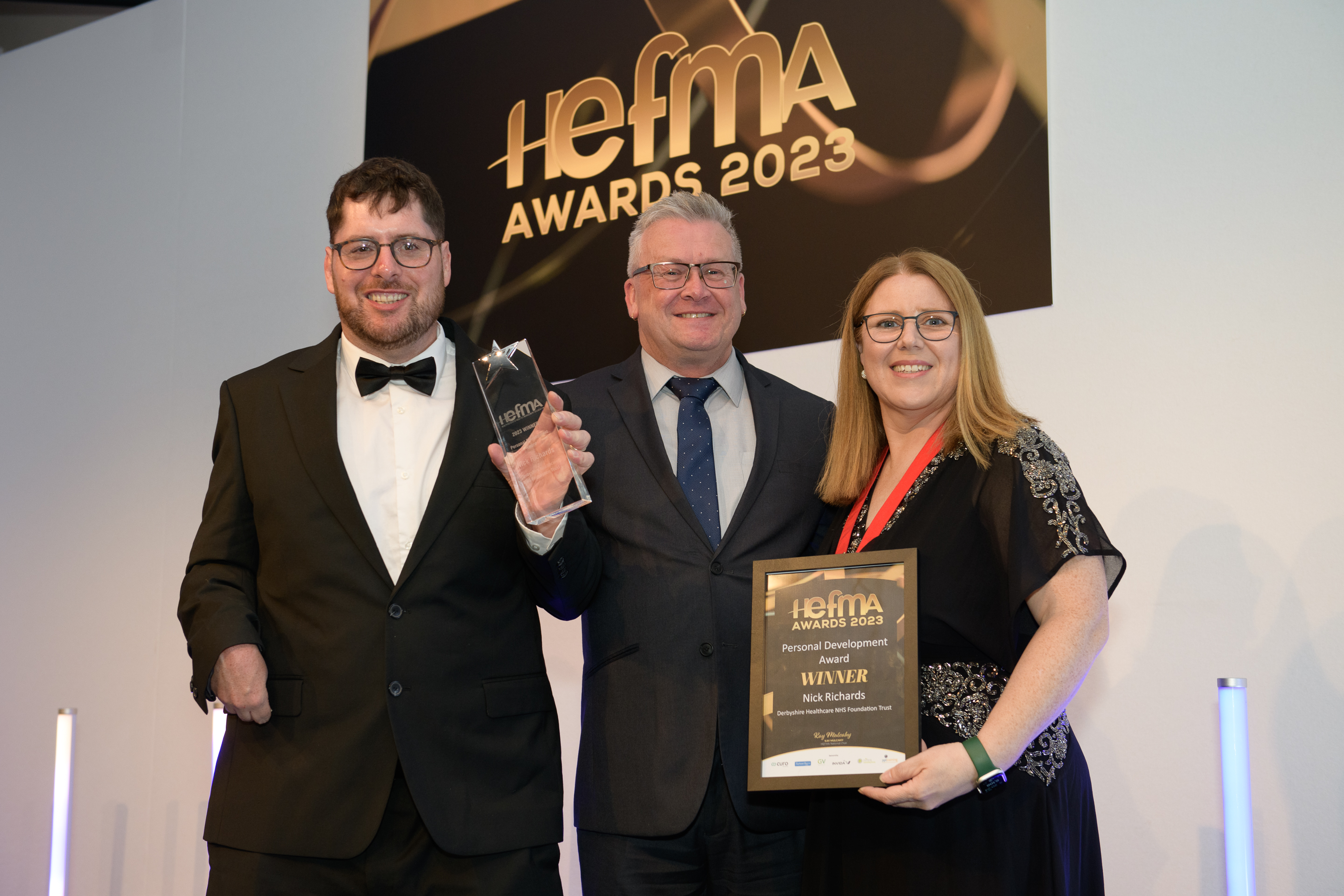 Nick Richards, Programme Support and Lived Patient Experience colleague, was the winning finalist in the 'Personal Development' category at last night's awards event in Milton Keynes for his efforts to champion the views of patients and carers throughout the process of designing and building new mental health inpatient accommodation in Derby and Chesterfield.
The HEFMA awards recognise the hard work, excellence and achievements of NHS estates and facilities management staff across the UK. Nick, who has cerebral palsy, joined the Trust as an IT data analyst in 2016 but has excelled since joining the Making Room for Dignity programme team. As well as ensuring that the patient voice is heard, Nick has been involved in several design decisions; he helped to source a special type of anti-shock glass for cabinets to be used in environments in which patients may become distressed, and he played a central part in designing magnetic panels to be used as locks on doors, which give privacy and dignity to patients but also allow easy access for clinical staff in an emergency.
The Trust's ambitious Making Room for Dignity programme is a government-funded programme to revamp the existing acute mental health inpatient facilities in Derbyshire. Being delivered as part of the programme are:
Two new 54-bed acute mental health units – one in Derby and one in Chesterfield – which will have single, en-suite rooms and will replace the current facilities which have shared dormitory accommodation
A new 14-bed psychiatric intensive care unit (PICU) at Kingsway Hospital in Derby – Derbyshire does not currently have a PICU and people who need this level of support currently need to travel outside of the county to access an appropriate service
The refurbishment of the current Radbourne Unit in Derby to create an acute 34-bed female unit with single, en-suite rooms
The relocation of the northern Derbyshire older adult's mental health inpatient service from its current location to a purpose designed unit at Walton Hospital in Chesterfield
The refurbishment of a building called Audrey House at Kingsway Hospital – initially into a 10-bed decant ward, then into an eight-bed mental health 'Acute Plus' female unit, providing enhanced care to female patients.
The programme has progressed at pace despite the challenges caused by inflation and the war in Ukraine, with ground-breaking ceremonies being held for the two new 54-bed units in March this year.
Mark Powell, Chief Executive at Derbyshire Healthcare NHS Foundation Trust, praised Nick for his ongoing commitment.
He said: "Nick is an absolute credit to not only the Making Room for Dignity team and the Trust, but also the NHS.
"He is an exceptional example of someone who has not let his condition affect his ability to succeed, instead he has used his lived experience to enrich us all. It is a pleasure to have Nick as a colleague and we are all very proud of his achievement."
Geoff Neild, Programme Director – Dormitory Eradication at Derbyshire Healthcare NHS Foundation Trust, who was shortlisted for the Leader of the Year award and joined Nick at the ceremony last night, said: "Huge congratulations to Nick who thoroughly deserves this win for his efforts with the Making Room for Dignity programme.
"I would like to thank Nick for all his support with the programme. I believe that, if it was not for his input, the programme would not hold the value it does."
Nick was overjoyed having received the news.
Nick said: "The programme is very special to me. It has allowed me to use my experience to support those with mental illness or disability whose voices need to be heard, particularly on a project that will largely affect their experience."
A full list of winners for the HEFMA awards 2023 can be found on the HEFMA website.