Published on: 27 December 2018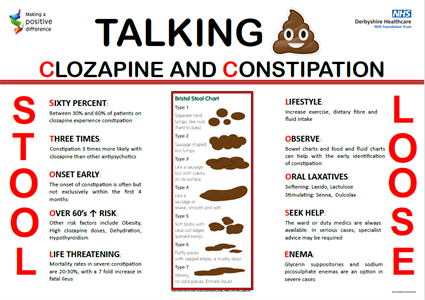 Derbyshire Healthcare NHS Foundation Trust registrar Pranav Mahajan has designed a poster detailing the link between clozapine and possible issues with constipation. The poster has been a big success after it was presented at a conference.
It follows a Drug Safety Update published in October 2017 by the Medicines and Healthcare products Regulatory Agency, covering the potentially fatal risk of intestinal obstruction associated with clozapine, after concerns were raised by a coroner that clinical staff were not aware of these risks.
Dr Mahajan's poster, which approaches the problem using two easy-to-recall mnemonics, was presented at the Royal College of Psychiatrists Trent Division annual conference this month and has proved popular with delegates and colleagues. The President of the Royal College contacted Dr Mahajan with requests to download the poster.
The poster is currently being displayed at Trust inpatient units, including the Kedleston Unit on the Kingsway Hospital site in Derby and the Hartington Unit in Chesterfield.
It is available for colleagues and other interested professionals to download following this link.