Published on: 28 March 2018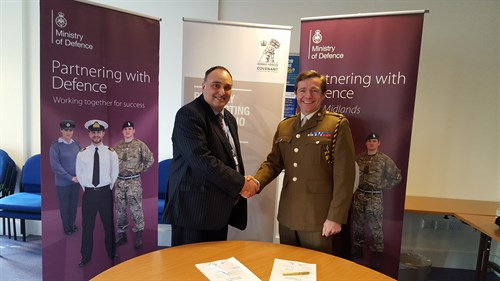 On 28 March 2018 we publicly demonstrated our support of the Armed Forces Community by signing the Armed Forces Covenant.
The signing took place at the Trust's Headquarters at Kingsway Hospital in Derby. Ifti Majid, Chief Executive, and Lieutenant Colonel Duncan Jenkins, Commanding Officer of 162 Regiment, Royal Logistic Corps (pictured right) put their signatures to the declaration at the special ceremony during the Trust's public meeting of its Board of Directors.
They were also joined by Trust staff who currently provide services to the Armed Forces Community.
Pledges
The Covenant outlines the following pledges:
No member of the Armed Forces Community should face disadvantage in the provision of healthcare services compared to any other citizen
In some circumstances special treatment may be appropriate especially for the injured or bereaved
Promoting the fact that we are an armed forces-friendly organisation
Seeking to support the employment of veterans and working with the Career Transition Partnership (CTP) and Military Step into Health programme, in order to establish a tailored employment pathway for Service Leavers
Striving to provide support services for Service spouses and partners
Endeavouring to offer a degree of flexibility in granting special leave before, during and after a partner's deployment
Supporting our employees who choose to be members of the Reserve Forces, including by accommodating their training and deployment where possible
Offering support, where possible, through our Health Ambassadors programme to our local cadet units, either in our local community or in local schools
Seeking to support employees who are cadet force adult volunteers
Aiming to support Armed Forces Day and actively demonstrating our support to the armed forces through promotion at Trust run events

By signing these pledges, the Trust commits to support all of those in the Armed Forces Community who have contact with the Trust whether as patients, staff, carers or the general public.
'Commitment to take direct action'
Ifti Majid expressed his pleasure at signing the Covenant, and explained why it was important for the Trust to confirm its commitment to the Armed Forces Community.
He said: "There are clear links between the Armed Forces and the need for good quality mental health care. We also recognise that, due to the depth of trauma experienced by many members of the Armed Forces, there is a need for rapid intervention.
"The Trust's vision is focused on 'making a positive difference to people's lives by improving health and wellbeing'. The signing of this Covenant today reflects the Board's commitment to take direct action to support the health and wellbeing of those who are serving or have served in our Armed Forces and their families.
"There are also a number of benefits that service leavers could bring to our Trust by way of applying a wide range of skills and experience. Research also indicates that NHS organisations who employ ex-service personnel reflect positively on how military skills fit in with their organisation's needs."
'Skills and attributes'
The Ministry of Defence's Assistant Regional Employer Engagement Director in the East Midlands, Catherine Suckling, attended the signing. She explained: "The Trust understands that those who serve or have previously served in the military have a variety of skills and attributes, developed through military training, that are of value to their organisation. Skills such as leading a team, problem solving and having the ability to drive a variety of vehicles are all recognised as positive qualities.
"The Armed Forces Covenant is a promise from the nation that those who serve or have served in the Armed Forces, and their families, are treated fairly. I look forward to developing our relationship with Derbyshire Healthcare NHS Foundation Trust over forthcoming months."
More information
More than 2000 public and private sector organisations across the UK have signed the Armed Forces Covenant and many of them are in the East Midlands.
Signing The Armed Forces Covenant in 2018 is more important than ever because this year marks 100 years since the Armistice ending the First World War and is also the centenary anniversary of the RAF.
To find out more about the Armed Forces Covenant visit www.armedforcescovenant.gov.uk.