Published on: 1 July 2022
Derbyshire Healthcare NHS Foundation Trust has been formally recognised as 'Veteran Aware' by the Veterans Covenant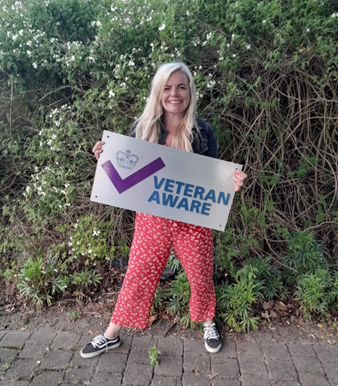 Healthcare Alliance (VCHA), a group of NHS healthcare providers in England committed to providing the best standards of care for the Armed Forces community, based on the principles of the Armed Forces Covenant.
The Armed Forces Covenant - which recently passed into law - is a promise by the nation ensuring that those who serve, or who have served, in the Armed forces, and their families, are treated fairly. The aim is to develop, share and drive the implementation of best practice that will improve armed forces veterans' care, while at the same time raising standards for everyone across the NHS.
Justine Fitzjohn, Trust Secretary and Executive Sponsor for the Trust's Armed Forces Community Staff Network at Derbyshire Healthcare NHS Foundation Trust, said: "We are proud to have joined other NHS trusts that have been accredited as 'Veteran Aware', to help lead the way in improving veterans' care within our organisation.
"As a signatory of the Armed Forces Covenant, we want to demonstrate that those who serve or have served in the Armed Forces, and their families, should be treated fairly and should not face disadvantages when seeking to access public healthcare. We also recognise that special provision needs to be made for those who given the most in the service of their country. We will continue to build on the hard work already being done to make quality mental health care for our armed forces community as accessible as possible."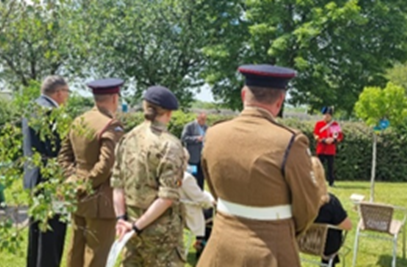 VCHA Regional Lead David Wood said: "Derbyshire Healthcare NHS Foundation Trust, have demonstrated clearly their achievement of each of the eight manifesto standards and that has been recognised and approved by the National Steering Group and they now join 118 other Trusts in the region and nationally already accredited as Veteran Aware."
The Veteran Covenant Healthcare Alliance (VCHA) is committed to improving Armed Forces and Veteran care whilst raising standards for all. 118 NHS providers in England are now Veteran Aware accredited, two have been re-accredited, and the VCHA aims to have all Trusts in England accredited by March 2023 at the latest.
Find out more about the VCHA's work and about rehabilitation by clicking here.