Published on: 3 March 2018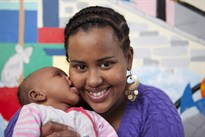 Due to the severe winter weather, some of the child health clinics run by our health visiting teams in Derby have had to be cancelled.
The cancelled clinics on 1 March are as follows:
Beckett Clinic at Beckett Children's Centre
Derwent Clinic at Derwent School in the Community Hall
Chellaston Children's Centre Maple Drive Chellaston
Littleover Baptist Church Thornhill Road Littleover.
The following Breastfeeding Club will be also be closed on 1 March:
Audrey Drive Children's Centre, Audrey Drive Chaddesden, 1-2 pm
Cancelled clinics on Friday 2 March are as follows:
Spondon Child Health Clinic

Bolton Child Health Clinic

Becket Breastfeeding Club.
We are sorry for any inconvenience caused.
If you plan to visit another clinic on Friday 2 March, please call ahead to your health team to check it is running, so you do not have a wasted journey.