Published on: 13 November 2019
This week (11-15 November), we are launched our armed forces awareness campaign, to help our armed forces staff and service users understand the care we offer as an armed forces-friendly Trust. This includes information about what the Trust can do for staff and service users, information about joining our Armed Forces Network and how we can support the Armed Forces Community when they need our care.
As part of our campaign, service user Ben tell us his story… #DHCFTcaringforourforces
You can read about Ben's experiences in a recent issue of Connections, our members' magazine.
Ben served in Afghanistan but has experienced anxiety, depression and Post Traumatic Stress Disorder (PTSD) since returning to civilian life in 2009. Ben tells us his story about getting the help he needed and what advice he would give to someone who is struggling.

What was the most difficult thing about adapting to civilian life?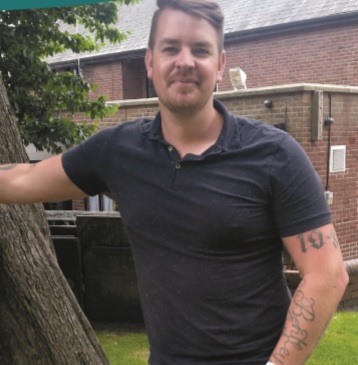 As an infantry soldier on tour you have different problems to those in civilian life. On tour you get into a regimented routine which is lifesaving. As a civilian I found it really hard to adapt, it was really difficult not having a routine. I had my own thoughts and feelings to contend with and felt I had no purpose – it was like being a chess piece without a chessboard.
How easy was it to get help?
I left the Armed Forces in 2009 and tried to cope for a number of years. I sought help from my GP and was referred to a charitable organisation for ex-servicemen and women who, after assessing me, was unable to give me the help that I needed. I felt very alone and worthless and in 2017 I ended up contemplating suicide.
What made you go to Pathfinders* in Chesterfield?
After coming through that difficult period, the Crisis Team and my GP referred me to Pathfinders based in Bayheath House in Chesterfield. I finally began to get the help that I needed.
What do you most value about the help you are receiving?
The psychologist that I see is excellent – she is very supportive and has experience of working with veterans and the public. I feel really comfortable with her she understands me and takes a real interest in helping me move forward and coming to terms with my experiences in Afghanistan. She has given me lots of ideas and strategies for me to choose and try out.
You can find Ben's story on page 4.
Update from Ben (8 November 2019)
"Since the last time we spoke I've made a career change. I went from office-based work in a call centre quality-checking department to the world of service providing. I now deliver motor vehicle goods around north east Derbyshire and the Midlands. I work with a brilliant squad of colleagues and my day is made up of timings, orders and customer service so I'm in my element.
"This time last year I was sceptical about where the support I'm getting would lead me, but now I can safely say that I'm doing fantastic. I have great work colleagues around me, a good social life, plenty of work to be doing and a lot of support from the right people.
"If I could give any advice to anybody suffering with PTSD, Depression, survivor guilt or any mental illness for that matter, it would be to try everything you can think of as a distraction: fishing, the gym, sports, a trade, a course, or even a personal quest in life. Something will work and you'll find yourself focusing on a productive outlet and not have your mind open too much to easy triggers. Keep going. You're doing great. I'm proud of myself for how far I've come, people will be proud of you just for taking that first step.
"Remember, Rome wasn't built overnight. You've got this. We've got this."
Ben x