Published on: 17 May 2019
Joanna Cannon, author of bestselling novels 'Three Things About Elise' and 'The Trouble with Goats and Sheep' attended the Trust's Academic Meeting as guest speaker on Friday 17 May to speak to Trust medical staff.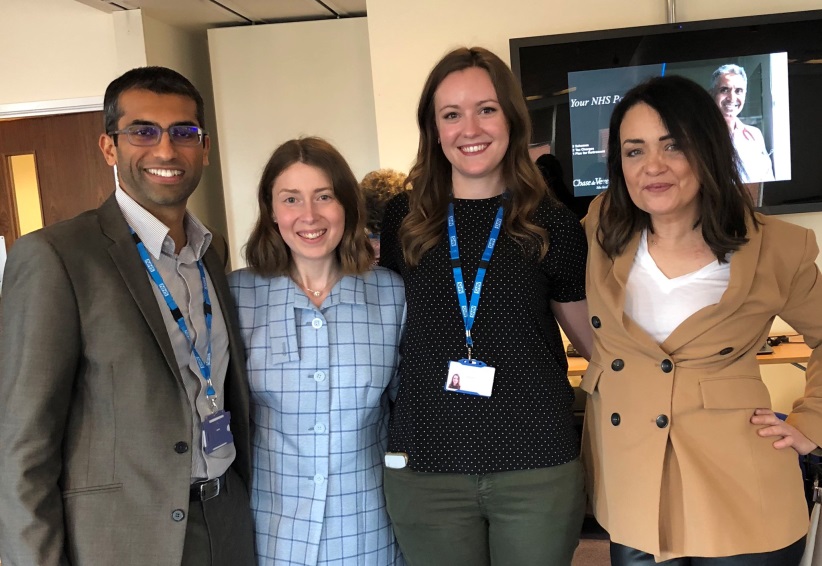 She is pictured (right) with (from left) Dr Abbas Ramji (Associated Director of Medical Education), Jessica Harnedy (Medical Education Administrator), and Dr Anna Burns (Junior Doctor).
Joanna worked as a Psychiatrist in the Trust a few years ago, and spoke to the meeting about her many different career paths including working as a barmaid, pizza delivery expert, and author.
Her work as a Psychiatrist and interest in people on the fringes of society continue to inspire her writing, and Joanna currently volunteers for Arts for Health, an organisation bringing creative arts to NHS staff and patients.
Her third novel will be published by HarperCollins in January 2020 and her first non-fiction book 'Breaking and Mending', which explores junior doctors and stress, will be published by Wellcome Collection in September next year.
More information about Joanna is on her website.