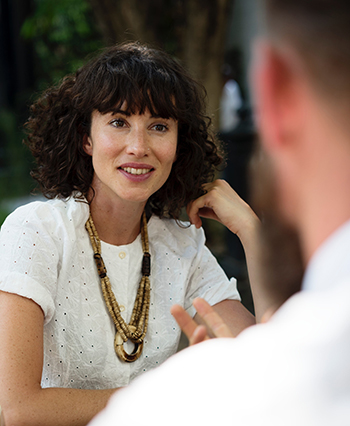 We offer service receivers specialist psychodynamic psychotherapy assessments that may lead on to an agreement that they would benefit from psychotherapy. This can take a number of forms including individual therapy in brief and long-term sessions, or group psychotherapy which takes place once or twice a week.
Our service receivers commonly have long histories of complex and severe mental health problems that are caused by past traumatic experiences. These problems will often take the form of anxiety and/or depression along with co-morbid personality difficulties. Service receivers may have a dual diagnosis and will often require a complex package of care. Underlying factors may have limited the benefits gained from other forms of therapy, and rendered the problems difficult to treat.
Those who are motivated to change, are willing to explore the past and present causes of their problems and have a capacity to take part in the work of therapy will benefit most from this service.

Intensive Psychotherapy Group Programme
Emotional difficulties can often be traced back to our earlier experiences of relationships, which can lead to psychological, relational and occupational difficulties in the present. One of the main ways in which this causes distress is by adversely impacting upon our current relationships.
By getting people together in groups we create the opportunity to look, not only at the psychological difficulties themselves, but also how they influence our relationships with others. When we interact with each other in the groups, we are recreating the interpersonal experiences met within everyday life. Situations will emerge which can be used positively to facilitate a deeper understanding of ourselves and others.
The programme values the idea of community spirit. We recognise the importance of an individual's contribution to and the receiving of care from the psychotherapy community.
See more information about our Intensive Psychotherapy Group Programme by clicking any of the boxes below or viewing the Intensive Psychotherapy Group Programme booklet.

This group is for all participants of the psychotherapy programme. We encourage people to not only value their own therapy journey, but to also take an interest in assisting other group members.

In the community group we share information about expected absence from the programme, express concern and assistance to any member who is struggling to attend, share community tasks, set weekly goals, explore any boundary issues and discuss any agenda items anyone may have.
These groups do not aim to teach participants how to do art or how to be a great dramatist. By participating in an activity, patients can explore personal issues in a creative way. This can be helpful in uncovering more unconscious material and finding a different way of exploring issues.
An individual session with your assessing therapist is offered on a fortnightly basis, apart from if your therapist is on leave. In this case it may be possible to negotiate another session.
The idea of this session is to focus on your therapy goals and progress. The things you discuss in your individual session are expected to come back into your small and medium groups rather than be something that is only shared with your therapist.
There are up to eight members in this group plus two therapists. There are two medium groups on the programme. This group is where you will have the opportunity to explore your personal issues and contribute to joining with other people.
This is a group for all participants of the psychotherapy programme. It is a way to start our day in the best possible position for working in therapy.
According to leading expert and teacher of mindfulness Jon Kabat-Zinn, "mindfulness means paying attention in a particular way; on purpose, in the present moment, and non judgmentally".
This group will include some simple warm-up exercises which people are encouraged to do to their own capability.
This group is for all participants of the psychotherapy programme. It is an opportunity to learn about mental health in general and specific topics that group members are interested in connected to mental health. It is an interactive experience and group members are given the opportunity, when they feel able and with the support of therapists and other group members, to lead the group.
There are up to four members in this group plus one therapist. The therapist will be the therapist you see for your individual session.
In this group you will have the opportunity to focus on something that you want to explore with the group. It is helpful to think about this before the group so that you can be prepared.
This information is then shared with the other members of your medium group in the feedback session directly after this group. One of the group members from each group agrees to feed back the information on behalf of the other members in the small group.
These groups are provided to give women and men the opportunities to explore issues specifically linked to women and men which may be sensitive to discuss in a mixed-sex group.