Published on: 15 April 2020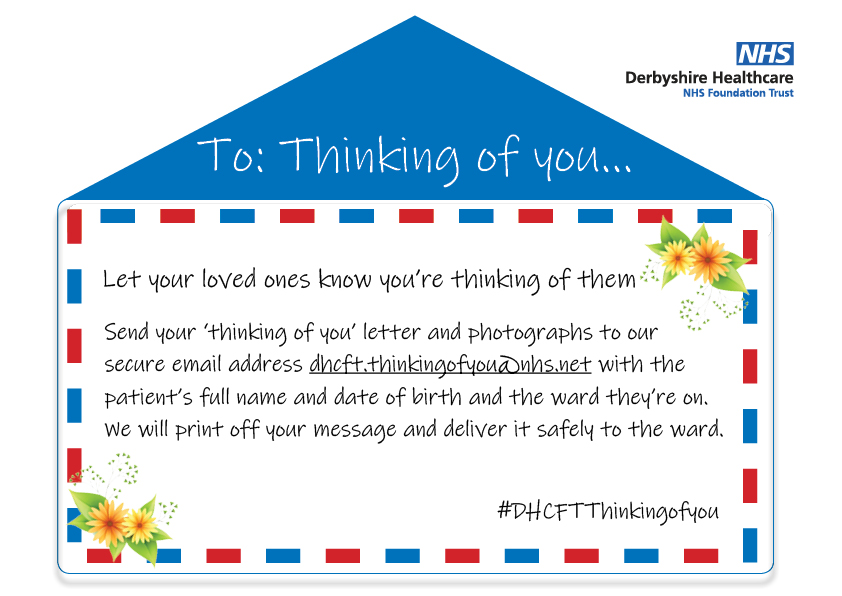 Today Derbyshire Healthcare NHS Foundation Trust is launching a new scheme to connect patients in our hospitals and their loved ones, called Thinking of You.
Thinking of You aims to encourage communication by enabling people on our inpatient wards to receive letters, messages and images from their carers, friends and families, sent over email.
The Trust is following national guidelines and is not currently allowing visitors to our inpatient units, other than in exceptional circumstances. This is obviously making it more challenging for patients and their loved ones to stay in touch. We hope that Thinking of You will be one way to help individuals stay connected.
How the scheme works
If you would like to submit a letter or message to an individual on one of our wards, please email this to dhcft.thinkingofyou@nhs.net.
Please make sure you include the following information with your email:
Full name of the patient that you are sending your message to
Their date of birth – if you have it
The unit and the ward name where they are staying
Your contact details including a phone number and email address if possible
The message and any images or pictures, either within the email or sent as attachments.
Please be aware of the following guidance about your message:
We cannot pass on videos through this scheme
Please make sure the content of the message is appropriate. This means you would feel comfortable if someone else read the message.
Any attachments to your email, such as images, must not exceed 10MB in total.
A small team will confidentially print the message, in a way that is discreet and respects your privacy. They will place the message in an envelope and make sure it reaches the intended recipient.
The scheme will be promoted via the Trust's social media channels and through posters displayed in Trust inpatient units, though no individuals will be named and no personal information will be shared in our promotions.
Trust Chief Executive Ifti Majid said: "I am delighted that we are launching the Thinking of You scheme, to support the family and friends of service users in our inpatient services, who unfortunately are not able to visit their loved ones at this time. Many thanks as ever to Trust colleagues who are working hard to make this happen.
"I would encourage carers to make use of this opportunity to put a smile on the face of their family members or friends at such a challenging time for all of us. We look forward to receiving and passing on your messages."